HP announces Slate 21 desktop-style Android all-in-one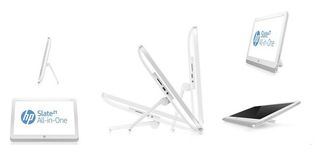 HP is adding another device to its expanding Android lineup today by announcing the Slate 21, a large "all-in-one" tablet-desktop hybrid device. As the name would suggest, this device has a 21.5-inch display putting it squarely in the market of HP's current line of all-in-one Windows desktop devices. The Slate 21 is running just Android 4.2 though -- there's no operating system switching or virtualization going on here. HP is pitching this as a media consumption device for current Android users that have built up a library of Android apps to have around the house, taking place of having additional tablets or mobile devices.
The Slate 21 stands on an adjustable kickstand in the back, which can pivot the screen to any angle between 15 and 70 degrees, giving a wide range of viewing options. As for specs, we're looking at a 21.5-inch full-HD IPS display, a Tegra 4 processor, Bluetooth 3.0, a front-facing camera and 8GB of internal storage (expandable by SDcard). The absolute specifics of every internal isn't yet known, but we'll surely have a better idea once we get closer to the September launch window where the Slate 21 will be available for $399.
HP's first Android All-in-One PC simplifies work and play for families and Android enthusiasts
PALO ALTO, Calif., June 24, 2013 – HP today unveiled the HP Slate21 All-in-One, the company's first All-in-One PC built with the AndroidTM 4.2 operating system. The HP Slate21 All-in-One enables families to enjoy cloud-based entertainment features such as TV streaming and Android apps.
The HP Slate21 All-in-One expands upon HP's portfolio of multi-OS products and is ideal for family activities, providing easy access to entertainment and productivity features, plus fun Android apps. Through Google Services, customers can reach shared content such as calendars, email, notes and documents, which can be created with the built-in productivity apps; users can also print wirelessly from anywhere in the house (1), organize content, and connect to other devices.
"Customers are looking for technology that simplifies their lives while keeping them connected to the entertainment they enjoy and the content they need," said Jun Kim, vice president and general manager, PC Displays and Accessories, HP. "The HP Slate21 allows families to easily access content through the cloud and enjoy it together on a large, interactive screen."
Full HD touchscreen, high-quality graphics, and sound improve user experience
To further enhance productivity and entertainment, the Slate21 All-in-One offers a 21.5-inch Full HD (2) diagonal reclining IPS touchscreen with wide-viewing angles for vivid graphics and better shared viewing. With dual-band technology, users can stream music or movies and browse the web (3) at the same time, and built-in DTS Sound technology offers a rich concert-like experience. It comes pre-installed with an HP TrueVision HD Webcam and Wireless Direct (4) which enables users to share videos, photos and data between devices without the need for a network connection, and multi-user support with the latest Android OS Jelly Bean 4.2. Additionally, it offers speed and performance with a powerful Tegra 4 quad-core NVIDIA processor, as well as an intuitive optical touchscreen with true pinch and zoom functionality.
The HP Slate21 All-in-One is expected to be available in the U.S. in September, with a starting price of $399 (5) Additional information about the HP Slate21 All-in-One is available on The Next Bench.
Android Central Newsletter
Get instant access to breaking news, the hottest reviews, great deals and helpful tips
Andrew was an Executive Editor, U.S. at Android Central between 2012 and 2020.
That is a beautiful price point. I'm not sure how this thing will sell, but at $400, it becomes extremely attractive. Pair this with a stylus a la Note 10.1 and you'll have a winner.

Yup, and that $399 price tag is yet another example of how overpriced smartphones are. There's simply no justification for pricing a 4-5 inch smart phone upwards of $650 or more when this thing can be produced, marketed and sold, making a profit, for $400.

Um.... Want it :-) Then next give me Android TV 42+ inch
with controller for gaming..... Droool

Somehow, based on previous experience with mobile(ish) HP products, I'm certain they'll find some way to make it subpar and kind of a joke.

They already have, it will be Stamped with HP on the back!!!!!

"media consumption device" my ass! What the hell are you gonna do with 8GB? Im not even mentioning the bloat that its gonna come with. If it doesn't come in other storage options HP is wasting its time and money.

i totally agree. should have at least 32gb even at that price point. im sure they will release ones w/ more internal memory. but 8gb is ridiculous even for a smart phone let alone trying to sell as a desktop!

Streaming around the house. It's perfect for streaming Hulu, Netflix, HBO Go, Showtime Anytime without being tied to a TV. It's too big for true portability so it will almost always be used in a place with full Wifi so local storage isn't as big a deal.

Your forgetting one major flaw with your wifi theory. You have to have a decent ISP to achieve that. Where I stay TWC & ATT are your only poor choices. I'm one of the lucky residents in KC that will receive Google Fiber; but until then with my current isp its not practical to stream with its speeds. So internal storage is the way to go.

+1 What are you going to do with 8GB? The Tegra 4 chip and the screen beg it to be a gaming system... what single game are you going to run using 8GB? Stock Android 4.2 won't let you put apps on an sdcard. People need to understand this. After all the system apps you have what? 5gb? 6gb? Unless HP prepared to hack it up like Samsung - 8GB is totally useless.

The price point is almost better than the actual idea of having a 21.5 inch tablet. Wow! This will go in the wish list for sure. Posted via Android Central App

that's a very sexy price.... questions: (1) does it have extra USB ports for connecting to a USB keyboard or mouse? (2) does it run on AC only? (no battery?) (3) does it have a standard monitor mount? (for swivel mount on a desk, for example) (4) the article mentioned "SD card" only.... I sure hope it's the regular full-size SD card, so I can use my 128GB SDXC card. :) (5) does "full HD" imply 1920x1080?

It has USB 2.0 ports They're not clear on battery It has a VESA mount on the back They again weren't clear on SDcard types and formats accepted Full HD implies 1920x1080, but the exact resolution isn't specified.

All in one device?! Hoping for the best Posted via Android Central App

Might be worthwhile. I'll keep my eye out for this, especially since my current HP Touchpad Tenderloin seems to be fading out. PS: http://www.youtube.com/watch?v=IZrnquRZijE

I think it's interesting at that price-point.
There are a LOT of folks out there who still own a desktop just for internet/email.
In fact, I think this could actually be MORE useful than a chromebook for older folks' who need a larger screen than they can get with a laptop. The only sticking point with that use-case is the storage.
The SD Card slot would be fine for me; but for someone less technical, Android doesn't exactly handle expandable storage in an intuitive way. Replace that 8GB onboard with a 64GB SSD and I think they'd have a real winner here.

I want one, period. The big hangups in this area were price and screen resolution. This just solved those two issues. This is a device that could replace many folks secondary PCs. No need to buy additional software: just download whatever you've already purchased on your Google account. Apps, games, music, video, photos...this would have the ability to do virtually everything the average consumer uses a PC for and do it well. While this won't be the end-all-be-all (needs more storage for starters), I truly think this is the future of the PC...and the REAL reason why Microsoft is afraid of Android. Forget ChromeOS: this is what I want!

So 21" Linux tablet coming soon then huh? I'm sure someone will port Ubuntu to it at least.

nice..remember...choice is good

Why only 8GB? Sure, expandable is nice, but if I have a device staying in my house, it would be great to have less of a capacity constraint. Posted via Android Central App

if it's really only 8GB, a lot of people(myself included) will probably pass. how much extra money does it cost HP to use 16GB or 32GB instead of 8GB...
Android Central Newsletter
Get instant access to breaking news, the hottest reviews, great deals and helpful tips
Thank you for signing up to Android Central. You will receive a verification email shortly.
There was a problem. Please refresh the page and try again.