How's your Pixel 3 battery life on Android 10?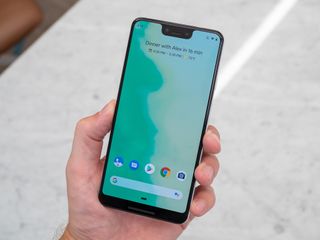 On September 3, Google began rolling out its long-awaited Android 10 update to Pixel devices — including the Pixel 3 and 3 XL.
While these two handsets will soon be replaced by the upcoming Pixel 4 series, Android 10 breathes new life into the phones thanks to the updated gestures, dark mode, and more.
New software also tends to have an impact on battery life, and taking a look through the AC forums, some of our members seem to be having mixed results on last year's flagship Pixels.
What about you? How's your Pixel 3 battery life on Android 10?
Get the Android Central Newsletter
Instant access to breaking news, the hottest reviews, great deals and helpful tips.
Joe Maring was a Senior Editor for Android Central between 2017 and 2021. You can reach him on Twitter at @JoeMaring1.
Much the same on 9.0...distinctly average

It seems the same which means I get through the day but below 15% by bedtime.

Honestly I haven't noticed because battery is something I don't pay much attention to. I use my phone however I want to use it, and it still has charge when I put it on the Pixel stand at night. That is the most you can ask for on any phone. None of them will go more than a day, so does it really matter if you have 5% or 15% at the end of the day?

My Black Edition Blackberry KeyOne will go two days easily with zero limitations in usage. It is usually paired to my car and or Fit Bit Versa. And Wi-Fi at home and at my office. Used my dad's Pixel 3a with a slightly larger battery and it did fine for a day of usage, like my S9. Of course it's all how it's packaged but my Black Edition Blackberry KeyOne hands down outlasts any mobile device I have ever used. The battery life is remarkable.

Pixel has enough space for more battery, Google purposefully did not add it. They could have easily provided 3100mAh, but they did not. That said, both my iPhone X/XS and One Plus 7 pro easily make it for 2 days and in some cases 2.5 days. See what you are loosing? Google had a great chance to win over Android market and beat Apple in its game. But they messed it up. Poor sales number reflects it. I wish they fix it in Pixel4. Heart says they will, Mind says, they won't. Pixel4 may actually go for 2800mAh. No wonder they can't sell it.

Lol, sure your iPhone has twice the battery life mate.

A-ha! Sounds like you've opened one up and analysed the internals. As you obviously already know Krishnan, the Pixel 3 battery is surrounded, on all sides, by components, right through to the edge of the chassis. If they purposefully used a smaller battery, which transistor components would you have moved?

My 3aXL lasts all day as well.

Even before the upgrade, my battery life wasn't great. It is possible a compbination of poor reception (cellualr and wi-fi at work) and programs running in the background! After the update, calling seemed to lag, until I deleted the My Verizon App.

I'd a Pixel 3. Battery sucks. Does not even last a day. I gave it away for OnePlus7Pro.
Pixel 3 has 3 advantages
1. Great form factor. Most Android phones are massive and I hate them all
2. Great display
3. Great camera
That's it. On the flip side
1. Way expensive
2. Very poor battery life
3. Very high levels of radiation
4. Poor re-sale value
5. Android 9, navigation sucks
6. Low RAM
7. Big chin

Can you please share the levels of radiation in comparison to say, a OP7 Pro? Just to make sure you're not just making this up. Thanks.

Mine is the same but my signal is worse

I'm approaching dinnertime and my battery is at 75%!
Oh wait, I don't have Android 10... or a Pixel!

The question was about the Pixel 3's battery. If you don't have one, nobody cares. Thanks for playing.

Ban co the mua van phong pham tai day https://www.anlocviet.vn/

Getting 8 hours SOT on Pixel 3a XL

Reduced by half. Barely getting 2.5hrs screen ON time.