How to watch picture in picture video on a Chromebook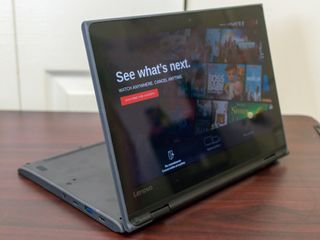 (Image credit: Android Central)
Android users have long loved the ability to watch a video in a smaller window while doing something else in another app in picture-in-picture mode (and now iOS users are finally getting a taste of the fun). But did you know that Chromebooks have offered this feature for some time now too? While some Android apps like Netflix are working on their own solutions, there is an even easier way to watch picture-in-picture (PIP) content from virtually any streaming app, right in your browser, thanks to a Google Chrome extension. We'll show you where to find it, and how to use it so that you can get to procrastinating... er... multitasking, right away!
How to watch picture-in-picture video on a Chromebook
From your Chromebook, open a Chrome browser tab.
Go to chrome.google.com/webstore.
Search for the Picture-in-Picture Extension (by Google).
Click Add to Chrome.
Go to your video site of choice (most are supported, including Prime Video, Netflix, and of course, YouTube).
Click to play a video.
Click on the Picture-in-Picture extension on the Chrome toolbar.
You may navigate to any other window or tab, and the PIP video will follow you. You can move it around the screen and place it pretty much anywhere you wish, aside from the middle of the screen. To return the video to full-size, simply click again on the extension in the toolbar or on the little box with a diagonal arrow in it within the PIP player box.
Some Android apps like Netflix can do picture-in-picture mode as well, though their methods may be slightly different. For example, they may allow you to right-click on the app and pull up a contextual menu with a picture-in-picture option, or in the case of Netflix, if you're using the Android app and switch to another app, the Netflix PIP video will just appear.
Our top equipment picks
For the best viewing experience, aim high with this top-tier Chromebook from Samsung.
4K Fiesta
Samsung Galaxy Chromebook
Samsung screen equals eye candy
Whether you want the latest specs for your work or the best screen around for watching movies or sketching digital art, this gives you both.
Jeramy is proud to help *Keep Austin Weird* and loves hiking in the hill country of central Texas with a breakfast taco in each hand. When he's not writing about smart home gadgets and wearables, he's defending his relationship with his smart voice assistants to his family. You can follow him on Twitter at @jeramyutgw.
Android Central Newsletter
Thank you for signing up to Android Central. You will receive a verification email shortly.
There was a problem. Please refresh the page and try again.