How to use Multi Window on the Samsung Galaxy S5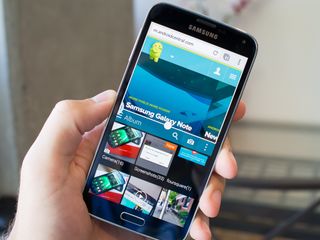 Multitask like a pro by using two apps at once with the help of Multi Window
Samsung's Multi Window feature was originally developed for the big screen on the Galaxy Note lineup of phones, but the Galaxy S series of devices have taken on the feature as well since their screen sizes have creeped larger. With a 5.1-inch display there's plenty of room to work with two apps at the same time if needed on the Galaxy S5, and Multi Window helps you do just that.
Though not every app is supported for use with Multi Window, it's certainly worth giving a shot if you think you can get more done with two apps on your screen at the same time. Read along and see the ins and outs of using Multi Window on the Galaxy S5.
Turn on and interact with Multi Window
To turn on Multi Window, simply head into your phone's settings and find "Multi Window" under the "Sound and Display" subsection. Once turned on, you'll notice a small curved icon with an arrow in it pop up on the left edge of your screen — that's the button you use to pull out the Multi Window drawer and manage your windowed apps. You can press and hold the "back" button on your phone to hide the button, and long press it again to launch Multi Window completely.
The position of the Multi Window drawer can be moved from the left or right edge of your screen by pressing and holding the button then dragging it to one side or the other. You'll notice at this point that you can choose the vertical position of the button as well — wherever it's easiest for you to hit and not be in the way.
Tap that small button to expand the Multi Window drawer, where you can then long press and drag two apps to the top and bottom halves of the screen — you'll see them both launch, separated by a line with a circle on it. Both apps can be used and interacted with simultaneously, and you can resize them by dragging the line either way by the circle in the middle of it. You can tap the circle to get options for switching the position of the windows, swap data between the two apps (when supported) and close the highlighted app. You can double-tap the circle to reset the apps to a 50/50 distribution.
At the bottom of the Multi Window drawer you'll see a small dotted triangle, which when tapped reveals an app editor and a "window group" creator (more on this below). With the "edit" option you can choose which apps you want in the drawer, and in what positions. You'll notice not all of your installed apps can work with Multi Window — it's up to app developers to implement code to make them compatible. Luckily the big apps from Google work, as does Facebook and a few other big names.
Create window groups
If you find yourself using the same two apps together with Multi Window over and over again, the Galaxy S5 lets you save a pair of apps into a so-called "window group." Open the two apps you want to combine, then open the Multi Window drawer, hit the dotted triangle at the bottom and tap the "create" button. You can then rename the grouping whatever you'd like (it's the names of the two apps by default), and hit "OK."
Now the next time you go to launch an app with Multi Window, you can tap the previously-created Window Group and it'll load up just how you like. These window groups can be moved around in the drawer and rearranged just like apps are.
Now you're multitasking like a pro!
With these few tweaks and tips, you'll be using Multi Window on your Galaxy S5 like a pro in no time. Give it a try — it might just boost your productivity for some tasks you're doing on the go.
For more, see our Galaxy S5 help page, and swing by our GS5 forums!
Get the Android Central Newsletter
Instant access to breaking news, the hottest reviews, great deals and helpful tips.
Andrew was an Executive Editor, U.S. at Android Central between 2012 and 2020.
Crept, not creeped, Andrew. But thank you for the interesting article. Hopefully something like this will make it into Android itself. Posted via Android Central App

Creeped and crept are both grammatically correct, but crept is the more formal of the two :) .

Does multi window on the S5 work with YouTube? Posted via Android Central App

Rooted. I run any app I want. :) Posted via the Android Central App

Two at the same time? Posted via Android Central App

Hello,
You mean that just by rooting your GS5, you were able to run every app you have installed on your phone, and not only the one in the initial list, right ?
Thanks

I never understood the usefulness of this on a small phone display Posted via Android Central App

Multi window is one of the defining reasons I have an s5. If you were jerry I would be all over you for spelling lol

Multitask like* a pro.......plenty of room to work with* Posted via Android Central App

Just about everyone I know who has a Samsung device doesn't know about this capability. I look at their phone and they have the little tab but didn't even know what it was for or how it got there. I show them how it works and they think it's neat. I wonder what percentage of Samsung users have enabled mult-window, didn't know they did it, and whose phones perpetually have the tab on the left-hand side without ever being utilized.

Cool story, bro. Posted via Android Central App

I had the screen pop up every once in a while but could never figure out how to bring it up. Now that I have, how do I use it?

Why doesn't the android central app support Multiwindow? It's like 10 lines of simple code.

I love surin' the web and watching a PowerPoint presentation during class on my Note 8. Posted via Android Central App

My tablet isn't a Samsung, but I have installed "Floating Apps" on my Xoom running a custom Kit Kat 4.4.4 Rom. I wouldn't think of trying to use this on a smaller screen, but with the 10.1" screen it really is nice and has it's place. It's just like yesterday when I opened Mobilesheets as my base app, then Facebook to collect the music from our music director for Worship Service on Sunday. Then I opened CCLI to find and compare with the music I have on my tablet with Mobilesheets. Then I downloaded the sheets I needed to my Gmail account, and transferred it over to Mobilesheets without closing any apps, or doing page flipping. I just added another window for each application I wanted to work with together on the same page. I love "Floating Apps" it brings true integration with the apps on your Android tablet, and the pro version brings 32 pre-loaded apps with it as well as the ability to create your own. This is true multitasking on Android, without owning a Samsung. Posted via Android Central App

FYI, what's described in the article also works on the S4.

I cannot get my programs to show up and work with multi window tasks.I cannot use Guitar tuner and Songsterr to work in multi window,.They don't even show up to edit into multi window.What do I do,nothing?