How to share screenshots from your Lenovo Mirage Solo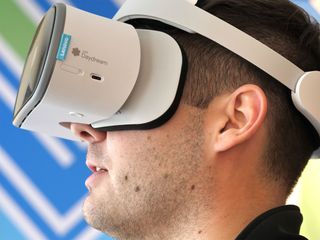 While game achievements exist, not every game supports them. And when things are going wrong on your device, sharing a screenshot is the easiest way to get it resolved. Unfortunately, your options are a bit… limited if you're using the Lenovo Mirage Solo.
Here's how to share screenshots from the Lenovo Mirage Solo!
What doesn't work
Most Android devices take a screenshot the same way: press volume down and the power button at the same time. While the Mirage Solo has power and volume buttons on the headset, trying to use this key combination doesn't actually do anything.
You can get screenshots from any Android device — from smartphones to TVs to watches — with the following ADB command:
adb shell screencap -p /sdcard/screen.png
That works on the Mirage Solo — you can enter developer mode and use ADB just like you would on any other device. But, the resulting image is just black. If you're trying to dunk on your friends' virtual fishing score, a blank black image isn't going to do any good.
What does work
Fortunately, you can Cast the entire interface of your headset to any Chromecast or Android TV. This includes the Settings screen and other areas of the interface you wouldn't expect to work. But it all does work. From here, just take a photo of the screen or get fancy and plug your Chromecast into an HDMI capture card.
What say you?
Do you plan to share screenshots from your Mirage Solo? Let us know down below!
Get the Android Central Newsletter
Instant access to breaking news, the hottest reviews, great deals and helpful tips.