NVIDIA Shield TV Android 8.0 Oreo update rollout is back on!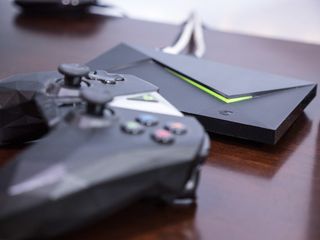 Update: After a false start at the end of May, the Android 8.0 Oreo update is rolling out once again to NVIDIA Shield TV!
Big news for those of you who have NVIDIA Shield TV — which, by the way, is the only Android TV box you should consider right now. The Android 8.0 Oreo update (which brings it up to the latest major version of Android) is available starting today.
This'll bring along a major update to the user interface. You'll get new sections along the left side of the screen, with your favorite apps (customizable, of course), play next (where what you've been watching and playing recently will appear) and channels (which is what apps are now called, sort of).
In addition, Amazon Prime Video will get a major refresh, Plex Media Service is improved, and a whole bunch more.
And, of course, Google Assistant still plays a big role here, and that means you can take advantage of all the smart stuff you've got scattered throughout your home, accessible via the Shield remote or game controller.
A few other things NVIDIA says to look out for (opens in new tab):
Hold the back button to access to the settings menu from the home screen
A higher polling rate for gaming mice for NVIDIA GameStream
Improved support for game controllers like the Shield controller, Xbox 360 and DualShock controllers
Can connect to Wifi without disconnecting Ethernet
Improves Bluetooth re-pairing
To update your Shield TV, just head into the settings menu, then About, then choose the update option.
Android Central Newsletter
Get instant access to breaking news, the hottest reviews, great deals and helpful tips
Awesome! Looking forward to trying this out when I get back into town this afternoon.

Bluetooth re-pairing is fixed? Oh thank goodness! I got tired of having to unpair and pair my wireless headphones everytime. Now I can go back to watching movies on my Shield instead of my Apple TV (:

Tbh I don't like Android TV 8. I have it on my Nexus Player in the bedroom and I don't find it that very user friendly. I prefer Android 7 on my Shield. I'm already used to that look. Only thing it needs is the ability to add ALL apps to the home screen so that we don't need Sideload Launcher.

You don't need to use a launcher, download TV repo from the app store and create your own shortcut.

There are reports that correctly App Repo doesn't work after the update?

Cool. Bummer for me. I just went to turn on my Sheild to get the update and it comes on, but nothing on the TV. Tried other cables. Guess it stopped working. I use it once or twice a week to watch things.

Can anyone confirm if the remote lag is still present? I stopped using it after it became ridiculous. Same with using my Xbox controller over Bluetooth.

Does YouTube stay in memory yet when you go to home screen? Blows my mind Google's own app restarts when I accidentally hit the home button...

I know, I hate that. When you restart it, the recommended videos reset also.

YouTube TV does this as well. pretty damn frustrating.

"Amazon Prime Video gets a major refresh" - as in, now it's available on the platform?

It's been available on the platform. What you're talking about?

Yep, you're right - my bad. Now if I could just figure out how to delete my comment. : )

Not showing on either of my Shields. I have first gen Pro and second gen standard.

***And it's here. Experience 7.0 upgrade.

DId it come for both at the same time? I have the 2015 model, and I don't have it yet.

Still waiting on my Shield (2017 one)

Can't wait to check it out!

No update on my Shield today :(

I just got the Nvidia shield box yesterday for my birthday and now finally after many months they finally releced Android Oreo for it! (P.S. I used the hidden chrome browser on that box to make this comment.) And now it's time for another update for my new Android TV box.

There is a hidden Chrome? I sideloaded it as I didn't think it was installed.

Chrome can be pushed to the Shield from the web version of the play store. It's not sideloaded because you don't have to use an .apk file. It's not hidden either, the icon just doesn't show up on the home screen.

Sorry, it IS sideloaded. Sideloaded apps don't show up on the Leanback launcher. I know it actually means unofficial sources, but in the case of Android TV, it's easier to think of anything not from the official Google Play app as "sideloaded".

For those not getting the update, it is rolling out slowing. So expect it in the next few days.

When they say rolling out slow they are not kidding... A week later and still no update here.

More like, in the next few weeks.

It would be nice if they could fix the constant remote lagging and random low battery problems. While they are at it a fix for the shield hanging on the home screen would be great too.

I just got back in town and checked for the update and it's not showing on my shield TV either. I was excited to try it out. Anybody know of a way to force it to find the update?

You cant force it. Nvidia release the update to each device's serial #, so when they come across yours then they will push the update to you. The update is being pushed out in stages; it helps avoid overloading their servers if everyone starts downloading the update at the same time.

I am in the land of Oz down under.
Bought my Shield from Amazon US in 2017
New update not available yet for me. Is there any chance Android Oreo will allow developers to write apps that will do a bit-perfect decode
of hi res (eg 96/24) multi-channel flac music files

I got the email today from Nvidia about Oreo. Got home checked for update....nope

June 3rd and it's not showing up for me on the Shield I bought a month ago direct from Nvidia.

I didn't force the update and I just got the upgrade notice today.

I hope Amazon Prime Video gets updated because I was not able to use my Logitech K830 Bluetooth keyboard with it. On other apps, it worked fine. And this was after the Android update.

The pairing of remote to soundbar still not working with CEC

I was excited for the update until it updated. Hate it!

Maybe plex server will actually work now?? I have had 2 shield TVs and it has not worked on either of them

Update removes: - power restart on controller.
- screenshot mode.
- video capture mode.
- streaming screen to Twitch.
- background wallpaper. No thanks, I'll stick with my more functional Shield TV, thanks. To avoid the annoying pop up requesting an update, go to apps, and scroll ALL the way to the bottom and then select "system update", then force stop and then "clear app data". This will "kill" it, but you will need to do this everytime you reboot the Shield.
Android Central Newsletter
Get instant access to breaking news, the hottest reviews, great deals and helpful tips
Thank you for signing up to Android Central. You will receive a verification email shortly.
There was a problem. Please refresh the page and try again.