How to set a sleep timer in Sonos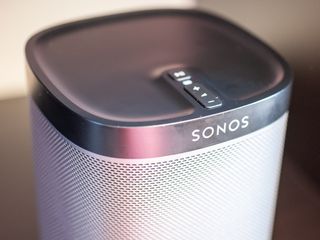 If you've got anything at all from Sonos — be it the smaller Play 1 speaker, or the room-filling Play 5, or perhaps a Soundbar — you're going to want to use it as much as you can. For one, Sonos is excellent. It sounds great and is one of the easiest ways to stream music wirelessly through your home. But it's also not inexpensive, and so I'm making a point of using it whenever I can.
When I was a kid I'd fall asleep listening to the old-school CNN Headline News on AM radio. (And that says more than a few things about me.) CNN has changed more than a bit since then. But then again so have I. And I'm now making it a point to put on something relaxing as I'm passing out.
To that end, there's a sleep timer available in the Sonos app, but it's a wee bit buried. Here's where to find it.
The Sonos app is a mix of familiar and "What the hell?" So we're looking for the overflow menu — it's just not in the usual place. You'll find it on the bottom right of the album art in this picture. The three dots with the circle around it. Tap it, and you'll get some more info.
Ah, some more info. And a button that looks like it'll do what we want it to do. So, tap "Sleep timer."
You've got a few options for how long you can have the music keep playing. There's 15 minutes, 30 minutes, 45 minutes, 1 hour, or 2 hours. Or you can choose to turn it off. Once you've set the sleep timer, you'll note that it's listed as being on in that info window.
And that's it. Setting a sleep time in the Sonos app is a nice little way to end the day. See you in the morning.
Get the Android Central Newsletter
Instant access to breaking news, the hottest reviews, great deals and helpful tips.