How to set up peripherals to use with Samsung DeX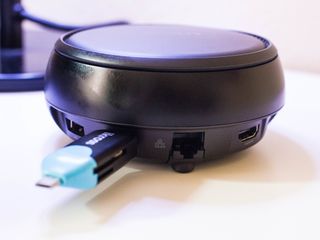 The Samsung DeX isn't a replacement for your laptop, but it does make a nice little companion computer for when you're on the go. Don't forget the peripherals, however, which you'll need if you want to actually use the desktop mode to get things done. If you're curious about what kind of peripherals to actually purchase for the device, we've got suggestions for that, too.
If you're planning to use Samsung DeX on the road, make sure that you pair all of the Bluetooth-connected peripherals before you leave the house. This way, everything will be raring to go once you plug the Galaxy S8 into the DeX dock at your final destination.
How to pair Bluetooth peripherals to Samsung DeX
You can save yourself a ton of headache if you elect to pair all of your Bluetooth peripherals to the Galaxy S8 or S8+ before you play it into the DeX dock. This is all possible from the Settings panel.
In the notification shade, tap the Settings icon.
Tap Bluetooth.
Tap the toggle to turn on Bluetooth.
Tap the device you want to pair under Available Devices.
Once the peripheral is paired, you'll see it appear under Paired Devices. Tap the Settings icon in the same line for more options, including the ability to rename the peripheral or unpair it entirely. Now that everything is paired, the Bluetooth peripherals that tag along on your journey will work instantly with the Galaxy S8. You can even test what you've paired while the device is in phone mode before plugging it into DeX.
How to set up USB-connected peripherals
The nice thing about the Samsung DeX is that you can use almost any USB-connected peripherals you might have lying around. All you have to do is plug them in while the DeX dock is operating and they should be instantly recognized.
I tested the ability with both a wired mouse and a USB-connected one. The latter was of the Logitech Unifying receiver variety, and I didn't have to install software to have the scroll wheel and back buttons properly work. You can also an external webcam or high-performance microphone if you have the appropriate third-party apps installed. By default, the Galaxy S8 supports OTG, so it theoretically accepts anything that's USB-connected. You can also use DeX to offload files and apps from external flash drives.
Note that some keyboards may require a bit of a learning curve as you figure out which keys correspond to what. Under Language and input, select Physical keyboard to take a peep at the keyboard shortcuts. You can also adjust the Pointer speed in the DeX settings panel.
Get the Android Central Newsletter
Instant access to breaking news, the hottest reviews, great deals and helpful tips.
Florence Ion was formerly an editor and columnist at Android Central. She writes about Android-powered devices of all types and explores their usefulness in her everyday life. You can follow her on Twitter or watch her Tuesday nights on All About Android.