How to properly measure your wrist for different smartwatch sizes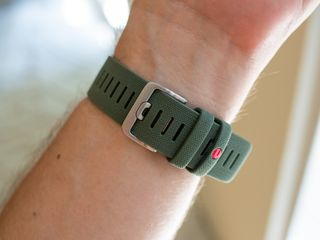 (Image credit: Andrew Martonik / Android Central)
When it comes to finding the best Android smartwatch, there are various factors you'll want to consider. For starters, you'll need to think about what features you want, what operating system you prefer, what design you're seeking, and what size smartwatch is best for your wrist. There are a few different ways to go about this. Your method of choice will depend on what watch you're interested in and what equipment you have available. Here are a few simple tips on how to measure your wrist for smartwatches.
How to measure your wrist with a tape measure
While most manufacturers will provide a general size range for the watch you're considering, you may have the option of buying bands in different sizes that will better accommodate your wrist. The best way to go about this is to use a fabric tape measure to figure out the circumference of your wrist. Some companies offer a printout guide that you can use in place of a tape measure.
Wrap the tape measure around your wrist. Be sure not to pull it too tight. It should feel comfortable but not too loose.
Make a note of the measurement.
Compare your measurement to the manufacturer's sizing guide.
Pick the smartwatch size that best matches your wrist's measurement.
How you go about measuring your wrist is up to you. If you don't happen to have a tape measure available, you can easily access one of the printout guides from the manufacturer if they provide one. If not, you can always go old-school and use a ruler, paper, and pen to find your measurement.
How to measure your wrist with a ruler, paper, and pen
Cut a straight strip of paper about one-half inch wide.
Wrap the paper around your wrist. Again, you shouldn't pull it too tight. It should fit comfortably but not feel too loose.
Mark the spot on the paper where one end of the strip overlaps the other side of the strip.
Lay the strip of paper on a flat surface.
Use the ruler to measure from the end of the strip to the spot you marked. Note your measurement.
Pick the smartwatch size that best matches your wrist's measurement.
Whether you've got your eye on a Samsung smartwatch, Fitbit smartwatch, or a Garmin smartwatch, measuring your wrist is easy enough. You can also explore third-party bands that come in different sizes to ensure you have the perfect fit. There are plenty of excellent options out there, like the Garmin Forerunner 745 for advanced fitness tracking and the Fitbit Versa 3 for everyday tracking. All you have to do is measure your wrist!
Measure your wrist
Get those measurements
When you need a measuring tape that's flexible, durable, and accurate, RayTour has got you covered. It measures up to 60 inches, so it's plenty big for measuring your wrist. You get clear markings for both inches and centimeters.
Spend more, do more
Advanced fitness tracking
When you want to go deeper, the Garmin Forerunner 745 is a tremendous fitness smartwatch. It offers great battery life, which is ideal for athletes who are always on the run. It's pretty expensive, but it's for advanced users who need endless details.
Great value
Get fit with Fitbit
If you don't want to spend a fortune, the Fitbit Versa 3 is a great mid-range option. You get plenty of features such as built-in GPS and NFC payments. Let's not forget about the new and improved health sensors. It's perfect for casual fitness tracking.
Get the Android Central Newsletter
Instant access to breaking news, the hottest reviews, great deals and helpful tips.
Courtney Lynch is a freelance writer at Android Central. She's obsessed with all things health, fitness, and music. At any given time, she can be found checking out the latest and greatest gadgets while simultaneously petting her dog and sipping iced coffee.