How to get the best deal on Kingdom Hearts 3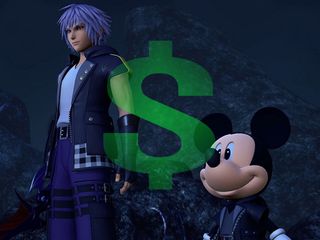 By all indications, Kingdom Hearts 3 will be coming out on PlayStation 4 sometime this year. In this article, we covered pretty much everything we know so far about the Square Enix release. If you are sitting on your hands in rapt anticipation you have probably already pre-ordered. However, if you haven't already put in your pre-order then you might want to think about trying to save a few bucks on your purchase.
Prime Savings
Thanks to Amazon, gamers now have the opportunity to keep a few dollars in their pocket when they pre-order games. Recently Amazon announced the Pre-order Prime Savings. This program ensures that you will save twenty percent off the list price of any game when you pre-order through Amazon. If you're the sort of gamer that buys tons of games in any given year, this can add up to quite a savings. Follow This link and you can see a list of all games that are currently discounted through the Prime Savings program.
But what are the rules?
If you want to read all of the details regarding the Amazon Prime Savings, you can get all of that here. However, I will give you all the pertinent details right here and now. First of all, in order to qualify you have to have an active Amazon Prime subscription. It only applies to physical copies of games and like so many deals; it cannot be combined with any other discounts or promotions. This discount only applies to one copy of each game and you have to order at least two weeks before the release date. Once the game is released it will no longer be eligable for this discount. Click This link and you can try out Amazon Prime for free.
Best Savings
If you're more into businesses that provide brick and mortar locations, then maybe you will be more interested in the Best Buy Gamers club. They essentially offer the same savings that you would get from Amazon. If you already have a subscription to Amazon prime you might want to stick with that. However, if you dont like the fact that you can only get a discount on pre-orders with Amazon, you can become a member of the Best Buy gamers club for only $30 and get a comparable discount on all games. Your subscription will last for two years and in addition to the twenty percent savings, you will also get ten percent off of pre-owned games. If you want to check out the Best Buy Gamers club you can do that here.
In a world where so many games can cost the better part of $100, I will take some savings just about anywhere I can get it. The way I see it, if I buy five games with these sorts of deals it will pretty much finance the cost of a sixth game with the money I save. If you're ready to pull the trigger on a Kingdom Hearts 3 pre-order, you can get it for $60. However, with the Amazon Prime Savings guarantee or the Best Buy Gamers Club you can have it for about $49. I know I'm going to be taking advantage of some pre-order savings.
Are you going to be pre-ordering a copy of Kingdom Hearts 3?
If you've already got your copy waiting for you, where did you order it? Let us know.
Why are we talking PlayStation 4 on Android Central? Let us explain.
Get the Android Central Newsletter
Instant access to breaking news, the hottest reviews, great deals and helpful tips.