How to load Google Play on your Chromebook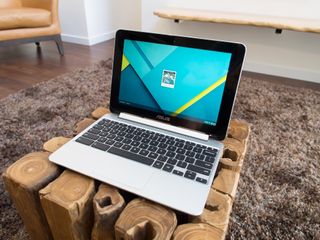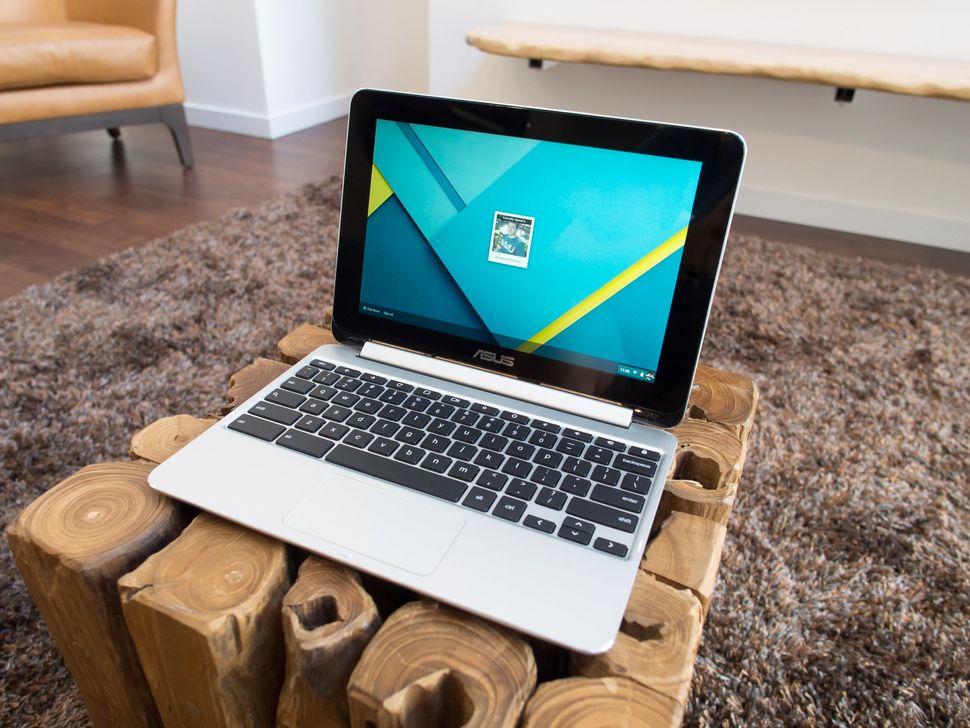 If you're using a Chromebook that has support for Android apps in the dev channel, you won't magically get Google Play with the update. The good news is that it's easy to install and get everything up and running.
For starters, you'll need to have a Chromebook that's on the M53 developer channel and has Android app support baked in. As of this writing, that means the ASUS Chromebook Flip, but support for the Acer Chromebook r11 and the 2015 Pixel will be here in the coming weeks. Have a look here to see how to switch to the dev channel if you need some help. Once you have that sorted, everything else is done in the settings.
Click the bottom right corner of your screen (where the network and battery icons are). You'll see things like your WiFi and Bluetooth information and the volume slider. What we're interested in is the link to the settings page, which is near the bottom of the small window. Give that a click.
Your Chromebook settings page should open. You'll see all sorts of things to adjust (and you totally should investigate them), but we're looking for the "Play store" section. There you'll find a box that says "Enable Google Play Store on your Chromebook." Go ahead and check the box.
A new window will open, and you'll need to click the "Get started" button.
Next you'll see the terms of service, which nobody ever reads. Be smart and read them. You need to know what is happening to your private data, and this tells you everything in simple and clear language.
After you agree to the terms, you'll see the Play store app open. You're all set up!
The next step is to install some apps. If you have an Android phone, you'll know what to do here, but here is the simple primer — click the apps button, find an app you want to try, and click install!
Remember that not all the apps are going to work the same way they do on an Android phone. That's why all this is still in the developer channel (which is clearly marked as unstable) and going through testing, both in-house at Google and publicly. But you should try all the apps that look interesting and be sure to share your experiences with the rest of us as well as file bug reports with Google.
Happy Androiding on your Chromebook!
Get the Android Central Newsletter
Instant access to breaking news, the hottest reviews, great deals and helpful tips.
Senior Editor — Google Ecosystem
Jerry is an amateur woodworker and struggling shade tree mechanic. There's nothing he can't take apart, but many things he can't reassemble. You'll find him writing and speaking his loud opinion on Android Central and occasionally on Twitter.
I gotta buy one Posted from my cracked Nexus 6/Nexus 7 2013/Surface Pro 3

As an Google (Alphabet) Shareholder , i would say buy ten ! Oh boy this company making me rich. Just buy their shares, wait 10-15 years and that's it! Posted via the Android Central App

it did not work with my asus chrome flip book maybe its not updated to M53 ill check

If you're anywhere near Palmdale, CA, the Best Buy has a brand new looking Flip open-box for under $200.

Nice table Jerry. Posted via the Android Central App

Wow that's weird, I didn't have to do that at all...interesting. My Flip was on the dev channel and found an update, which it restarted for, and suddenly the Play Store was in my task bar. Posted via the Android Central App

I should say that once I opened the Play store, I had to agree to terms of course, but that's it. Posted via the Android Central App

Yeah, I'm not really sure what he's talking about. My Flip got the Play Store automatically with the update. And I'm pretty sure that's how it's supposed to work.

If you're on the dev channel already, then yeah. Posted via the Android Central App

Ohh, that must be the difference then. Posted via the Android Central App

Ugh... I knew I should've went with the flip over the Cb2. Posted via the Android Central App

Noooo! Patience. We will get it on our cb2s. Besides, the flip is tiny and the screen is not nearly as great. ;) Posted via the Android Central App

Going to wait and until it's in stable. Thanks for beta testing Posted via the Android Central App

It's fun to play around with, but Chrome hangs constantly on the dev channel (for me, at least), and the Android app support isn't really great at the moment. They've got a lot of work to do before it's ready for primetime.

Sorry. Until Google figures out how to install apps - including the cache and other data which takes up as much space as the apps themselves - in external storage, this won't be practical, especially since most Chromebooks have only 16 GB of storage. As much as it pains me to say since I am a Linux and Android guy, a Windows 10 device - so long as it has at least 4 GB of RAM - would be a better choice, because even if you only have a 16 GB SSD like many of the Windows 10 tablets and 2-in-1s do, you can still install software (except for the Windows Store apps of course) to the external source. The same is true of Android tablets (again so long as they have at least 2 GB of RAM) ... being able to adopt a (fast) SD card as storage and install apps to it is better. Also, I would bet that a 16 GB Android device would have a good bit more space for Android apps than would a Chrome OS device with 16 GB internal storage anyway. This change significantly alters the original intent for Chrome OS, which was meant to support web and cloud applications and platforms, not native apps. I guess backward compatibility for existing Chrome OS devices - not that there are many such things in the wild beyond those in the education market that have made it loud and clear that they do not want Android apps in the first place - is fine, but going forward Google is going to need to redo the hardware architecture on these things. Google may intend for Chrome OS to primarily support apps and plugins from the Chrome Store with a few Android productivity type apps to fill in gaps that the Chrome Store does not provide, as well as streaming Android apps when it finally becomes a thing or beta next year or so, but people (especially those who had no interest in Chromebooks before but will get them hoping that they will be "better Android tablets") are really going to want to install and use a lot of apps - especially the mobile versions of console games that are HUGE - to take advantage of the more powerful processors and extra RAM that exists on the better Chromebooks, and if they run out of space after installing a few Square Enix games, they will not be happy.

Not really an issue for most people. I have only about 4GB of apps on my phone. The bulk of my storage is used by podcasts, music, and photos that I only ever offload when I switch phones (every six months. As long as all of that can go to the SD card, then there's no issue. I just hope that Chromebooks don't handle SD cards in the idiotic way that Google decided they should for Android. Treating removable storage as non-writable and now non-removable (adoptable) is one of the dumbest things I've ever seen a company do.

Surface 3 plus android emulator is the way to go. All the power of windows and access to all the games and apps I want on the play store. Posted via the Android Central App

So I notice that we are talking about a specific developer build on one machine. I was under the impression that Chrome OS stable updates all machines at the same time, is this correct? Posted via the Android Central App

You can choose stable - beta or dev on the settings and that version will be applied. Posted via a still buttery smooth nexus 7 2013 .

Everyone was under the impression that ChromeOS updates were the same across devices, but that's apparently not true. The Play Store is currently being tested only on one model, and, as a big F-you to early adopters, will only come to certain current devices in the future. It's not clear how or why they're selecting which devices will and won't get it.

In other Google news https://youtu.be/3_tWyvnH0xY Posted via a still buttery smooth nexus 7 2013 .

Of course I know this is on an unstable dev channel, but is anyone else having trouble with all Android apps disappearing on logout or restart?

I haven't experienced that one yet.
But my apps will freak out if I switch to tablet mode or laptop mode while they're already running. Posted via the Android Central App

It's really bad switching from portrait to landscape. Also, Android apps are mostly unusable in tablet mode because the on-screen keyboard covers up half of the screen; half the time, I can't see the box I'm trying to type in!

Yes same here for the keyboard...it's enormous and apps hide behind it so you can't see the letters you're typing.
I'm loving the novelty of having Android apps on my everyday laptop now though. Here's to more updates! Posted via the Android Central App

Yes my apps constantly disappear from the device. I am using two accounts and I am wondering if that is affecting it.

I'll be waiting until it becomes stable. I'm excited by this development, but am not keen to have an unstable Flip. And I think we need some clarity on the space issue, can apps be saved to external storage and will this affect their operational effectiveness in any way? Posted via the Android Central App

I was like a kid in a candy store trying different things out but then uninstalled almost everything except for GMail which is what I really want for when my flip is in tablet mode. I too may revert back to stable mode until they figure out a way to manage the apps. It is a little spooky right now with both the apps (Chrome and Android) together in one launcher with the same icon. Actually it is a bit confusing and unnerving wondering what is happening with my precious Ram and storage.

Are Print Services part of available/supported apps?

I just tried to install Brother iPrint&Scan. It didn't seem to find my wifi printers but coincidentally I have been having trouble with my wifi so not sure which is the issue. This is the first thing I thought of with android available on my Flip. I would love to print directly rather than through iCloud and needing to go to the basement to log into the computer that is attached to my printer. I will fiddle some more over the next few days and report back.

Thank you I'm hoping to print without saving pdf to google drive and printing from my phone.

Does your printer not support Google Cloud Print?

I have a MFC-9840CDW. I don't have a working windows PC right now. So Google Cloud Print not an option.

Samsung 2 can i use google.play yet?? Posted via the Android Central App

Folks I would recommend waiting until the OS fixes the bugs and work arounds associated with Google Play (and trust me they're going to plenty!) before using the Store. I would also recommend waiting until new Chromebooks are coming in with the chip and memory and storage we want to insure that the apps will run before pulling the trigger. It's coming, don't worry! It just sucks to wait soooo long! Grrrr! Posted via the Android Central App

i still don't understand why there's no support for the acer c720 series

It may have to do with support for an old kernel, but the newer devices have something the older ones don't. I hope someone figures out a way to get it on my acer c720p because I love this damn thing. Posted via the Android Central App

Same here. The c720p was my first Chromebook and in some ways I'd even dare to say I like it over the Flip I use now.
I could've sworn it'd get Google play support! I'm so surprised :( Posted via the Android Central App

So do we have to repurchase our apps? I bought office pro for my tab s but on my Chromebook it wants me to pay another $14.99. Is that right?

Logout and log back in again. That should do the trick. Posted via the Android Central App

I am so loving running Android Apps on my Asus Flip. It feels like I just got a new device by just updating the OS. And I have to say that the last stable channel update made my Chromebook drammatically faster; and the developer channel, which I moved to in order to run Android apps, also feels like the Chromebook is that much faster.

Well my Chromebook won't support it. Might as well just get rid of the thing then since I haven't used it in a year

Just bought an Acer Chromebook 14 and when I loaded up the Dev Channel it showed up in the google apps. Play store that is.

Currently using Asus Flip with the dev-channel to use the Play Store but what's strange is if I tether wireless through my iPhone (ATT&T) it works great and I can play Samurai Seige (Android game) but, the strange part is that the Play Store doesn't work with my home Cox Internet connection. Has anyone had this issue or know why this is? When using with Cox Internet it seems just to timeout

I just happened to buy a Asus Flip at the right time, and am now running some of the Android apps successfully -- but it'***** or miss. Latest problem: The Chromebook sees the SD card, the Android apps do not. Unfortunately, there are two similar but different file managers living here, and the one you get depends on which world -- Chrome or Android -- you happen to be in. Anyone run into this SD problem and have a solution? Also: Is there a more appropriate forum around here for these sorts of questions and observations? Thanks!

I just updated my Flip today to the developer channel. After rebooting to apply changes, the play store was there but after I accepted the terms, the play store app got stuck on a screen that says, "Welcome <my name, gmail address> Sign in to Google Play on your ChromeOS device." I've watched multiple videos about getting the play store on the Asus Flip, but none of them that I've seen appear to show this screen at all. Instead they all just immediately show the Play Store window, with clash of clans and stuff. I visited play.google.com to see if I had to log in through the browser window. I also tried to install apps from the web version, and the apps I viewed in-browser only gave me the option to install on my phone. At length I decided to restore the stable channel and reenter the dev channel later, to see if there had been a problem installing it properly, but it gives me the same message this time around. Has anyone else encountered this problem? If so, what did you do to get around it? I appreciate the help.

I got the same problem on my chromebook Flip, I had it working, but they release a new version, so I updated to it, until that update, I was not able to use the playstore anymore. is there a way to go back to a specific version, but I don't know the version. Here's my current version :
Version 53.0.2773.3 dev
Platform 8481.2.0 (Official Build) dev-channel veyron_minnie
ARC Version 2992394
Firmware Google_Veyron_Minnie.6588.197.0

I found a solution on another website :
Kybard said:
I figured this out. It was a very silly solution: I selected some of the "Welcome" text and hit Ctrl+A. This showed me that there was an invisible button on the very bottom edge of the Google Play window, just below and to the right of the Play icon. Clicking the sliver of it that highlighted blue when I typed Ctrl+A prompted the sign in to proceed.

I have heard that the Acer Chromebook 14 is now compatible with google play store, has anyone loaded it to theirs as I am thinking of buying one.

I have a Acer Chromebook 14 Aluminum and just switched to the beta channel and can confirm that the Play Store works. But you have to enable Developer mode and run a few shell command lines which isn't so bad. At least you can do this on the beta channel which is a step up from canary or dev.

I've switched my Acer Chromebook 14 device into Beta channel and went into Developer mode and brought up the shell, but I can't seem to get the commands right. I would be so very appreciative if you can find a few minutes to write the steps you did in a reply, including the commands. I would even toss you a few bucks on Paypal, or at least give a digital high five.

I'm on an acer c720 and android apps work just fine with the runtime just not the play store :/

how did you accomplish this?

I have an ASUS C201P in developer mode and and I am not getting access to the google play store. Ive tried beta too. Any advice? help!!!!