Here's how I turned a Chromebook into a powerful full-time work laptop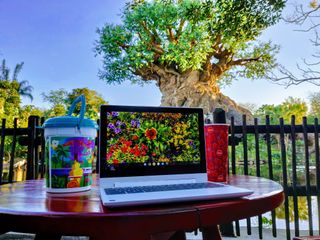 (Image credit: Ara Wagoner / Android Central)
A Chromebook is a computer that you can work from full-time, even if it isn't one of the best Chromebook models out there. It's been that way for years, and yet outside education and enterprise — two industries that have very strict standards in regards to quality, value, security that have helped make Chromebooks into the only cheap laptop you should buy — Chromebooks are still thought of as less-than computers. Despite Android app support — and now the same for Linux apps — increasingly high value and durability, Chromebooks are by many still seen as light-duty machines that you can't use all day, every day, for everything. Except that's exactly what I do.
Here's how I work all day, every day on Chromebooks, and the models I've personally used the last six months.
Chrome extensions and shortcuts
Most of my work involves research, communication, and writing, so most of that is done in Chrome tabs, with Slack, Airtable, Google Keep, and Google Drive being always open. Tabs for article backends, Google Photos, Pixlr (opens in new tab), and of course Twitter and Reddit flit in and out amongst news writing, troubleshooting, asset management, and procrastination. But among all tabs there are a series of Chrome extensions that sit to the right of the Omnibar and make my life easier:
Because these extensions — and my Chrome history — sync between all my devices, I can hop between Chromebooks and between my phone and Chromebook pretty easily when working anywhere and everywhere around Walt Disney World. Thanks to Better Together, my devices can all help each other stay secure but easy to access with Smart Lock while out and about, too!
I'm a firm believer in work smarter, not harder, and on Chromebooks, shortcuts go a long, long way towards that. There are a whole lot of keyboard shortcuts available for Chromebooks, but the ones I use more than any other on a Chromebook are the easy split-screen controls: Alt + [/=/]. Even on 11.6-inch screens, split screen is usable if you get your proportions right, and being able to quickly snap tabs left, right, and back to full-screen is infinitely useful when banging out quick news posts or how-tos.
My easy, awesome photo system
Adobe may refuse to make an actually useful version of Photoshop for Chromebooks, but between Google Photos, Pixlr, and the photo editing apps available on Google Play, I can more than make do without it. Matter of fact, Google Photos and the built-in photo editor in the Gallery app are usually all I need.
All of my article photos are taken on phones and synced easily and wirelessly via Google Photos, enabling me to check photos on a Chromebook moments after I take them on my phone and check that my shots are good before moving on. While I have enjoyed being able to access photos through the Files app via the Google Photos folder in Google Drive, that's going away in July, at which point I will still be able to easily edit and download photos from either the Google Photos website or the Google Photos app on Google Play.
When I need to do more specific level adjustments or annotate out email addresses, Pixlr Editor (opens in new tab) is quick, dirty, and free, but for simple download > crop > rename > upload needs, the Files app and Gallery app make things easier than Windows and Photoshop, by far. After downloading a series of product renders or screenshots, I can rename files in Files with Ctrl + Enter. Press enter to open the image when I'm done, and after I tap the edit pencil, I can tap C to enter the cropping mode, using trackpad or touchscreen to crop out unwanted shadows or excess white space.
Video editing on Chromebooks is still rougher for anything beyond meat-and-potatoes editing, but photo editing is more than enough than my busy workload.
All-day battery and touchscreen convenience
While there are somehow still non-touch Chromebooks being sold in 2019, the vast majority are touchscreen and the average battery life on almost every Chromebook to cross my desk this year is 10 hours — except the 4K behemoth known as the Lenovo Yoga Chromebook C630. Most days when leaving the park, my battery still has 5-8 hours of life left in it, and I've stopped bringing a laptop charger with me entirely because so long as my Chromebook is above 80% when I left, I know I'm not running out of battery before I get home.
Touchscreen laptops are becoming more normalized on the Windows side, but MacBooks are still stubbornly non-touch, which is a shame. While a mouse or trackpad may still be better for precision actions, when scrolling through a Reddit AMA or playing some Tri-Peaks in the Microsoft Solitaire Collection (opens in new tab) — the one Microsoft app no one should live without — there's just a casual wonder to ditching the trackpad, flipping your Chromebook back into stand mode and tapping cards with your fingers. My favorite Chromebook at the moment, the Lenovo C330, is a touchscreen 2-in-1 with a battery that will literally go all day with nearly constant use, and it's only $250, almost half the price most comparable Windows machines run.
Ara's Chromebook Report Card
These are the Chromebooks that I have personally used so far this year and how they've all stacked up to each other:
Lenovo Chromebook C330 (opens in new tab) ($250 from Amazon)
My run-and-gun Chromebook, with me through cross-country flights, dawn-to-dusk hikes across Walt Disney World, and working late, late into the night. I love this thing, I just wish the support life for it was going to be longer.
ASUS Chromebook Flip C214 (opens in new tab) (From $350 at Amazon)
This is the model I'm using at the moment — review coming soon — and I'm a bit more in love with its stylus than a grown woman reasonable should be, but it's also thin, sturdy, and more compact than the C330.
ASUS Chromebook Flip C434 (opens in new tab) (From $530 at Amazon)
This is the Chromebook that replaced my Pixelbook on my standing desk for now. It's compact to haul around, but with two 11-inch models, it's better suited to chilling on my desk for split-screen editing and web conferences with my bosses.
Google Pixelbook (opens in new tab) ($949 at Amazon)
While I spent all of 2018 on this Chromebook, since it got back from its two-month RMA from hell, I've barely used it. It's fun for new features and split-screen on a 3:2 screen is nice, I like 16:9 more.
Lenovo Yoga C630 Chromebook (opens in new tab) ($810 at Lenovo)
This is a big boy, for sure. 4K is awesome for streaming YouTube and the like, or trying to get articles done while watching a Twitch stream, but it's too heavy to haul around regularly.
The Lenovo C330 is still my overall favorite — especially at its low price — but once we get into the fall and start seeing some more discounts on the new crop of Chromebooks built on the platform of the C214, which will receive support until June 2025, we'll likely see a new top pick in Best Chromebooks. I'm excited for the new generation of Chromebooks; the C214 has been zipping along for me and I'm hoping to see the same smooth performance from the Dell Chromebook 3100 2-in-1 (opens in new tab) when I can get one in for review.
There's never been a better time to hop into the world of Chromebooks, and if you've been talking yourself out of it thinking you can't get work done on one, well, I hope I've helped you put those fears to rest. Grab one for yourself, and I'm confident you'll be as happy with yours as I am with mine!
Android Central Newsletter
Get instant access to breaking news, the hottest reviews, great deals and helpful tips
Ara Wagoner was a staff writer at Android Central. She themes phones and pokes YouTube Music with a stick. When she's not writing about cases, Chromebooks, or customization, she's wandering around Walt Disney World. If you see her without headphones, RUN. You can follow her on Twitter at @arawagco.
Thanks for the great article. I use the Samsung Chromebook Pro for pleasure and business.

I use the i7 Pixelbook exclusively. My son has the i5 version along with his Gaming PC. Other than gaming, he mostly uses his Pixelbook. You are correct, Chromebooks are a great option for the majority. After years of GNU/Linux and Windows machines, ChromeOS is a refreshing change.

I'll be picking up my new phonebook from UPS today, the Lenovo C330. Can't wait to give it a go and use it for day to day documents and browsing. Used to have the Acer R11 so it should be an interesting comparison.

Love. My. C330. I really feel guilty that I've had to leave it unused the last couple of weeks as I've been testing the Asus C214 for review.

Oops, should have read "chromebook"

When my oldest daughter started college four years ago, I bought her a Chromebook and within a month she bought herself a MacBook. She struggled with printer compatibility and word processing on the Chromebook. Fast forward to last Fall when I bought my youngest daughter a Samsung Chromebook Pro for her first year in college. Now that MS Office Online is fully functional AND FREE to students, the major hurdle of using a Chromebook for a college student has been removed. Moving into her sophomore year in college, I asked if she wanted a traditional laptop, and she said no! She loves the size, weight and portability. Winning!

Google Cloud Print wasn't as widely known four years ago (though in college, most computer labs made you print from their computer not your computer), but that's understandable if you weren't fully on Google Drive. What's your youngest using for a Chromebook these days?

Great article, Ara. Managed to snag a C330 during a Lenovo flash sale for $230. This little beauty is a joy to use. Solid build. Decent screen resolution. Insane battery life. Would've gladly paid list.

Tried it. Beautiful machine. Yea the Chromebook is fine for lightweight tweaking with photos and lightweight word processing, some heavy emailing. But if you need to do some serious crunching, network troubleshooting, if you need to SSH into a server, if you need to do some command line, a chromebook is just not worth your time. Yep it can be done. But all the apps available on Chrome are workaround lightweights. In dealing with those kind of convoluted apps I spent so much time tweaking and hacking I was wasting time. Any environmental change sent me into a settings frenzy. Leave your cromebook on the web as a toy browser for another year or so - maybe by then. . .

Or step up and put Linux on it

JuiceSSH, DrawExpress, and a myriad of other tools on the Android market make a touchscreen Chromebook a network documentation, and on-the-go troubleshooting killer set-up. I use my C330 as a second screen of sorts for engineering work but often take it into meetings by itself to run through configs or do adhoc diagrams on a WebEx or Zoom session. It's like my pocket knife when I don't need a saw :)

THANK YOU! Long time Disney fan and recent Chrome OS fan, so it is kinda cool to hear from both. The C330 is such an underrated Chromebook! I purchased one just 3-4 months ago, it being my second Chromebook to own and my first 2-in-1, and I love it! Lenovo is not my favorite in either the hardware or software departments, but they are my favorite in the price department. For only $250 on Amazon, I have been highly impressed with its capabilities! Its fast, light, and for a plastic shell it looks sleek. I use it for both work and fun.
So thank you for giving it the credit it deserves!

No love for the HP Chromebook x360 14?

Jerry got sent the HP Chromebook x360 14 G1; I have not been sent anything from HP to test this year so far. These are the Chromebooks that I have personally used this year.

The problem with articles such as these is that the author rarely tells you what he/she does. In this article, yes, there's a small blurb that tells me that the author writes for a living. Well, duh! A chromebook will do. I had a chromebook for the longest time and it was very inadequate. Yes, to write a small article here or there is fine, but then it starts getting buggy once you're writing your dissertation. Google sheets is nowhere close to replacing MS Excel. I'm not even talking about the fact that it cannot process large amounts of data, but also the fact that simple graphs are so difficult to plot and modify in Google Sheets. You cannot run any form of scientific software. It's good for folks who don't need computational power. It's not for people who do.

Uh, I know people who used Google Sheets to tabulate their profit margins on drinks and monitor inventory and trends. It has a few different strengths than traditional Excel (which is available on Chromebooks these days via Office 365), but it is plenty powerful on its own. And yes, I write, edit photos, do a metric ton of research, and use a few Google Play apps for VPN work, but between Linux apps and Google Play apps you can sate most use cases outside hardcore gaming and proprietary CAD suites.

The problem with certain people is they are compelled to share their limited success with others. The threat is others confuse that for what is. Sheets works fine for computing. Who said," everyone takes the limits of their own vision, for the limits of the world "

I have been successfully migrating multiple of my customers from using Excel (btw, they are lawyers and accountants), because collaboration simply doesn't exist for Excel and Google Apps Script did all the magic for them. Let's talk simultaneous multiuser editing? Excel can't do that. Let's talk cross document and system integration with macro? Sorry, can't do that. Let's talk schedule a job to process large amount of data? Sorry macro is too complicated to write (you need no code to schedule a job in Google Apps Script). Perhaps you may want to have an in-depth look into it or contact me if you want any help.

The problem with comments like these is that the poster rarely if ever tells you when they did their experiments, when their experience was less than desired. I've been using a Chromebook for about 3 years now and my experience now is so radically different than the experience three years ago that there's no comparison, Currently there is nothing that I can't do a Chromebook except for some video editing and even that's possible with some limitations. As far as "serious number crunching", for a given class of processor and with slighly less RAM, updates of the same large spreadsheet with many calculated values is as fast with Sheets as with Windows and Excel. I can't speak to graphs. In +30 years of engineering the only time I needed to draw a picture of data was for presentations to math challenged "business" people; accountants never needed charts.

This article is even more an endorsement of the capability of Web apps as it is of Chromebooks. Chromebooks inherently look more like superstars as Web-app counterparts of traditional staple business productivity applications (like MS Office suite) become increasingly more available. I also hope to see more devices like the ASUS Chromebook Flip C214, which uses an Intel Celeron N4000 SoC. Good Chromebook performance used to mean needing to have the more expensive Intel Core m3 or better. But Chromebooks that use at least an N4000 or better Celeron will drive 1366 x 768 pixels without feeling sluggish as do the lower performing Celeron chips.

agree. Web apps have drastically improved over the years. In the education field it's almost a death sentence if you can't run on a Chromebook.

I have been full Chrome OS for 5 years now, teacher. I have a Chromebox for work, the original Asus Chromebox i3. I teach through my Samsung Chromebook Pro and take it when I need to go to meetings. At home I have the original Acer Chromebook 15, Lenovo N1, Asus Chromebook Flip, HP Chromebook G1 (not the newer one), and a Dell Chromebook (model number escapes me right now). I have a little bit of a problem :-) Not gonna lie in the early days of Chrome OS there were definitely limitations. Printing was probably the biggest. When they added in adding printers via IP address, that was a game changer for me. Google Docs, Sheets, and Slides have continued to get better and the conversions of Office documents are very good, minus some formatting issues still. I used to recommend Chrome OS devices a lot and have to show some workarounds. Nowadays, people just get them and go. Instant syncing across any device, fast book, killer battery life, and now Android Apps. I know there are the few that can't use Chrome OS because of some certain program, but I would say for 90-95% of people a Chrome device would be perfect. As a teacher there are still some programs that only work on Windows, but that number is almost zero (in fact only 1 for me right now) and then the educational perks like unlimited storage is also nice. It is interesting to watch more and more people realize a Chromebook can do basically everything they need it to do.

i have been interested in a chromebook for awhile now. I also want to use it for the times i work from home.
I will primarily log into my work desktop via Remote Desktop. My concerns are:
1. I have dual monitor setup at work and additional monitor to the laptop(chromebook) at home.
With Windows Remote desktop i can remote in dual monitor to dual monitor to have a seemless dual desktop experiance. Can this be replicated with a chromebook?
2. i have an HDMI 2nd monitor, ethernet (must have for my at home work desk location) and USB(A) mouse. Am i going to be able to connect these (all at the same time) without having to spend an arm and a leg on adapters?
3. My 2nd monitor is 21" and my 2 work monitors are 21". I know chromebooks obviously do not come that big but i also dont want an 11". I currently use a 15" Windows laptop fine. I noticed most options are 11/13". hard to find 15". would 14" be that different?

As in one window dragged across two screens? I can't get my C214 to do that right now, but I could've sworn I've done it on one of my Chromebooks before. No, USB-C hubs with Ethernet can be found for semi-reasonable prices, like the VAVA hub in https://www.androidcentral.com/best-usb-c-hubs-chromebooks Check out the 14 and 15-inch models I featured in https://www.androidcentral.com/best-chromebook-travelers this week. They're getting more affordable and more plentiful, you might just have to hunt a little more to find certain configurations. I feel like for you the Asus C434 might be a good fit.

Pretty good article. I've been a Chromebook aficionado since late 2011. I'm not even sure where my MacBook Air is at the moment. I touched it once since going Chromebook and had to sit through two hours of updates in order to get one file. There are two distinct items for which I resort to a standard PC: MS Access, and batch editing of photos. My workhorse Chromebook in recent years has been the Acer 738T.

Batch editing is the one area where I'll still pop over to the Surface Pro I've been borrowing for a coworker for four years.

So I love my Chromebook but I finally had to get a full windows laptop again. I do a lot of travel and I mainly would remote desktop while at remote locations or on the road but when I didn't have wifi (or on a plane), it was a paperweight. I tried Sheets offline, tried Excel offline, tried using SD cards, etc but couldn't do anything useful when offline and I have a lot of sheets data to work on daily. I work in eCommerce and have to filter, advance sort, etc. It's a solid machine and was truly a head turner. Went a full day of meetings with no charger. Loved it. New laptop gets 5 hrs with decent use, 7 hrs with light use. But I needed full Excel and Adobe Suites power.

So I love my Chromebook but I finally had to get a full windows laptop again. I do a lot of travel and I mainly would remote desktop while at remote locations or on the road but when I didn't have wifi (or on a plane), it was a paperweight. I tried Sheets offline, tried Excel offline, tried using SD cards, etc but couldn't do anything useful when offline and I have a lot of sheets data to work on daily. I work in eCommerce and have to filter, advance sort, etc. It's a solid machine and was truly a head turner. Went a full day of meetings with no charger. Loved it. New laptop gets 5 hrs with decent use, 7 hrs with light use. But I needed full Excel and Adobe Suites power.

The OfficeSuite ( by MobiSystems) is a fantastic and inexpensive cross-device MSOffice replacement. It handles DOC/DOCX, XLS/XLSX, PPT/PPTX, PDF (with mark-up and signature capability!).

I have been using my Pixelbook since last December, and for the most part I love it. But, how do you keep all your email, Drive contents, and Photos backed up? Because of my living situation local backups are impractical, but I feel very exposed depending on just Google to store everything safely. Cost is another factor. I see products that look like they could do the job, but for a monthly fee that is more than G Suite.

I'm grandfathered into a 2 TB Google One subscription, so I use that and then I back up certain files on flash drives and external drives.

Great article....I wanted to add that there are some excellent video editing apps out there that run really well also. On a chromebook. I use wevideo and have made some great stuff. Thanks for the tip on using the image editor. I've been using pixlr but a quick crop option is most welcome!

Big Disney fan here too. That would be cool to work from the parks. I just got an HP Chromebook X2 this week and so far so good. It's impressively fast and has a really nice looking 3:2 display, which I believe is the same display panel used on the Pixelbook. The only drawback is how half baked the Android apps are, as I'm not able to rely on them as I thought I would be able to, but thankfully this laptop is just for my leisure, and I don't have to actually do my day job on it. I definitely could though if I wanted to.

I like Pixlr but it seems like every time I launch it, I'm presented with a new limitation to the interface. My "go-to" image editor of choice on Android is Picsay Pro. I hate that the file access is so wonky between Android apps ad ChromeOS. I tried running GIMP via Linux and that's pretty nightmarish at this point.

I'm starting to edit more images directly in Google Photos, but I still break out Pixlr when I need to crop out product text and email addresses.

Get back to me when it can do more than what i can do on my phone.

Linux apps? Always hit the scheduled system updates?

Super article. I was a beta tester of the original Chromebook Cr-48 in December, 2010. Other than ripping 500 CDs on a Windows laptop one summer, I haven't used anything but Chromebooks since then. I'm currently arguing with myself about a Asus C434 (wish the 8GB version was more available) vs. waiting for the (rumored) Pixelbook 2. A few questions for you: 1. what channel do you keep your Chromebooks on? 2. How do you keep year-round park access? 3. Do you install Linux on your Chromebooks? 4. When you mention "Gallery," do you mean the gallery inside Google Photos are some other app? Again, thanks for a great article.

I'm a Stable channel girl, but my Pixelbook is on the Dev channel to check out the Virtual Desks feature. Platinum AP (which I'm not sure I'll be able to afford next year with those new price jumps). I haven't really needed to yet. Jerry tends to cover that content. Nope, the Gallery app that's embedded in Chrome OS. The app that appears when you click on a picture in the Files app.

Thanks so much for your answers!

I love my Pixelbook but your comment about the 2 month RMA from hell worries me. can you elaborate do you have an article about this experience?

Waiting for an LTE Chromebook with a backlit keyboard I can use on ATT.
Android Central Newsletter
Get instant access to breaking news, the hottest reviews, great deals and helpful tips
Thank you for signing up to Android Central. You will receive a verification email shortly.
There was a problem. Please refresh the page and try again.