How to install Linux apps on your Chromebook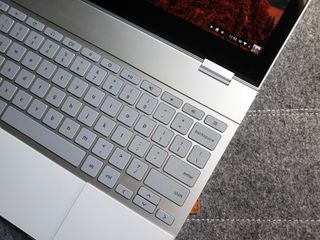 (Image credit: Ara Wagoner / Android Central)
Chromebooks have always been great at the basics like watching Netflix or checking email. Android apps brought a few more productivity tools, but Chromebooks are about to get a lot more useful with the addition of Linux apps. Plan on buying a Chromebook for yourself or a loved one during Black Friday? This guide will help you get the most use out of your new machine.
Products used in this guide
Check your Chrome OS version
Installing Linux apps requires your Chromebook to be running Chrome OS 69 or later. If you've had your Chromebook for a while and want to be sure you're on the latest software versions, here's how to check.
Click your profile picture in the lower-right corner.
Click the Settings icon.
Click the Hamburger icon in the upper-left corner.
Click About Chrome OS.
Click Check for updates.
Your Chromebook will make sure it's on the latest operating system, and download a new one if necessary. When it's finished downloading, just restart your Chromebook and you'll be all done!
More: How to change your software channel on Chrome OS
Enable the Crostini flag
Once your Chromebook is updated to the developer channel software version, you'll need to change one of the Chrome flags. Flags are semi-hidden settings that let you try experimental features.
Click on the address bar.
Type chrome://flags and press Enter.
Press Ctrl + F on your keyboard.
Type Crostini in the search bar.
You should see the flag titled Experimental Crostini. Click the checkbox, then select Enable.
Click Restart at the bottom of the screen.
Turn on Linux apps
There are just a couple more steps before being able to run Steam and other Linux apps.
Open Settings.
Click the Hamburger icon in the upper-left corner.
Click Linux (Beta) in the menu.
Click Turn on.
Click Install.
The Chromebook will download the files it needs. When that's complete, click the white circle in the lower-left corner to open the app drawer.
Click the Terminal icon.
Type sudo apt update in the command window. This will list the Linux components that require an update. Press Enter.
Type sudo apt upgrade in the command window. This will upgrade all the components that were just listed. Press Enter.
When that's finished, type y to remove excess files. Press Enter.
With that, all the necessary parts of the Linux operating system are installed so you can just install .deb applications from the file browser.
Download and Install an application
With the prep work done, it's finally time to install an application. Grab the necessary Linux installation file from your software vendor's site — we're using Steam for this guide.
Once the installation file is downloaded, open the File browser.
Click Downloads.
Copy and paste the .deb installation file to the Linux files folder.
Click Linux files
Right click or two finger tap on the trackpad while your pointer hovers over the file name.
Click Install with Linux (Beta).
The program will install, and when it's done, you can open it from the app drawer. That's it!
Our top equipment picks
If you're going to download a lot of Steam games or Linux programs, you'll want plenty of local storage. Google''s Pixelbook offers just that, as well as a slick design, awesome keyboard and trackpad and enough guts to keep up with your most demanding tasks.
The Chromebook for you
(opens in new tab)
Google's own Chromebook is the best pick for hardcore Linux users.
If you're going to get a Chromebook, it should be one with the space and the guts for your favorite applications. The best keyboard, trackpad and screen in the business don't hurt either.
Any modern Chromebook running the latest software will be able to install Linux apps. But the Pixelbook will provide the best experience for a few reasons: the main one is storage. 128GB of internal storage just means more room for your favorite programs and games. And the other internal specs will be up to the task of running those programs and games smoothly.
Updated September 2018: This article was updated to reflect the fact that Linux apps are now available in the stable channel of Chrome OS.
Android Central Newsletter
Get instant access to breaking news, the hottest reviews, great deals and helpful tips
Cool, thanks. I may still wait for the stable channel to catch up, but it's always nice to have a dead simple step-by-step to work with. Any other flags worth enabling? With or without the Linux apps?

I like the new UI elements. There are several of these that you can activate. Stay away from the new app drawer though. It's a mess.

There really should be some mention in this article that this doesn't work on every Chromebook. Only some models support Linux apps at this point. I have an Acer R11 on developer channel, and it still doesn't work on mine. There is no Crostini flag.

Calibre ebook management works great on my Samsung Chromebook Plus.

Developer channel may not make the computer less secure from a security standpoint, but it does make the software more likely to crash. I use Libreoffice. Once I added a line to the app to run at 115%, everything has worked pretty well. Only real issue I have is if the computer crashes... Then I have to restart the termina vmc from crosh or any Linux apps refuse to start.

So I followed the steps exactly as listed on this guide, but when I perform the very last step "sudo apt upgrade" for me it shows as follow: Reading packages list... Done
Building dependency tree
Reading state information... Done
Calculating upgrade... Done
0 upgraded, 0 newly installed, 0 to remove and 0 not upgraded Then it puts me back at the terminal window with marco@penguin:~$ However when I try to right click on the steam.deb I downloaded I don't see any option that allows me to choose Install with "Linux (beta). So I'm unable to install. Also I don't get that last option to where I'm supposed to type "Y" to remove excess files. What gives does anyone know what I'm missing? I tried to re-do these steps 3x all resulting to the same. I disabled Linux apps, re-enabled it, performed the terminal steps again and nothing.

Never mind I figured it out there is one last step not mentioned in the instructions. You actually need to make sure after you downloaded your Linux .deb file that you move it to the "Linux Files" section under the FILES Explorer app so you can actually right click it and choose "Install with Linux (beta)". If you don't then that option does not show up when you right click the file. At least that's what is occurring to me.

Anyone know what Chrome theme he's using!?

Hey Tom, thanks for the article
my Chromebook is an HP, in beta and there is no Crostini listed in flags :( it's there when it's in stable channel but not in beta or dev, if HP isn't supported is there another way to install Linux apps?? If you or anyone knows I;d so so appreciate it xxx

I'm really excited about getting Linux apps on my Asus C302. I followed your instructions and everything seemed fine except I did not get the Linux (Beta) in my settings options. I have researched to see if my C302 is among those Chromebooks that are Linux "ready" and it is. Any idea why I don't get the Linux in my settings menu? I switched to beta mode.

After reading about available chromebooks, the c302 is NOT on the list. Only asus is the c101. I've got both and Linux works on my c101. Since the c302 costs twice as much, you'd think it would too.

I did everything the instructions said and moved the file to the Linux Files tab and it still won't show install with linux. It keeps opening it in painter.

On Pixelbook the activation fails for me at install of Linux container. Haven't found a way around this and I'm reluctant to nuke everything with a powerwash to see if that fixes the problem.

Is all this worth it? Not being a wise guy, but what Linux apps csn be had that you can't get on chrome or Android?

I'm waiting for my 2014 dell chromebook 11 to die so I have an excuse to buy a new one. Patience is running thin...

Wasn't that easy to install Libreoffice. It had hundreds of .deb files so I searched online and found the correct terminal string. Eventually it installed and runs brilliantly.

OK, so how do I UNINSTALL this?
Android Central Newsletter
Get instant access to breaking news, the hottest reviews, great deals and helpful tips
Thank you for signing up to Android Central. You will receive a verification email shortly.
There was a problem. Please refresh the page and try again.