Top 3 reasons to buy a Chromebook over a cheap Windows laptop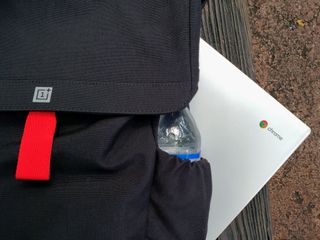 While in previous years there were some legitimate reasons to go for a Windows laptop over a Chromebook, they're all gone in 2019. For the vast majority of computer users, Chrome OS will offer better performance and need less maintenance, especially at lower price-points. Whether your kid needs a new laptop for homework or you need to upgrade to a computer that doesn't take 5 minutes to boot up, your best bet for a simple computer is a Chromebook, and that goes double for getting a computer under $400.
Built for business, built to last
Chromebooks are consistent, durable, and enterprise-approved
Chromebooks are expanding from significant footholds in two industries that have very important technological priorities: education and enterprise. Both of these fields have to distribute and maintain computers for hundreds to hundreds of thousands of users of varying skill level, so there are three things they value over all else:
How easy is it idiot users to work on?
How hard is it for idiot users to break?
How hard is it for our IT department to keep it updated and secure?
Chromebooks feature a very simple, sandboxed operating system. Even grade-school children can learn their way around a Chromebook with minimal instruction, and since Android apps on Chromebooks are sandboxed from the core Chrome OS system, it's very hard to break that system. Chromebooks sign in through a Google Account or enterprise cloud-based account and sync to said account, any user in the company can log into any Chromebook the same way, which brings us to another beautiful benefit of Chromebooks.
Chromebooks are designed around using the cloud for most of your document and data storage. If a student smashes their Chromebook on the bus or spills acid on it during a lab, all they need to do is log into their account on another Chromebook — or log into that account on their phone or home computer — and keep working on their homework; the only data they lost was whatever was saved in the Downloads folder.
Read more: How one non-profit uses Chromebooks in the workplace
Keep it supported. Keep it safe.
Chromebooks have an assured support life
Windows updates can take your computer down for hours at a time with little to no warning, and while the machine reboots to install updates, you can't use your laptop for anything. Windows 10 has alleviated some of this strain, but updates that keep your machine offline for 20+ minutes still happen, especially with big quarterly updates. Some Windows machines — especially cheaper laptops — often don't get the driver and firmware updates from their manufacturers needed to keep up with updates.
Chromebooks fix most of these problems, for one reasonable price.
Chromebooks all have their driver/firmware/system updates pushed out through Google, keeping Chromebooks updated every 6 weeks or less. When an update comes, Chrome OS will install it in the background, then an icon will appear in the bottom-right system tray when finished, noting that your Chromebook is ready to reboot. Chrome OS will not force itself into a update reboot the way Windows can (and often does).
This nearly perfect update system does come at a small price, and that price is that every Chromebook on the market has an Automatic Update Expiration (AUE) date, after which Google isn't committed to pushing out updates. Most Chromebooks have at least 5 years of support between their release and their AUE date; for instance the HP Chromebook X2 will be updated until June 2024, 6 years after its 2018 launch.
Find out what your Chromebook's Automatic Update Expiration date is
Do it all and do it all easily
You really can do everything you need to on a Chromebook
To this day, some people still think Chromebooks aren't real computers that can't do anything without an internet connection, and those people are dead wrong. Not only can a Chromebook do just about everything your Windows machine can — outside of professional-level CAD rendering, hardcore PC gaming and some proprietary programs like iTunes — a Chromebook will do them better and faster than a bargain-bin Windows laptop, and do them better for years longer.
Google Play has brought Android apps to almost all Chromebooks, and if you can do something on an Android phone, you can do it on a Chromebook. This includes using the Microsoft 365 apps like Microsoft Word and Adobe Cloud Creative apps like Lightroom CC. In addition, Linux apps are slowly coming to more Chromebooks, meaning that the professional-level CAD rendering and other high-end, computing-intensive tasks that are still currently unavailable on Chromebooks are going to be widely available before long, too.
And no matter what you install, Chromebooks continue to purr along since everything is sandboxed and secure. While Windows machines start to bloat and crawl the more programs you install and the more you use the machine, my five-year-old Lenovo Chromebook is still as steady, stable, and almost as speedy as it was when Jerry sent it to me back in 2014.
Do yourself a favor and buy a Chromebook
A $300 Windows laptop is going to be crawling and begging to be put out of its misery in a year or two, while a $300 Chromebook just asks "What's next?" and keeps on helping you bang out term papers and catch up on emails. It's good enough for your kids' schools; it's good enough for IT professionals across the country, and it should be good enough for you, too. These are some of the best Chromebooks you can buy today.
Lenovo Chromebook C330 ($250 from Amazon)
Our favorite Chromebook right now lasts 10 hours on a single charge, zips along even with a dozen Chrome tabs and Android apps open and 64 GB of storage for offline movies and document editing.
ASUS Chromebook Flip C302CA-DHM4 ($470 at Amazon)
This fine-looking 12.5-inch Chromebook is great for working women on the move or students looking to get homework done while split-screening Twitch or YouTube. With long-lasting battery and a lightweight aluminum casing, the C302 will go all day.
ASUS Chromebook Flip C101PA ($329 at Amazon)
With a 10 inch screen and compact design, this is a great Chromebook for kids or for users that want a grab-and-go laptop that's small enough to fit in a satchel. The keyboard may seem a bit small for some.
Sign up for Black Friday email alerts!
Get the hottest deals available in your inbox plus news, reviews, opinion, analysis and more from the Android Central team.
Ara Wagoner was a staff writer at Android Central. She themes phones and pokes YouTube Music with a stick. When she's not writing about cases, Chromebooks, or customization, she's wandering around Walt Disney World. If you see her without headphones, RUN. You can follow her on Twitter at @arawagco.