Lenovo ThinkPad Yoga 11e review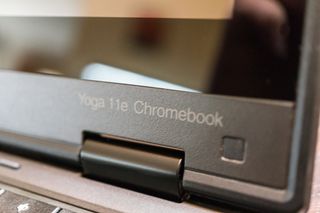 Lenovo's latest convertible Chromebook could be the one you're looking for
We're starting to see new Chromebooks explode onto retail shelves, and presumably the sales figures are still climbing as well or they wouldn't be there. There are some really great budget options that bring an experience that plenty of people both enjoy and find suitable for their needs, but what is lacking is that mid-range model that brings a little more without being a ridiculously priced Pixel.
If you're on the lookout for something a little more premium than some of the other offerings, and aren't afraid to spend just a little more (about $450 at the time of this writing) Lenovo wants to talk with you. The new ThinkPad Yoga 11e may be just what you're looking for.
It's not pretty
If you're looking for a svelte and sexy laptop, the Yoga 11e isn't going to be on your radar. The Yoga 11e was designed for classroom use, and is built to take a bit of a beating. The metal reinforced frame sends it three ounces above the three pound mark, so it's not exactly light either. What it is, is built to last. Kids tend to break things. This will be harder for the little buggers to destroy, and that translates into a laptop that will take some abuse while in your bag banging around on the floor of the bus.
The hinges and port openings have been strengthened, the lid has a rubber bumper surrounding every edge you can touch, and the construction was enough to get the Yoga 11e MilSpec tested and certified. It's not Panasonic Toughbook tough, but it will take what an average user can throw at it and come out relatively unscathed.
One highlight of the Yoga 11e is the display. Once you make sure you're running the display at the native resolution (a rookie mistake I made for the first few days) the Yoga 11e screen will almost make you hate the other Chromebooks you may have seen or used. It's certainly not the standard — and awful — 1366 x 768 resolution, nor is it the relatively large bezels (a must have for the Yoga's tablet-mode we'll talk about later). It's simply because Lenovo used a decent IPS LCD instead of a cheap TN panel. The colors are vivid, the viewing angles are good — both horizontally and vertically — and everything is nice and bright.
As expected from any laptop with the ThinkPad name, the keyboard is excellent. The keys sit in deep pockets that give great tactile feedback for those who type without looking at the keyboard, and have just the right amount of travel and "clickyness". Combined with generous spacing and layout, this all makes the Yoga 11e keyboard something I could spend all day tapping it with nary a complaint.
The trackpad works well and is nice and smooth, when it's not flaking out and being glitchy. There's a bug with the current vendor-supplied software that makes the trackpad have a mind of it's own on occasion. You can read more about it here. The short version — the bug is fixed in the beta channel, and a coming update will fix it in the stable channel. The long version — sometimes the trackpad gets a mind of its own and will be very erratic for a number of seconds. This doesn't affect any mouse you might have plugged in, nor are there any issues with the touch screen. Hopefully, by the time you read this it's been fixed. If not, switch to the beta channel before you set anything up.
And it's a tablet, too
We've seen touch screen Chromebooks before, but the Yoga 11e is the first Chromebook to have a flippy screen and convert into a tablet. The screen folds the whole way back, the keyboard and trackpad shut off, and you're left holding a thick, heavy tablet running Chrome OS. Like an Android tablet or an iPad, you have a virtual keyboard that pops when you need it to enter text, but most of the time you've an 11.9-inch display with the same content as laptop mode. The difference is that you're holding it closer to your face. Thank goodness for the IPS LCD panel.
Swipe to scroll horizontally
Category
Features
Display
11.6" HD LED backlit Anti-Glare (1366 x 768) IPS LCD
Processor
Intel Celeron N2930 Processor
Memory
4.0GB PC3-10600 DDR3L 1333 MHz
Storage
16GB eMMC SD card expandable
Cameras
720p HD webcam
Connectivity
Intel® 7260 2 x 2 AC + Bluetooth® 4.0 combo
HDMI 1.4, USB 3.0, USB 2.0, 4-in-1
Software
Chrome OS
Battery
4-cell Lithium Ion
8 hours average use
Dimensions
11.81 x 8.5 x 0.87 inches
Weight
3.3 pounds
Chrome OS in tablet mode isn't an ideal experience. For starters, the OS isn't fully optimized for touch, and neither is the web. For things like working in Google Docs or writing a Chromebook review, you'll definitely want to use the standard laptop mode. For things like surfing the web or watching a movie, tablet mode works well.
It will be interesting to see how this evolves. I have a feeling this isn't the last "tablet" running Chrome OS we'll see, and everyone knows that the next generation of the web will be touch-friendly. And of course, once we have a big list of Android apps we can run on a Chromebook, the tablet mode will be super useful.
For now, it's more of a novelty than anything else. A novelty that requires a much thicker bezel around the screen — you need real estate to hold on to when your tablet weighs 3.3 pounds — that would be necessary without it. It may turn out to be a useful addition, but I'm going to be cautious before I call it a must-have feature.
The performance
The Intel Bay Trail processor in the Yoga 11e promises great battery life without sacrificing any performance. Now we all know that you can't ever actually do that, but Lenovo isn't far off the mark here. During my day-to-day use (and I live on the Internet) I've had a total of zero performance issues with the Yoga 11e. For the more-geeky of us, the model tested was running atop a quad-core Celeron N2930 CPU with 4GB of RAM, and while I'm not able to try playing Crysis, things like HD video or games at Ninjakiwi ran just fine and dandy. I can run with upwards of 50 or so tabs open, edit my work here at Android Central, or run a video hangout, or all three at once with no noticeable performance hit. That's something I can't say for my aging C710.
Where Lenovo falls short is on the battery life promise. They tell me I should expect "up to eight hours" out of a charge. I'm lucky to get five. Now maybe it's the way I use my Chromebook — I do like to make them work as hard as they can — but I can get better time off the charger with other laptops, both older and new. I haven't sat down and ran any controlled battery tests, because that won't tell me what to expect the way I use the thing. I can tell you that any of the new Chromebooks from Acer or ASUS will probably do better in this department. As will any Haswell-powered machine. Only you can decide if five hours of heavy use away from a wall plug is something you can deal with. I can deal with it.
The bottom line
You can buy a great Chromebook for a lot less. You can also spend a lot more and buy into Google's "luxury" option with the Pixel. But if you're looking for a well-built — albeit a little ugly — Chromebook with one of the best screens we've seen on a Chrome device, spending $450 gets you one of the nicest Chromebooks we've had the pleasure of using.
The Yoga 11e is built tough, and while the convertible tablet mode may not be super useful right now, it very well may be a must have in future versions. And personally, with the advent of Android apps — and Photoshop — on a Chromebook, I wouldn't buy into a model without a touch screen at this point.
The Yoga 11e is the mid-range Chromebook a lot of us wanted. It's not perfect by any means (is anything ever perfect?) but I really think Lenovo offers one of the best bang-for-your-buck purchases you can make right now with their new Chromebook ThinkPads. The Yoga 11e is certainly worthy of carrying the ThinkPad name, and the heavyweight class construction means this one should last you long after the device has outlived its usefulness.
While the Acer c720 is still what I would recommend to most users looking for a Chromebook to get started with, anyone who wants a little more should take a good look at the ThinkPad Yoga 11e.
Image 1 of 11
Get the Android Central Newsletter
Instant access to breaking news, the hottest reviews, great deals and helpful tips.
Senior Editor — Google Ecosystem
Jerry is an amateur woodworker and struggling shade tree mechanic. There's nothing he can't take apart, but many things he can't reassemble. You'll find him writing and speaking his loud opinion on Android Central and occasionally on Twitter.
For $100 less (and no tablet mode) you can get Toshiba Chromebook 2 which will last longer (in terms of battery life), and has a full HD IPS panel.

This is how I feel. If I wanted/needed a Chromebook, that would be the one to have.

I tend to agree. I want a better screen anyway. If I want a Tablet something a lot lighter and slimmer is required.
The Yoga format (with a better screen) as PC, could be interesting. Once MS produce an OS I can stand again. Well . . . I like it :-)

For $100 less you can get a Chromebook with completely different features which may or may not be right for you.
Apples and Oranges.

Pw Posted via Android Central App

I find it really difficult to see the appeal of these. My sister needed a new laptop and phone recently. While I was able to finally drag her from BlackBerry to Android for the phone I opted to replace the laptop with an ASUS Transformer Book T100 for £250/$400. It has the battery life, it can detach to be a tablet but more importantly it runs Windows 8.1 and has Office. When I need to replace my laptop I might opt for a Chromebook but at the moment I struggle to recommend them as they are just too limiting. P.S. ThinkPads are always pretty.

I thought the same way, but I bought a Refurbished Acer C720 and I LOVE IT. It's my day to to day laptop, and I like it a lot better than the T100. The mouse and keyboard are a lot nicer and easier to use, the battery lasts me 8 hours, the speakers are great. Honestly, there's not much that I can do on Windows laptop that I can't on my chromebook. I don't play games.. I really ONLY pull put my windows machine when I need to use photoshop. The chromebook is super light and fast, I LOVE IT!

The question you should have asked her was, did she really NEED Windows and Office? I can almost bet the answer would have been no, and then a Chromebook would have been just as good a choice

It makes her job a lot easier. Posted via Android Central App

As someone who spends 75% of their computer usage in a word processing/spread sheet environments, Google Drive doesn't quite measure up to Office. It's good, and has gotten a hell of a lot better over time, but still exists as a stop gap solution for me.

As someone who uses my Chromebook day to day, even for school - Google Docs is OK. It usually gets what i need to be done.. but has formatting issues when opening some documents. Word is much better all around, if Docs, Sheets and Slides could get the quality of Office, I think Microsoft would be in trouble.

I'm sure the answer is YES for a lot of people. Maybe not so much the Windows aspect but MS Office is still the de facto standard for document, spreadsheet, presentation, and database formats. Google's services are compatible with many Office files but there are numerous instances when a formula in a spreadsheet won't work in Google Sheets or formatting doesn't transfer over to Google Docs. More advanced college students, who rely on Word's track changes feature as well as EndNote, are required to use MS Office as there is no other solution. Chromebooks have come a long way since they were launched but the OS itself still lacks compatibility with many programs (MATLAB, AutoCAD, EndNote, Photoshop, etc.) and Google's office suite still can't compete with MS Office in terms of features and compatibility. It is currently a niche platform and will remain that way until developers release more programs for it.

I have both a chromebook and the T100. Got the chromebook first and picked up the TF100 on a Groupon whim because I there are certain software itches that Chromebooks can't scratch. Since then the chromebook has become a contingency machine, and something I'll likely pass on to my daughter when she's old enough. I'll say this: I loved my Chromebook. It fulfilled 80% of my needs. For most people, it's more than capable for everything they need in a laptop. Moving forward you just need to ask yourself what you'll use the machine for and if there are certain software options you simply can't live without. Look hard at what Google offers before you make your decision, because they really do offer a hell of a lot of value for the $$.

Almost quadruple the price of my C720. This is certainly a big step up from the C720 but not worth 4x the price in my opinion.

You paid less than $115 for your C720?

There have been some really good refurb deals out there. I have not seen one for less than $115 but I have seen $119. $129 pops up pretty regularly. If you regularly drop by Slickdeal forums you can catch some really great deals.

He grabbed that groupon deal I'm thinking Sent from my Note 3, soon to be Note 4 rommed, with $ in my pocket. Unless I cave and buy one.

You got it. I think it was 120 on Groupon.

Dude, just cave in and get the Note 4.. sell your Note 3 while you can. You deserve it.

I do deserve it lol Sent from my Note 3, soon to be Note 4 rommed, with $ in my pocket. Unless I cave and buy one.

There have been refurbs not much more than that. The C720 is such an awesome machine.

I bought the Yoga 11e, sorry I did. I much prefer the C720-2800 (4GB version) I bought last December. The Yoga 11e is HEAVY. As a notebook or in tent mode its fine but use it has a tablet for reading, don't even think about it. Some of the keys are still active while in tablet mode so you have to be careful how you hold it. Google really needs to work on ChromeOS touch, currently its not a good experience. I too hate the trackpad but I really like the keyboard. I'm still looking for the ChromeOS port for my 2014 MacBookAir. Something like the Air with built in LTE would be the perfect ChromeBook.

Does a version of this exist with a TrackPoint? I was all sorts of excited by the title of this article, until I saw the shot of the keyboard without one :( Give me one of these with TrackPoint, and I'm in!

It's MilSpec certified/durable build is a major determining factor when it comes to whether to buy this or something else. The "yoga" positions are also an additional factor that sets this apart from competition as well. If either of those factors aren't of importance to the buyer, look elsewhere.

So the review is that it sucks in a lot of ways, it's expensive, but buy it anyway? You guys are something else.

I didn't get the message that it sucked in a lot of ways.

I hope the next generation of the Web isn't optimised for touch. There's nothing like laying back in a chair with a big desktop and reading around the Web n5

+googol Posted via Nexus 7 2013 or verizon Galaxy S5 or maybe one day moto 360

I get the feeling that most tech reviewers are touch-typists & don't pay much attention to what the characters on the keys look like. Most Chromebooks have characters that are too small & some have keyboards with a low-contrast design that makes them difficult to see in dim light. The Lenovo 11e has good contrast & the characters are larger than on other recent Chromebooks. The only problem is that the font is poorly chosen. Notice the a, e, & c. In dim light they close up into two tiny 8s & an o. The champion illegible keyboard is the HP Chromebook 11 G1 with its tiny light-gray-on-white characters. Touch-typists only.

What is the difference between this and an IdeaPad N20p which also a convertible touch sceen Chromebook..??

Primary differences are tablet mode, keyboard and IPS screen in Yoga.

wow. it isnt that good looking at all. i thought this was a throwback thursday to a laptop from late 90s.

At that size, might as well just take a tablet,. jeez.

Does the touch screen have palm rejection so I can hand write notes? Posted via the Android Central App

For some reason I think I just assumed the Yoga me and ThinkPad line were mutually exclusive. It's an interesting combo, for sure. I got the Yoga Pro 2 earlier this year and bloody love it. I've also been contemplating a full jump to chrome OS. My wife uses her 2012 Samsung chromebook more than her cell phone and hasn't used a PC in almost two years. But this form factor is a deal breaker for me. Love that they got the screen right, but I want slim and sleek, not rough and rugged.

I bought one of these and I'll be returning it. It is a nice Chromebook, but I don't think it's worth the extra money over a lesser priced Chromebook. The screen is nice, but after taxes and shipping you're looking at a bulky, heavy, $500 Chromebook. I'd look into the Dell or Toshiba 2 before this one. Save yourself the money (around $200 after it's all said and done). I'd rather get a cheaper Chromebook and get an actual tablet for tablet things. It's kind of useless at this stage in the game of Chromebooks. Maybe a year or so down the line when more Android apps work on Chrome, but by then who knows what will be out. Take my advice, get something cheaper if you're looking for a Chromebook.

Is it the thinnest, best looking Chromebook, no. It's an education model. Hey, folks, it's designed for grade schoolers to drop, sit on and otherwise abuse for several years and keep working. It's got rubber bumpers, reinforced steel hinges, a heavy duty case and lots more. It's certified MIL-SPEC. You don't buy a Hum-Vee expecting it to be thin and stylish. Or at least I hope you don't. I bought one knowing it wasn't the most stylish but it sure ought to put up with anything that could happen when I'm travelling. And it has lots of tricks over the N20p in that it bends completely flat into tablet mode, which I enjoy if I decide to watch something on it while I'm sitting around, and it fully reconfigures in all 4 modes in any orientation, which the N20p does not. I also have a full range of modes to test out as Chrome OS matures its touch screen capabilities. I bought this thing for present capabilities and for future possibilities. Very happy with it so far.

When you open it up, is the fruit at the bottom of this yogurt? And what flavors does the yogurt come in?

This looks like a nice machine, can the ram be updated?? Never enough ram. Also 16gb ssd isn't quite enough, I understand it is adequate but throwing a 128gb ssd with a bump up in ram would turn that into a monster that wouldn't slow down no matter what you threw at it.
PS I like the design.