How the Galaxy S7 and S7 edge perform in the Gear VR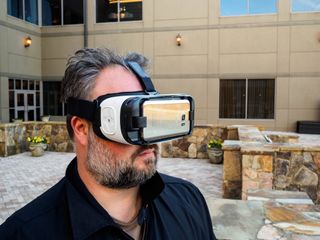 If you've used the Samsung Gear VR on anything before the launch of the Galaxy Note 5, you know Samsung's VR experience is really great right until it isn't. Early models overheat frequently, several of the more demanding VR experiences aren't even available on those early models, and the Galaxy S6 could be drained to dead in under an hour in VR. Things got a lot better with the Note 5, and now that Samsung is hooking so many people up with free Gear VR there's an expectation that the experience will continue to improve with the Galaxy S7 and S7 edge.
The good news is things are absolutely better with these new phones. The OK news is those differences aren't all dramatic or significant.
We've gotten a lot of questions about Samsung's new phones in the Gear VR, but the most frequently asked question has been about the display. Samsung's displays in the Galaxy S7 and S7 edge are slightly better than the Galaxy S6 and Note 5, but in VR things get split up and held under a magnifying glass. The resolution is the same between these two phones, which means there are more pixels per inch on the Galaxy S7 than there are on the S7 edge.
What this means in real world usage is sometimes text is a little sharper on the Galaxy S7, but just about everything else is the same. In some apps you'll notice the curved display on the S7 edge causes some light aberrations on the top and bottom of the images you're viewing, but you have to actively look for them to see them and even then it's only when bright whites are shown in the top and bottom. In things like gameplay or video, you'd never know these phones were any different from one another, or the Note 5 for that matter.
Next up is overheating, which is a big problem for a lot of people using the Gear VR. With the Galaxy S6 and Note 5 it's a lot harder to get the overheat warning to pop-up under normal use, but it's not impossible. Any intense game while the power is connected, for example, will quickly cause things to get out of hand. We've only tested the Galaxy S7 and S7 edge in Qualcomm Snapdragon 820 form so far, but there's a noticeable difference in performance. Playing through a level in Eve: Gunjack on the Note 5 causes the whole phone to get warm, and understandably so. That same session on the Galaxy S7 edge causes a significantly lower buildup of heat, due largely to the more capable processor. You're still going to run into the occasional heat warning if you try charging the phone while playing the more interactive games, but overall it's a significant improvement.
Finally, the larger battery and the more capable processor in the Galaxy S7 and S7 edge make a noticeable difference in use over time. On the Galaxy Note 5, 20 minutes of Eve: Gunjack consumes about 15 percent of the total battery on the phone. That's not bad considering the nearly 30 percent we'd see with the Galaxy S6, but on the Galaxy S7 edge that number drops down to 10 percent. Meanwhile, the smaller Galaxy S7 consumes closer to 13 percent in our tests. This is maximum brightness on LTE with none of Samsung's power saving features on, which is a huge increase in overall performance.
The best part about all of these performance changes is it's just the start. As Samsung continues to work with Oculus on things like Vulkan APIs, it's likely we'll see the Gear VR become both more efficient and more capable over time. We'll be conducting a full review of the Galaxy S7 in the Gear VR over the next few weeks, so be sure to drop any questions you have in the comments below!
Android Central Newsletter
Get instant access to breaking news, the hottest reviews, great deals and helpful tips
I consider this pretty awesome news. Posted via the Android Central App

Is very interesting to watch the evolution of the VR experience. Particularly the two streams of developments happening simultaneously on the desktop and the mobile platforms. I believe that these two paths are equally important to us as we have the every growing portable VR in the Gear VR for travel transitions/home and the great desktop offerings for tethered static use when we are at home.
The S7 is shaping up to be a great utilitarian product. I'm really looking forward to the Note 6 update as a UK resident missing out on the Note 5 and current happy S6 Edge + user. I find use of the S6 Edge + in the Gear VR to be flawless so I can only imagine the performance of the s7. Great things ahead as the already great content list grows. Posted via the Android Central App

Hopefully i get my gear vr pretty soon. Its under review right now Posted via the Android Central App

I am in the same boat. I am so ready to try this thing out! Hopefully it doesn't actually take 4 to 6 weeks to send them out.

If it's the same people who were dishing out the seasonal promotions then 4 to 6 weeks would be really quick. They are SLOW to get anything out. Bought 3 phones in December and one bundle arrived in Feb. The other 2 are approved and will be here sometime I guess.

Yeah my is under review too. Hopefully it's gets approved because I was only able to get half the receipts fml Posted via the Android Central App

Come on Samsung, hurry up and send out my free VR already!

Guys your gonna love it I've had my since Christmas . Now I'm no big gamer by any means but this thing g is fun . Even when your not playing a game the experience is crazy Posted via the Android Central App

I've been using my VR with the S7 edge for a week now (I had already owned the VR) and it's absolutely better on the S7 edge. I just ordered the S7 so we'll see how it stacks up next.

Let me know how they differ please! My theory is the S7 will look better than the edge and I just ordered the edge. Am I too late!

Have you been able to get a controller to work with it? I cant get a controller to work...

The free Gear VR was the thing that closed the deal with me on the S7 so it's very good to know that the experience is good.
I'll probably be testing the heck out of it once Samsung ships my VR unit. Posted via the Android Central App

Woohoo.,.. You're the man, dude. Reason I preordered is to get the bundled VR. Now I can't wait to try it with my shiny new silver adamantium S7 edge. Hope it comes very soon. Posted via the Android Central App

Had my VR since Monday when I got my phone, as they came together. One good thing about getting it from Best Buy. DJ - S7 Edge

My barnd new s7 edge gets real hot in the Samsung gear VR this thing is incredible but i hope its not killing my new phone can anybody tell me if this phone heating up is bad or not.

I have the S6 Edge + and the only thing i've been able to do to mitigate the heat issue is use the GearVR without the cover. It doesn't get rid of it completely but it does extend the time you can use it for. Guess you could also mount a PC fan on there somehow to get even more time but now you have the added weight.

I would think the internal "liquid" cooling pipe helps out a bunch in the S7's. I'm surprised Phil didn't mention it. Though JerryRig showed it isn't exactly liquid cooling, but copper fibers. Still though, I'm sure it's helps. Looking forward to my VR and Netflix freebies :)

There is actually liquid in it. Not a large amount, but it's there. But once you open it, it becomes a gas and escapes. The pressure inside causes the gas to become liquid.

So what are some of the must-have VR games? Russell mentions "Eve: Gunjack". What else?

Dreadhalls if you want to scare the piss out of yourself. Anshaw Wars 2 if you need more/better space action. Keep Talking and No One Explodes if you want "multiplayer" craziness. Adventure Time if you want an RPG-ish hack and slash. Land's End if you want a beautiful but short puzzle game.

What do you guys think of this gamepad for the Gear VR? http://www.amazon.com/gp/product/B009AOFNU4/ref=as_li_qf_sp_asin_il_tl?i...
Not sure whether to go for the Samsung one or that one.

I don't get it. I attempted to send you a reply with a link to the controller that I have which is also on Amazon. I keep getting a pop-up message stating that my post is being marked as spam. I had no reference to money. Only an Amazon link the same as you. Anyway search for Sminker Bluetooth controller on Amazon. It works great for me with my S6 and VR. It works with everything I used it with without any issues. I just received a S7 a couple of days ago but I didn't get around to using it on the VR yet.

I used the Sminker controller with my S7 Edge for the first time last night. It works just as well as it does with my S6. Another positive is that the VR works much better with the S7. With the S6 I couldn't go 10 minutes without getting that overheating message. I used the VR with my S7 for a couple of hours including about half hour playing Gunjack and did not get one warning.

I'm a first time Samsung Galaxy user and I must say, the S7 Edge is a fantastic piece of kit. Along with the VR headset, they go together in perfect harmony. The VR experience with the S7 and VR Gear is both seamless and envigorating. Well done Samsung

I have to say I am really impressed with the GS7 and gear VR. I tried it out with Bluetooth headset and a Bluetooth game controller. Tried out a couple of games....Wow it's fantastic. About an hour later trying out various games and videos battery was down to 56% from 87%. The phone was just slightly warm after all of that. Unlike the GS6 which I also own and have to deal with frequent cool-downs on VR. (Just as an aside If you have young kids or anyone for that matter, show them the Jurassic park feature on VR if you want a good laugh at first time reactions :))

Which controller? I havent been able to get one to work...

really which controller did you manage to get working with s7? i have used around 4 controllers incliding ds4 and moga pro and nothing works. the only thing i can find is mad catz samsung c.n.t.r.l.r especially designed for samsung s7's. so pls if you did get a controller to work with s7 pls let us know. thx

Just got my S7 from Verizon yesterday, but my wife is on Sprint and got her phone last week and her VR showed up last night. She wasn't interested in it so gave it right to me to play with :) I'm pretty impressed with it...but after only about 20-30 minutes of getting through the tutorial and installing a few apps to use I was getting queasy and had to take it off, then continued to feel lousy the rest of the evening. I may have to pick up some Dramamine before trying again :D I'm wondering though if there's some kind of accelerometer/gyro calibration I may need to do. A few times it seemed to loose track of me and I found myself spinning in circles trying to catch a menu or something. Maybe it was just because my phone was still finishing syncing some apps and such. Not sure, will try again tonight. Definitely saw the potential but the nausea and the rough edges I ran into were a fairly major downer.

Nausea is a danger with any VR system where VR movement is decoupled from head movement. This is why most games with free motion now use a teleport mechanic instead of controller based movement. I've used VR systems for at least 10 years, and the only system where nausea is never a problem is room-scale software on the Vive. I had to set aside a lot of space in my home for the Vive, but it was worth it. The lack of a cord to Gear VR is a big plus, but many game types will make users sweat and vomit.

So I'm learning all the math here. The smaller screen is better for VR because the pixels are more tightly packed reducing the screen door effect. I've used the Gear with the Note-5 and the screen door effect is very prevalent. I still found it very fun though.
I've heard the screen door effect, compared to the s7 and s7-Edge, is a big consideration when comparing the Note 5 and s7's.
Also I've learned that the FOV shouldn't be an issue as long as your phone fits over the Gear eye holes. They are about 4.5 x 2.75 inches. The s7 will cover that easy. I'm getting this phone strictly for vr so graphics are key for me.

Got my silver s7e Thursday and gear vr yesterday. Tried it and we'll, i had an orgasm! Posted via the Android Central App

That's what I was hoping to hear. My S6 overheats in 5 to 10 minutes of use with my VR. I was going to sell my VR if the S7 Edge also overheats. I just received my S7E late yesterday and haven't used it yet but now I have something else to look forward to.

I just switched to the gs7 from the note 5 (only because i switched carriers and got the phone free (i miss my note5) Anyways while in gear vr my note5 moved smooth and like butter. My new gs7 lags and jerks very badly. I even returned my first gs7 due in problems with network heart rate sensor not working and visable lines in sunlight with the glue between the glass and lcd ugh!! I had this issue on the first i hoped the second would be better but nope! I can't even play gunjack when i look around the turret is so glitchy and jerky that it makes me sick literally. My note5 flows smooth and nice. Even the depth of graphics and clarity is better on the note 5. I dont understand this because benchmarks show my gs7 blowing the note5 out of the water but in real world its slower especially in gear vr!

LOL,appreciated to your pretty professional and detailed review about the brand samsung gear vr headset,we guys really learn a lot and do know what the differences between the cool one and knock offs and how to pick a vr box preferred.
i bought a really fashionable amazing 120 Degree Field of View Original Xiaozhai BOBOVR Z4 3D VR Glass Box Headset at http://www.amazon.com/dp/B01E76A1AQ?tag=hawk-future-20&ascsubtag=UUacUdU...
I am so impressed with the vr box coming with Japanese imported PMMA lens and 35mm focus showing a real view unique 3D 120 degrees large field of view, It is worth mentioning that 40mm diaphragm adopts PET material contribute to more powerful sound and it support one key answering phone calls and volume controlling, i am so happy getting the awesome affordable stuff and would like to share the stuff!
Android Central Newsletter
Get instant access to breaking news, the hottest reviews, great deals and helpful tips
Thank you for signing up to Android Central. You will receive a verification email shortly.
There was a problem. Please refresh the page and try again.