Samsung Galaxy S7 review: The best of all worlds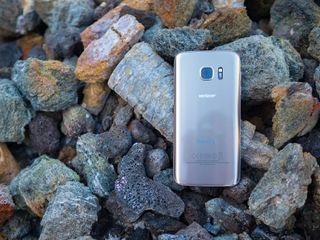 The quick take
The Galaxy S7 is one of the two best phones we've seen in seven iterations of the Galaxy S series. The other is this phone's cousin, the Galaxy S7 edge. It's the best design Samsung has brought to bear, big without being bulky, with a mix of specs and usability you'd expect in a phone of this caliber. Combine with that an outstanding camera and you've got a phone that will serve just about anyone.
The Good
Excellent refinement of the GS6
Improved battery life
A great camera
A size that hits the sweet spot
The Bad
A lackluster launcher
Duplicative software features
Still prone to carrier bloatware
Lacking some future-proof features
The best Galaxy yet
Galaxy S7 Full Review
It's easy to get caught up in the hype that is the Samsung Galaxy S7. It's easy to look in awe at the over-the-top launch event, which was as entertaining as it was informative, and without being smarmy. It's easy to be affected by the sheer force of the Samsung marketing arm, which went into work the minute the Mobile World Congress launch ended.
But spend some time with the Galaxy S7 and you'll quickly come to the realization that this is a really good phone. Easily one of Samsung's best, if not the best. It's imperfect, sure. It maybe won't be for everyone, but it'll serve the needs of most, and do so better overall than anything else out there.
Much of what you'll find in the Galaxy S7 should be familiar to those who own a Galaxy S6. But Samsung has taken what it did well in its 2015 flagship and and improved it for 2016 — and more important it addressed a number of concerns we had with the GS6.
Let's get into it. This is our Samsung Galaxy S7 review.
About This Review
We've been using a Verizon-branded Samsung Galaxy S7 (SM-G930V) for 10 days in Pensacola, Fla., briefly in Atlanta, and also in the middle of Lake Lanier, Ga. It's running Android 6.0.1 (Build MMB29M.G930VVRU1APB1) with the February security patches.
Our Galaxy S7 was connected to a Huawei Watch for the entirety of the review time.
Watch, listen, learn
Galaxy S7 Video Review
A definite improvement
Galaxy S7 Hardware
Let's start with the basics. The Galaxy S7 isn't a huge departure over 2015's Galaxy S6. Samsung's mainly kept what worked last time, and made it better. And along the way they've worked on some of our concerns.
The Galaxy S7 itself is just about the same size as the Galaxy S6, and the iPhone 6s, while we're comparing things. It's a tad heavier than both, but not so much that you'd notice. Its corners are rounded in the same manner as before.
The biggest difference this year is that the backside has picked up the same sort of curves that we enjoyed on the much larger Galaxy Note 5. So it's a lot more comfortable to hold that the S6. It also feels a lot less plasticky — using more metal will do that. All in all, it's a really good feeling in the hand. "Premium," even. Think of the GS7 as an extension of the GS6 and Note 5, really. It borrows from both while improving on what is already there, but very much still in the same family.
But like other metal phones, it's very possible to ding it up a little bit. We've managed a few pockmarks on the edges already. Undoubtedly there will be others. (It'll be interesting to see how much those stand out on the all-black model.)
And Samsung deserves a quick tip o' the hat for the speaker this year. If you're going to be stuck with a single, downward-facing speaker, you want it to at least be as good as what's in the Galaxy S7. While nothing beats a good front-facing stereo system, it's much improved over the GS6.
The Galaxy S7 display
Samsung kept with a 5.1-inch AMOLED display this year as well. The quad-HD resolution — 2560x1440 — gives about 577 pixels per inch, which is still ridiculously dense. And the panel is still excellent, with crisp colors and deep blacks. It's about as good as you can get — and it's excellent outdoors, in full sunlight. And it's still impressive to see a screen that's so much bigger — and at a much higher resolution — than what Apple's kept in the iPhone, in a body roughly the same size. The stature of this phone goes back to what we had in, say, the 2014 Moto X. It's still large, while absolutely being pocketable. For many folks (including me) this is the sweet spot, or darn close to it.
New for the display is an "Always-on" mode. It's a feature we've seen on other phones, but this is the first time Samsung's going for it. When the phone's just laying around it'll float a little bit of information around on the screen. By default you get the day and date, time, battery level, and basic notifications from a select apps, like Samsung's email client and missed phone calls. Use Gmail? You're out of luck.
The bigger problem is that it's not really useful beyond quickly checking the time, or seeing that you have an email waiting. (And if you're anything like us, you always have an email or text message waiting.) Sure, you've got seven styles of clock from which to choose — or you can go with a monthly calendar view, or a full-bleed patterned image. But none of that comes close to the usefulness of other always-on implementations that let you actually do something with the notifications, or show previews of messages.
But, yes, you'll save battery life by not waking the entire screen when you just need to check the time. So there's that. And if you're wearing a smartwatch, it's even more superfluous.
Image 1 of 3
An excellent fingerprint experience
More useful is Samsung's fingerprint sensor tucked inside the home button. On it's own it's as good as ever. But now that it's on a phone with Android 6.0 Marshmallow — and supports all of the fingerprint features that come baked into Android 6.x and not just Samsung's — it's excellent. Buying things is easier than ever. Password managers are secure but quick to open. And, of course, you can unlock your phone more easily.
That's maybe not a big deal just yet — far too few apps are really using the new fingerprint software yet, but that's changing. And it'll continue to get better as more phones update to Marshmallow, and more new phones launch with it. (And that's to say nothing about Android N coming out later in 2016.)
Oh, and a double-press of the home button is still the fastest way to launch the camera. No other phone comes close.
The SD card returns, and micro-USB stays
One major feature Samsung's brought back with the Galaxy S7 is expandable storage. That is, it's got a microSD card tucked into the SIM card tray. Using that on top of the 32 gigabytes of on board storage — and only about 16 gigabytes or so of that is actually available to you — means you can have up to 200 gigabytes of storage in total. And Samsung has decided to NOT use the Adoptable Storage feature that's in Marshmallow, so you can still use the card to transfer pics and videos and music and movies from one device to another. And you can still move some apps to the SD card, but not all of them. That's absolutely still up to the developer.
Few will question the return of the SD card, but shunning Adoptable Storage will be a questionable decision for a good many who would prefer Samsung use the updated Android feature. But Samsung's being very conservative in this case.
Another area in which Samsung isn't yet moving to future tech is on the bottom of the phone. The Galaxy S7 continues to use a micro-USB plug and not the newer, reversible USB-C.
That means a couple things. One is that your existing accessories should still work and you won't have to buy new chargers and cables. Another is that the Galaxy S7 will work in the existing Samsung Gear VR virtual reality visor. (And, in fact, Samsung is giving a bunch of them away when folks purchase a Galaxy S7.) Sticking with micro-USB will be another strike against the Galaxy S7 for some people, but Samsung at least has a good argument for not changing things just yet.
More waterproof than you
Now it's time for a little fun. The Galaxy S7 is waterproof. Not quite "take it swimming because you can" waterproof, but it's good for a half-hour in about five feet of water. A quick trip in the shallow end shouldn't kill it. Neither should a spilled drink. Or a dip in a fountain. Whatever. It's rated IP68.
The official line is you're good to 1.5 meters for up to 30 minutes. Anything more than that — deeper or longer — and you're on your own.
And Samsung has done this without any annoying flaps covering the micro-USB port. If you do try to plug in while there's still moisture up in there, you'll get a little warning that things need to dry out first.
It's a cool feature to have, even if it's not really one you should actively use. Safety first and all that. But, seriously, try to keep your phone out of the water.
By the numbers
Samsung Galaxy S7 Specs
Swipe to scroll horizontally
Category
Galaxy S7
Galaxy S6
iPhone 6s
Operating System
Android 6.0
Marshmallow
Android 5.1.1
Lollipop
iOS 9
Display
5.1-inch
2560x1440
Super AMOLED
5.1-inch
2560x1440
Super AMOLED
4.7-inch
1334x750
IPS LCD
Processor
Quad-core Snapdragon 820
or Octa-core Samsung Exynos
Octa-core Samsung Exynos 7
Dual-core Apple A9
Storage
32GB
32/64/128GB
16GB/64GB/128GB
Expandable
microSD
Up to 200GB
No
No
RAM
4GB
3GB
2GB
Rear Camera
12MP f/1.7
1.4-micron pixels
OIS
16MP f/1.9
1.12-micron pixels
OIS
12MP ƒ/2.2
1.22-micron pixels
Front Camera
5MP f/1.7
5MP f/1.9
5MP f/2.2
Connectivity
Wi-Fi 802.11 ac MIMO
Bluetooth v4.2 LE
ANT+, USB 2.0, NFC
Wi-Fi 802.11 ac MIMO
Bluetooth v4.1 LE
ANT+, USB 2.0, NFC
Wi-Fi 802.11ac
Bluetooth 4.2 LE
Charging
micro-USB
Fast charging
Qi wireless
Powermat wireless
micro-USB
Fast charging
Qi wireless
Powermat wireless
Lightning port
Battery
3000 mAh
2550 mAh
1715mAh
Water resistance
IP68 rating
No
No
Security
One-touch fingerprint
Samsung KNOX
One-touch fingerprint
Samsung KNOX
Touch ID
Dimensions
142.4 x 69.6 x 7.9 mm
143.4 x 70.5 x 6.8 mm
138.3 x 67.1 x 7.1 mm
Weight
152g
138g
143g
Snapdragon or Exynos?
As we go through our reviews of the Galaxy S7 and GS7 edge, it's worth noting that there are actually two kinds of processors out being used by Samsung, depending on where you buy the phone. In the U.S., China and Japan, the phone will have a Qualcomm Snapdragon 820 quad-core processor. Elsewhere around the world, you'll likely find a Samsung Exynos 8 octa-core processor instead.
Differences between the two phones in terms of performance and battery life should be negligible, but it's worth keeping in mind when you see impressions of the phones from different regions that they may well be using different processors. Our reviews is entirely based on the use of a Snapdragon-powered U.S. model.
TouchWiz-flavored Marshmallow
Galaxy S7 Software
The Galaxy S7 is running Android 6.0.1, which is the newest version of Android available at the time the GS7 is released. It's also got the February 2016 Android security patches.
Another couple points on security. Samsung's KNOX service is on board, of course, useful for allowing you to keep your personal information completely siloed off from your work data. And Samsung's made it even easier with its My Knox app.
And the Galaxy S7 is encrypted, which is increasingly important. But one thing you'll want to check is whether a password or PIN is required to boot and decrypt the phone. The setup process might not have presented that option, and it's a good one to take advantage of.
Beyond that, Samsung is really the only other manufacturer (especially for those of us in this part of the world) you'll run into that has its own app ecosystem. We recommend biting the bullet and signing up for a Samsung account, and then signing into your phone. There are some little things that Samsung will want to update through its own services, and that's the price of admission. Or if you simply don't want to use Google's services but still get new apps, it's an option here.
And you might well need to go hunting for a few new apps, as some surprisingly ones might not pre-loaded. That includes the excellent Samsung Pay, which lets you use your phone for purchases even a store doesn't use contactless payments. Other apps — like Google's productivity apps, or Microsoft's, even — will need to be downloaded later as well. It'll depend on what carrier you got your Galaxy S7 from.
The good news is that Samsung's user interface customizations are about as good as they've ever been. You're going to want to move some things around, but the UI as fast and fluid, and still has plenty of options. You can move apps off the home screen and add folders as you see fit. You can rearrange the app drawer alphabetically, or just search for your installed apps. A chosen few apps also have support for notifications badges, so you can know just how much you're missing out on.
And Samsung still has a one-handed mode, support for multi-window with two apps at once, and about a bazillion other tweaks and features.
Interestingly, the "Briefing" part of Samsung's launcher — that's the Flipboard-powered newsreader tucked into the far-left edge — was turned off by default. Why even bother having it take up space, then?
Dedicated gaming features on the GS7
For the gamers, The GS7 has a dedicated Game Launcher that gives quick access to all the fun stuff. But more than that the Game Tools can shut down notifications so you're not distracted by something more important. Or you can take in-game screenshots or record video. And it's all easily accessible through pop-up style buttons. It's handy as hell, and something we're pretty stoked to see on phones — to say nothing of when Samsung brings this feature to its tablets.
Plus, the Galaxy S7 can take advantage of the new Vulkan gaming APIs, which should future-proof it for a while. If someone tries to tell you Android isn't for gaming, just show them this phone.
So there's still a LOT going on here in the software, but it's smartly done, better designed and fast as anything. And you can always download and use a different launcher if you want.
A word on monthly security updates
We've been placing increased emphasis on monthly security updates since Google announced them in the fall of 2015. And Samsung has dedicated a website to security and what's new in its own updates.
While we applaud the transparency, the truth remains that it's a crapshoot when (or whether) a carrier-branded Samsung phone will be updated. While it's not quite a deal-breaker for us, it's something to keep in mind when purchasing.
There's some definitely room for Samsung — the world's largest smartphone manufacturer — to improve on this front.
Mo' light, mo' problems
Samsung Galaxy S7 Camera
Samsung's cameras have a lot to live up to. They've consistently been among our favorites the last year or so. Of the issues we had with the Galaxy S6, the camera generally wasn't one of them. Same goes for the Galaxy Note 5. Point is, we came into the Galaxy S7 with very high expectations to begin with, and even more so when Samsung immediately went to the mat with the iPhone over which takes better pics — particularly in low light.
Samsung's changed things up a little bit in the Galaxy S7, though. On one hand there aren't really any gimmicks here. No second lens or anything. There's one on the back, smack in the middle of the phone. And your usual sort of selfie-shooter on the front. (Also just one there).
But the rear camera now uses a 12-megapixel sensor — down from the 16MP sensor in the previous generation phones. But the sensor itself has larger individual pixels — 1.4 microns, up from the previous 1.12 microns. Larger pixels mean more light. (If this sounds familiar, it's exactly what HTC touted with the 'UltraPixel' camera in the One M7.) And that — combined with optical image stabilization and an even wider ƒ/1.7 aperture — theoretically means you're going to get better pictures overall, and better shots in low light.
(Plus the camera doesn't stick out from the back of the phone as far anymore, since the phone itself is thicker.)
In reality, though, the end results have been a bit mixed. The act of taking a picture remains as great as ever. Samsung's camera app is excellent, and feature-rich without being overwhelming. You will need to spend a little time poking around to find everything, but there are a bunch of cool things to play with.
It's the end result that's ... well, it's a little confusing. We're gotten some great shots out of the Galaxy S7 in daylight, for sure. But we've also gotten some that have a good bit of yellow tinge to them. Or others with details that aren't as crisp as we expected. Or a beautiful blue sky that's noisy when viewed at 100 percent. Or sometimes the shot is simply blown out with any sort of direct sunlight. It's good, but maybe there's a little more tuning to be done? (When is there not, though.)
Low light is supposed to be where the Galaxy S7 really excels. And, again, the answer is "it depends." Give it some light to work with and it does pretty well. Maybe it's not quite as magical as the GS6 and Note 5 seemed to be, or our expectations are that much higher now. It's good. It's really good. But it's not a miracle worker.
We're picking nits here a little bit. Maybe more than a little bit. For most people this camera is going to be more than good enough. If all you're doing is sharing to Facebook and Twitter and Instagram and whatever anyway, it's a great camera to have. I could probably get away with it for work shots, if I wanted to. (And maybe I already have.)
The front-facing camera weighs in at 5 megapixels. So you can selfie as much as you want. And that end of things works as well as we'd expect it to.
Image 1 of 17
Loads of camera app features, for better or worse
Back to the camera app. Again it's easily among the best out there. You've got options for all kinds of modes, including a manual mode ("Pro," if you will) that gives full control over ISO and white balance and shutter speed and the like. Plus you can save images in the RAW format, like professional photographers do. Or there's selective focus, panorama, a video collage, live video broadcasting through YouTube, slow motion shots, a Matrix-style virtual shot, dedicated food mode, and hyperlapse. And you can download more modes from the Samsung app store.
One cool new feature is that when you're shooting a panorama, any objects moving through the frame will actually move in the panorama instead of being chopped in half. You've got the option to view the panorama like normal in the gallery app. (And if you do, anything moving inside the pano is going to look messed up.) But if you hit the motion button in the top right, you get a different version that lets drag your finger over the pano to move left or right — and then anything inside it moves. (You also can tilt the phone to pan.)
It's a really neat trick, no? Problem is, it's only neat on the phone. You can share the panorama file just like you always could. But, again, anything moving inside it is going to look very broken. You can export the motion pano as a video file. But that's not quite as magical either — you're just watching a video then. On the device? It's great. But it's stuck there.
Virtual shot is kind of in the same boat. You rotate around an object and get a crude Matrix-like shot. Sounds great, but doesn't quite live up to expectations.
So, again, you'll want to explore the features. Some will be more useful than others. But all in all it's still an excellent camera experience.
The daily driver
Galaxy S7 Real-World Use
So how is the Galaxy S7 to use as a daily driver? In a word, excellent.
It's big, but not in the HUGE category. That's maybe my favorite thing about it. It'll comfortably fit in your pants pocket, and easily slip into a purse. You'll be able to put a case on it without making the phone into something bigger.
Of course, the carriers in the U.S. are going to do their thing. Verizon bloats it up pretty good with a number of apps that mostly duplicate what either Samsung or Google already brought to the table. Want simultaneous voice and data? You got it — if you've got Verizon's Advanced Calling turned on. (And I didn't at first. It showed up as an update at some point.)
Other carriers will do their things to this phone, too — and not always for the better. To that end, we REALLY want to see Samsung sell unlocked, unadulterated phones on its own in the U.S. Once again, that's the sort of thing you'd expect the largest smartphone manufacturer in the world to do in the U.S.
I've been using the GS7 in its early days. That also means things occasionally break. Android Auto has yet to work for me. That also was temporarily the case with the Galaxy S6, though, when it was initially released. That could be a Verizon thing — it does some funky stuff when you plug it in to your car — or it could be a matter of the services behind Android Auto not yet being updated for the GS7. Or both.
And while TouchWiz is as good as it's ever been, I'll still be using a different launcher on my Galaxy S7. To each his own. At the very least you should move your frequently used apps onto the home screen and not just leave them buried in the app drawer. Do not be afraid to move things around.
Nothing about the Snapdragon 820 has really stood out to me. The phone sometimes gets warm, but nothing like what we experienced in the early days of the 810. The 4GB of RAM so far has seemed to be enough, too. I haven't had any issues with the 4 gigabytes of RAM, either. If you're the sort who likes to find out exactly when apps get dumped from memory, you may well see something different. But in normal use, things have been just fine for me.
Battery life has been decent. I'd say acceptable. Jumping from 2,550 milli-amp-hours in the Galaxy S6 to 3,000 in the GS7 isn't a huge change — about a 17 percent increase. But that combined with the Snapdragon 820 processor and its power usage improvements, and we're not scrambling for a charger nearly as fast as we were with the GS6. Between 12 and 15 hours of moderate use isn't out of the question, and that's without employing any of Samsung's battery-saving tech. And while the GS7 uses Qualcomm's Quick Charge 2.0 and not the newer (and faster) 3.0, you can still get about 45 percent of a full charge in 30 minutes. (I was measuring about 8V @ 1.6A.) It's pretty quick in any event. Battery life (on Verizon at least) won't blow you away. But it's definitely better than the Galaxy S6 was.
Call quality has been fine, and I didn't have any issues with Bluetooth or GPS. It's a phone, and it does normal phone things.
And Samsung's keyboard deserves a mention here. I always try the stock keyboard for a little while before switching back to SwiftKey. Samsung's keyboard in the Galaxy S7 has lasted the longest. The prediction is pretty good. I'm digging the default number row. My only complaint is that the long-press keys are tiny and tough to see in a hurry. (I'm still getting used to the layout, but that doesn't mean folks shouldn't be able to find things.) But it's nice having visual consistency when an app or the Android UI switches to a number layout.
One thing we'd love to see tweaked, however, is how Samsung's keyboard aggressively predicts email addresses — and usually not to the writer's benefit. Someone's going to get in trouble over that pretty quick.
All in all? Great phone. Great experience, even when you have Verizon clunking things up a little bit with bloatware and a ho-hum out-of-box user interface. (Seriously, don't be afraid to move things around.)
The bottom line
Should you buy it? Yes!
It's not all that often we can recommend a phone without any real hesitation. The Galaxy S7 is one of those. Samsung has improved on most of our complaints from the Galaxy S6 era. Battery life is improved. Not great, but adequate. The overall design is better and less slippery, and it takes a case well without becoming too large. The display size hits that 5.1-inch sweet spot. The fingerprint feature is excellent.
And while we're a little back-and-forth on the camera, that's because Samsung is among the manufacturers that we tend to hold to a higher standard in that regard. The Galaxy S7 camera should, in any event, serve you just fine.
There's a reason Samsung's going to sell tens of millions of these things. One is that the Samsung marketing machine is in full effect. You're going to hear a whole lot about the Galaxy S7, just about anywhere you turn. And for a long time. (OK, at least until the next next big thing comes out.)
But the other is that the Galaxy S7 is just one hell of a phone.
Where to buy the Galaxy S7
This is always a tricky question when it comes to a device that's available globally from a variety of retailers, but we can at least offer up some handy links of those who want to buy in the U.S. from one of the major carriers. Verizon, AT&T, T-Mobile and Sprint all have the Galaxy S7 for sale.
See at Amazon See at AT&T See at Sprint See at T-Mobile See at Verizon
Also: Read our Galaxy S7 edge review!
The Galaxy S7 is just one half of Samsung's 2016 tag-team event. The larger Galaxy S7 edge sports a 5.5-inch display with a curved "edge" screen. It's also got a 20 percent larger battery than the Galaxy S7. For some, that will be a reason to buy.
Hit the link below for our comprehensive Galaxy S7 edge review.
Sign up for Black Friday email alerts!
Get the hottest deals available in your inbox plus news, reviews, opinion, analysis and more from the Android Central team.