How to enable Night Light blue light filter on Chrome OS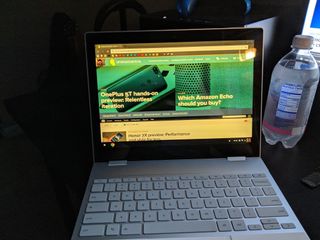 As someone who spends most of his waking day staring at one of a few screens, night mode is my favorite feature to come along in the last few years. On Windows, Android and iOS, users can flip a switch to filter out the blue light spectrum coming from their screen.
The blue part of the color spectrum has some interesting effects on the human eye — exposing yourself to too much of this light at night will make it much harder to get to sleep. Fortunately, Chrome users also have the option to toggle night mode as well.
This feature is available in the stable channel of Chrome OS, which means users don't need to deal with potentially buggy software to enable this. It does require a trip to the Chrome flags page, rather than just flipping a toggle in settings. There are some extensions available on the Chrome Web Store that duplicate this feature, but having it as part of the operating system will make the feature more stable and less likely to impact your battery life. Here's how to enable the Night Light feature:
Open a new tab, and type chrome://flags into the address bar.
Hit Control+F on your keyboard to search for text in the page.
Type Night Light to find the night light setting.
Click Enable under the setting.
Click Restart Now to restart the device so the setting can take effect.
Now, you'll have the Night Light toggle available to you in the quick settings menu. Here's how to toggle the Night Light setting:
Click on your account photo in the lower right corner of the screen.
When you're ready to turn the filter off, simply click on the moon icon again.
We used this feature on newer Chromebooks without issue, but an older device may not have the feature available or it might be less stable. The color temperature and schedule can be set from within the settings app, under the display section. Are you going to use Night Light on your Chromebook? Let us know down below!
Android Central Newsletter
Get instant access to breaking news, the hottest reviews, great deals and helpful tips
Thank you! Literally just hopped out of bed and enabled it! This will be a lifesaver for my night owl self.

I'm going to use it, thank! I only wish it would work automatically with sunrise/sunset.

I do as well, but no reason that may not happen down the road.

It does! Enable the Night Light flag, and then go to Settings -> Displays. There's a Schedule option there that lets you set it to either "Sunset to Sunrise," or to a custom schedule.

I get a warning message saying if I enable this and other experimental features I could lose browser data or compromise my security or privacy. I'm on v 63 on an Asus c300. Don't think I'll risk it.

Seems like that's a warning since you're using an older device. I'll get this added to the article.

It's only a year or so old, so I'm a bit surprised.

Thank you for sharing this information. This does properly work on my two plus year old Toshiba 2. Very much like this feature.

I enabled the Night Light feature after reading this. It seems to work well.

There is a way to set Night Light to go on automatically according to a schedule. One you do the above to enable it, go into Settings > Displays > Night Light (at the very bottom). I'm on a Samsung Chromebook Plus, BTW.

You can do "sunset to sunrise" or set a custom schedule. I set 8 pm to 6 am.

Also, there's a slider to adjust the color temperature. Cool new feature. Thanks for letting us know!

I just turn it on on my Asus Chromebook C302 with Developer Mode, absolutely love it and with no issues. Thanks for the tip! This is excellent since night mode is automatic on my phone; this is a welcome addition to any laptop!

Thanks, I have a very similar model to yours, and if it works for you, I'll give it a try.

Thanks Tom, Works great on my Acer Chromebook r11, Acer Chromebook 14 and my Samsung Chromebook 3. Great tip, again thank you.

Sweet, now the Chromebook can be just as easy on my eyes at night as my other machines.

Works great on my Acer Chromebook 14 - it's probably not for me as I'm not a night owl as far as my laptop is concerned but it's great to see how the ecosystem keeps developing :-)

Hello, I'm a student currently living in China. I really like this article. I want to translate it into Chinese and publish on my blog, I will certainly indicate the source of the article. But I am not sure about whether the laws of the United States allows to do so, or do you allow me to do this. If you allow me do this, please tell me, I await good news with patience, thank you very much.

Thank you SO much for this article...!!!
Android Central Newsletter
Get instant access to breaking news, the hottest reviews, great deals and helpful tips
Thank you for signing up to Android Central. You will receive a verification email shortly.
There was a problem. Please refresh the page and try again.