How to enable continuous heart rate tracking on a Galaxy Watch or Galaxy Watch Active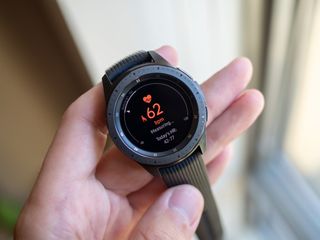 (Image credit: Android Central)
While there are many reasons to invest in an Android smartwatch, most people are interested in the various health and fitness tracking features offered. If you're the proud owner of the Galaxy Watch or Galaxy Watch Active, you'll be glad to know that you can easily enable continuous heart rate tracking on your device. The same goes for the newer Galaxy Watch Active 2.
Whether you're a beginner who wants to start monitoring your heart rate patterns throughout the day or you're an advanced athlete who uses this data to track and improve your performance, continuous heart rate tracking can be quite useful. All you have to do is navigate through a few menus within the Samsung Helth app on your watch and make the necessary changes!
How to enable continuous heart rate tracking
Start by pressing the power key on your smartwatch.
Launch the Samsung Health app from the main menu.
Swipe until you reach the heart rate icon and select it.
Navigate to the bottom of the screen.
Select HR and stress measurement or Auto HR settings.
Depending on your watch, there are a few automatic measurement options to pick from.
To enable continuous heart rate tracking, select measure continuously (or always).
Once you've enabled this setting, your Galaxy Watch or Watch Active will now monitor your heart rate continuously. You won't have to take manual measurements throughout the day. Keep in mind that this setting will drain your battery faster.
Remember that you can always return to the same menu at any time and change the setting to manual measurement only (or never). There's also an option to take frequent measurements throughout the day, which will typically monitor your heart rate every 10 minutes while you're still.
Monitor your heart rate with a Galaxy Watch or Watch Active
Nowadays, most fitness smartwatches offer you the ability to monitor your heart rate. When it comes to both the Galaxy Watch and Galaxy Watch Active, you can choose the frequency in which your device measures your heart rate. In fact, these watches are also capable of notifying you of abnormalities with heart rate alerts.
As technology becomes more advanced, we're receiving more and more information about our health and overall well-being. We're on the edge of our seats waiting to see the new Galaxy Watch 4 and Watch Active 4 has in store for health enthusiasts.
Always stay active
Samsung Galaxy Watch Active
For fitness enthusiasts
The Galaxy Watch Active is a few years old, but let's not forget why it was an instant hit. It was designed to cater to fitness enthusiasts who wanted an attractive wearable with next-level tracking. It's much more affordable now, too!
A true classic
Can't go wrong with the original
It might not be Samsung's newest smartwatch, but the original is still a great option. If you want a stylish smartwatch that still offers plenty of health and fitness tracking perks, you'll love what the Galaxy Watch has to offer.
Get the Android Central Newsletter
Instant access to breaking news, the hottest reviews, great deals and helpful tips.
Courtney Lynch is a freelance writer at Android Central. She's obsessed with all things health, fitness, and music. At any given time, she can be found checking out the latest and greatest gadgets while simultaneously petting her dog and sipping iced coffee.