How do apps work on Samsung DeX?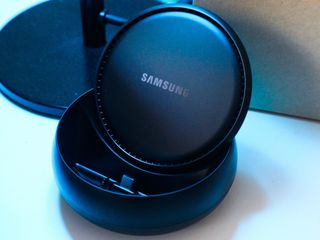 The idea of using your smartphone to unlock a desktop operating system might sound absurd at first, but what if you could do that for a bit of extra money?
For $150, you can purchase the Samsung DeX dock to unlock the desktop operating system hidden deep within the depths of the code on your Galaxy S8 or S8+. The DeX dock features ports for all the necessary peripherals, including an HDMI input for an external monitor and USB for a mouse and keyboard. Once you have everything set up, you can start using the full-fledged desktop experience to get things done, just as you would on a Mac or PC.
The good news is that Samsung launched DeX with a variety of compatible, popular apps that make getting work done an actual possibility. There's also added Android app functionality, so that you can use every app you already have installed on the Galaxy S8. Here's a look at some of the apps that come readily available to use on the Samsung DeX — and some of those that are best avoided.
Every app is already there
With Samsung DeX, every app you already have installed on your Galaxy S8 will have a launcher icon available in the app drawer, as it were. Any apps that were previously open will show up in the dock — or taskbar — at the bottom of the interface, though you can also switch between active tasks by tapping the Recent Apps button in the bottom left side of the screen.
Since the Galaxy S8 comes prepackaged with Samsung's own apps, you'll see shortcuts to those immediately available on the desktop. You may not regularly use them on the phone, but you'll want to considering getting into the habit of sparking these up when you get into DeX, since they've already been optimized for a larger display and desktop interface. Many of the other apps are merely emulated and will work best if they were already optimized for a tablet interface.
Some Android apps are fine, though, and work accordingly, even without the fancy optimization. Adobe Clips, for instance, is easy to use and exports videos to the phone's internal storage just fine. The Microsoft Office and the Google Docs app suite are all a cinch to use, too, and you might find you appreciate the fact that you can hook up a full-size keyboard to get some actual writing done. Even Snapchat works just fine, and I was able to post and scrawl away with the mouse and keyboard input.
Not all apps will work properly and some won't even launch at all. My favorite app, Pokemon TCGO, doesn't work on Samsung DeX because it requires touch input (by comparison, the Android app works fine with the mouse or touch input on the Chromebook Flip). Spotify won't work either, and DeX will tell you it's because it wasn't optimized for multiple screen sizes (you can't launch into the browser version of the web app either). I also found that some apps aren't even worth using on DeX because they won't work in the background, like some of my favorite indie music radio apps put out by smaller developers who probably didn't even consider that this was a thing to develop for.
Full-service apps
For those of you looking for the full desktop experience, DeX is compatible with Virtual Desktop Infrastructure (VDI) solutions like VMWare Horizon Client and Amazon Workspaces. You have to download the apps from the Google Play Store and have a valid license to use the desktop emulating clients.
I was curious about how this particular ability works, so I tried the next best remote desktop experience I could think of: Chrome Remote Desktop. I tried it on DeX by connecting to my MacBook Pro and though the implementation was a little weird — the mouse and keyboard input abilities don't translate as well as they would if I were using the app from a browser through Chromebook, for instance — it works fine and I was able to navigate around macOS with no lag.
Samsung also worked with Microsoft and Adobe behind the scenes so that their Android apps are solid on the DeX interface. Like the VDI clients, all you have to do is download the apps from the Play Store to get to editing apps and writing TPS reports. When you save a file, it's stored to the phone's internal file system.
More app functionality to come
The Samsung "desktop experience" is still in its nascent stages, so it'll take some time before all the kinks are worked out of DeX OS. If you'd rather not download an app but still want the functionality, you can do trial by fire with the varying web apps and services you might typically access through the web. Just bear in mind that not everything works.
We've still got quite a bit of diving to do into the DeX experience before we can offer a full verdict on whether it's worth the cash. But if you've brought a DeX home and you're playing around with it, let us know what you think about the apps experience by leaving a comment below.
See at Amazon (opens in new tab)
Get the Android Central Newsletter
Instant access to breaking news, the hottest reviews, great deals and helpful tips.
Florence Ion was formerly an editor and columnist at Android Central. She writes about Android-powered devices of all types and explores their usefulness in her everyday life. You can follow her on Twitter or watch her Tuesday nights on All About Android.
what happens if you are on Dex and you get a text message or a phone call?

Try enabling the special 'DeX developer mode'(not Android dev mode) to get (mostly) all apps to work fine! Guide available here:
https://forum.xda-developers.com/galaxy-s8+/accessories/samsung-dex-t359...

So to be clear, you need this product, a mouse, keyboard and a monitor? Would a smart TV work?

Cool. I appreciate the information

I've used Continuum on a Windows Mobile device which is similar to Dex in conception and in performance, as some apps work very well and others not so much. It has real potential and if all I had was a smartphone with high-end specs and storage and Continuum, I could get by without a PC at all, and get used to the sometimes cramped, sometimes far-flung rendering of text and windows. it's a very appealing idea to have it all always with you rather than to have to depend upon the vagaries of syncing across an array of devices, One nice feature of Continuum (depending upon the mobile device you were using) was you could run the "desktop" apps on the larger external screen and still use your phone to take calls, text, etc. But overall, the experience lacked fluidity and wasn't enough to cause me to use it more, at least not right now. I am interested in Dex, but that price on top of the cost of G8+ is a little much.

As a long time Windows phone user I was intrigued by continuum, but the fly in the ointment was always the lack of Chrome. Honestly, I can get a lot done with just the Chrome browser on a big screen with a keyboard and mouse. I'll also be curious to see if the come out with a Dex laptop.