How to add a custom description to pictures in Google Photos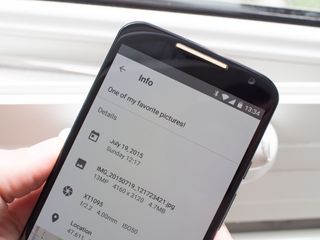 Google Photos is steadily adding subtle new features to its service through updates to its apps and website, and one of the lesser-known new features is the ability to add a custom description to an individual photo. It just takes a few taps or clicks to get it done, and when you come back to a photo months or years later it could help you remember just what was going on. We'll show you how to do it.
The process of adding a custom description to a single photo is the same whether you're on the Google Photos app or website:
Tap or click in to view a single photo, then select the information button (a small "i" icon) to view more details on the photo.
You'll see things like the capture date, file name, camera model and location — select "Add a description" to add more to it.
There doesn't seem to be a character limit (or if there is one it's quite large), so go ahead and add in any extra information you think is relevant to the photo. Maybe a little back story, what's going on in the picture or perhaps some other bit of information that can't be picked up from the plain EXIF data of the photo.
The extra details should help if you're searching for pictures in the future on Google Photos, but at least right now you'll have those details synced up to that photo for your own benefit when you view it manually. Go forth and add all of the extra info your pictures deserve!
Get the Android Central Newsletter
Instant access to breaking news, the hottest reviews, great deals and helpful tips.
Andrew was an Executive Editor, U.S. at Android Central between 2012 and 2020.
I'm running 5.0.2 on my MotoG, 2nd gen. and I have no "add information" button after I tap the I icon. What now?
Sagittarius 6
thisisedzemail2@yahoo.com Posted via the Android Central App

@Sagittarius6- make sure you have updated to the latest version of Google photos.

If you store your media in Google drive storage you can alter the names and description to anything you like as well

Good improvement. Now if they would only display a list of the albums associated with a photo (like Gmail does for tags) we'd be in business. As it is, I followed instructions which uploaded thousands of photos from my pc. Assigned a few hundred photos into albums. Now where did I leave off? No way of knowing. Pick a photo on your master chronological list and see if you can figure out what albums it's in. You can't! (the only way is to go look in your album's to see if the photo is there).

@Sagittarius6- make sure you have updated to the latest version of Google photos.

I've been wanting a feature like this for a long time. Many of my pictures are related to my various troubleshooting projects, and the comments will really help me to remember their context later.

Next I'd really like an easy way to change the date for a photo, rather than having to download it and change EXIF info!

I'm with you on this. I have a lot of photos that were made digital years after I took them on film. So now they show up in the wrong place chronologically.

I just downloaded "The Latest Version" (1.2.0.98687623) of Google Photos from Google Play Store and I don't have that "Add description option". So why don't you state which version you are using in article (always state the version in every software article), otherwise we can only conclude that you're making this stuff up.

Yup I wrote this whole article and faked a group of screenshots just to lie and mislead you. Caught me. Posted via the Android Central App

Exactly. People should say about half of what they think, and then go back and edit that before posting. Not that this guy was in any way the worst offender.

I am using the latest version of google photos on nexus 5 and I can confirm there is no "add info" button. The web version does have this function. Your screenshot looks like iOS?

Is there anyway to upload only some pictures from your phones camera folder? Instead of all the pictures.. (like now when it uploads all pictures when you turn on synchronization) Posted via the Android Central App

It's all or nothing when you turn on auto upload. If you turn off the auto upload you can manually upload individual photos through the share menu if you have the Photos app installed. Posted via the Android Central App

Cool! I've been transferring selected photos to my pc and uploading via the desktop site for all this time lol..
Thanks! Posted via the Android Central App

Good, but what I really don't like is that this description is not backedup into the photo.
So on the day you want to leave Google Photos for another service, you won't be able to retrieve this information.
Also, as it is, it's almost impossible to dowload large libraries from Google Photos.
Google Takeout allows you to download your albums but most of them are automatically created by Google + on a daily basis. Therefor I have thousands of them with no title whatsoever (just dates). Google really needs to improve its photo library management and make batch operations easier.

Well you can use Google Drive to download all of the photos as you uploaded them, but I'm not at all surprised that Photos focuses on the experience of when you're actually using the app.

Would it be so hard for Google to just put that info into the caption field of EXIF data?

How many characters does EXIF give for a caption?

Good info to know! Posted via the Android Central App

Google Photos is another example of the once great Google dumbing down its products. Its predecesor Picasa had the option to easily change descriptions across an album, instead of now having to bring up the info for each individual photo. Picasa was also much user friendlier for re-ordering photos, listing your albums etc.