Honor View 10 finally gets a release date and U.S. pricing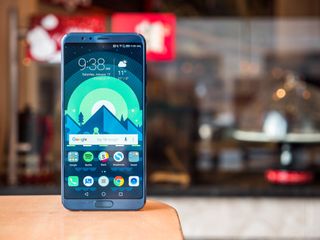 We've written quite a lot about the Honor View 10, but nearly every article ends with the same frustrating conclusion: this would be a great phone to buy … if you could. Since its announcement in December of last year, the View 10 has been continually pushed back and out of the spotlight, but months later we finally have an official release date — and U.S. pricing.
Shipping out on March 23, the unlocked Honor View 10 is up for pre-order now, available in blue or black for $499. It comes with a clear silicone case, as well as Huawei's AM116 3.5mm headphones — a $19.99 value.
$499 is quite a leap up from the company's more budget-minded Honor 7X, but the View 10 is Honor's flagship model, with beefy specs including 6GB of RAM, 128GB of storage, and Huawei's most powerful Kirin 970 chipset. It features the same Neural Processing Unit (NPU) found on the more expensive Huawei Mate 10 Pro, and an impressive dual camera module that stacks up well against similarly priced phones like the OnePlus 5T.
See at Honor (opens in new tab)
Android Central Newsletter
Get instant access to breaking news, the hottest reviews, great deals and helpful tips
Hayato was a product reviewer and video editor for Android Central.
At this point asking $500 for a phone without a clear policy of software support and updates and of course respecting that policy is unacceptable to me...Google, Apple, Nokia can do it and they will get my money not Honor! Shame as this phone does have capable hardware akin do an upper mid-ranger, but make not mistake this is no flagship at 50% of the cost... that LCD low resolution screen is your first clue!

Sooo... The New Sony XZ2 phones aren't flagships either then? They have 1080p LCD screens.... This phone has all the specs that the Mate 10 Pro has minus water resistance. This is definitely a flagship give me a break

Many of the Flagships currently, like the Pixel 2 XL, HTC U11, or Galaxy S9 all have half the internal storage and 4 GB of RAM. The 1080p display is more than good enough as well.

After the reviews & video's I've read & watched I don't think I would spend 500.00 dollars on a phone without OIS with the camera. If your gonna cheap out the camera is not the place to do it. At least for 500.00 the 5t is better and has EIS with the camera. It's a better trade off!

Hmmm... looking at everything I've seen the View 10 clearly has the better overall camera, image stabilization or not. The Kirin 970 also appears to be slightly faster than the Snapdragon 835, and Huawei has done the best job I've seen at tuning their software enhancements to ensure their phones don't slow down over time. I'd easily recommend the View 10 to people.

No doubt Kirin processor is one of the best. However, if your intent is to not get/expect software updates, then Honor is a great choice. I and many others who believed Honor would honor their software update policy for the Honor 8 will not get another Honor device as they couldn't honor Honor 8 with timely updates as promised. So, yea, regardless of how well the phone's internals are, their software policy sucks and thus paying $500 for this is not worth at all.

Well, that's a moot point, since OnePlus hasn't been very good too when it comes to updates.

You do know 5t has NO ois on the their camera too, right ? One Plus cameras have never been known to be amazing.

I'm totally digging this design. Minimal bezel with front fingerprint sensor.

Phewwww!! Jaw dropping hardware from Huawei aiming to make a statement in the U.S
Android Central Newsletter
Get instant access to breaking news, the hottest reviews, great deals and helpful tips
Thank you for signing up to Android Central. You will receive a verification email shortly.
There was a problem. Please refresh the page and try again.