Here's the 'reason' why Samsung's Galaxy Note series might make a comeback in 2022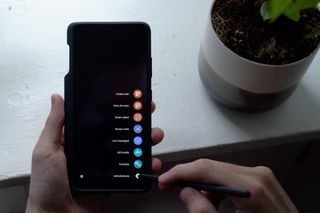 (Image credit: Hayato Huseman / Android Central)
What you need to know
Samsung is apparently disappointed with the market response to the Galaxy S21 Ultra with the S Pen.
It is planning to bring the Galaxy Note series next year.
Samsung isn't launching a new Note series phone this year due to the global chip shortage.
Before Samsung unveiled the Galaxy S21 series, several rumors claimed that the company's Galaxy Note line would be discontinued this year. Soon after the launch of the Galaxy S21 series, however, Samsung mobile chief Koh Dong-jin confirmed that the Note series isn't going away.
According to tipster @FrontTron, the market response to the Galaxy S21 Ultra with the S Pen has been much lower than what Samsung had expected. As a result, the company is said to be "discussing" bringing back the Galaxy Note series next year. This doesn't come as a surprise since Samsung has already announced plans to launch a new Galaxy Note in 2022.
It will come back. Yes. You heard it right.
They are discussing about it since the S21 Ultra with S-Pen's market response and sales record hasn't met their expectations. https://t.co/ZfgILVfg9IIt will come back. Yes. You heard it right.
They are discussing about it since the S21 Ultra with S-Pen's market response and sales record hasn't met their expectations. https://t.co/ZfgILVfg9I— Tron ❂ (@FrontTron) May 31, 2021May 31, 2021
What is also not surprising is that the Galaxy S21 Ultra hasn't been successful in meeting the expectations of Galaxy Note loyalists. Unlike Samsung's Note series phones, the S21 Ultra doesn't include a slot to store the S Pen. The Galaxy S21 Ultra's S Pen lacks Bluetooth support as well, which means it doesn't offer the same gesture features as the Galaxy Note 20 Ultra.
If rumors are to be believed, Samsung is planning a similar S Pen implementation for the follow-up to one of its best Android phones. Just like the Galaxy S21 Ultra, the upcoming Galaxy Z Fold 3 may not include a built-in slot for storing the S Pen. The foldable phone is expected to be unveiled at an Unpacked event next month, alongside the Galaxy Z Flip 3 and the Galaxy S21 FE.
Samsung Galaxy S21 Ultra
The Galaxy S21 Ultra is one of the most impressive flagship phones Samsung has released in a long time. It has a gorgeous 120Hz AMOLED display, four fantastic cameras, and a truly premium design.
Get the Android Central Newsletter
Instant access to breaking news, the hottest reviews, great deals and helpful tips.
Do you mean that the $1k phone is not worth $1k? 😱 Shocker! 🤭

Hardly surprising this! said it all along I'm a life long note fan and if they ditched the note series then I will move from Samsung. Despite both the S range and Note range being practically the same phone spec wise each cater to different customers. I'm really hoping they haven't ditched the SD card whenever this next Note arrives.

There is NOTHING like a Galaxy Note phone with an in-dwelling S Pen. What's the point of buying a phone and then leaving its S Pen at home to avoid losing it(which many S21 Ultra owners are doing) ? I might even import a Snapdragon Note 20 Ultra next year if there's no newer Note Ultra - just to replace my Exynos Note 10 Plus. The smaller battery capacity of a Note phone(due to the S Pen) compared to an S Ultra one isn't an issue for me

I have a note 20 ultra with 128 GB of memory and a 256 GB micro SD card, both of which are almost full. What do you think the odds are that I will ever buy a phone without a micro SD slot? In my opinion it was a huge mistake for Samsung to do away with the SD slot and the ability to store the S pen. That was just sheer stupidity. It makes you wonder who's making these awful decisions. If those are missing from the next Note, I will pass on it.

I call bull on the shortage excuse... yes I know there is one. I believe they are just using that to hopefully push people into trying their new foldable phones... I am not interested. Was looking forward to a new Note , not that my Note 20 Ultra 5g with 512 of storage is not working. So I will wait and see in 2022. I think they are going to offer the Note in 2022 as a third option to the S line and it will be the ultra with an actual pen silo.. So really hop they do not get rid of the SD storage, as I am currently using a 256GB card that is almost full (as I do not want to rely on cloud storage prices to go up as you know they will , look at Google getting rid of the free photo storage and now charging no thank you I turned off backup this morning to photos.) ,on it either arggg... I am really hoping I do not have to look elsewhere otherwise.

Goes to show their marketing knows absolutely nothing about what Note users want. They think we only care about the SPen. If all I wanted was a stylus, there are plenty of capacitive styli I could buy. It's about how the phone is an entire package with a place to store the S Pen and has the top specs of most flagship phones.

I think that the Note series needs to serve its power users like it did in the beginning with features befitting the Note series which of late no longer differentiates from the Galaxy S line.

It also didn't help the available S pen doesn't have the same features as the one in the Notes. Really, people are waiting for the full-featured version of it and therefore not interested. Gee. Who would have thunk?

I will keep using my Note 9 (my THIRD Note) until there is a high-end phone I like more that has a micro SD slot. I can live without a headphone jack, and I can live without an S Pen at all (S21 implementation is ridiculous), but I will NEVER buy a phone that does not accept a micro SD card. Some manufacturer will be smart enough to meet that requirement, if Samsung isn't.

With all the R&D Samsung does, they didn't think getting rid of the Note line was a good idea? Note is a special.. Sometimes you can't mess with a CLASSIC! Bring back the Note next year and don't skimp on the features! Like pmjj said include SD CARD SLOT, u sell sd cards for crying out loud.

The Note series. The only one I'll by unless they fully integrate a Bluetooth s-pen into a foldable with an in-phone silo to hold and charge it.