Here's where you can buy the Nexus 5X in the UK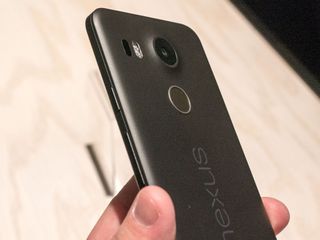 LG has announced availability of the Nexus 5X, allowing you to purchase the smartphone in a select number of markets, but in this article we'll focus on the UK. So, where would you need to go should you be wanting to get your hands on the Nexus 5X?
Carphone Warehouse
Carphone Warehouse has a bunch of plans available with a variety of UK networks, as well as the option to upgrade or purchase the smartphone outright SIM-free. Both the 16GB and 32GB models are listed for sale.
Clove
The UK retailer has the 32GB variant of the Nexus 5X listed for £379. Availability is expected for October 21, so you'll be able to order directly from the online store within the next few days and receive your unit shortly thereafter.
Buy the 32GB Nexus 5X from Clove (opens in new tab)
Unlocked Mobiles
Unlocked Mobiles is also stocking the 32GB version for £375, and expects to have units to ship by October 20.
Buy the 32GB Nexus 5X from Unlocked Mobiles
Mobiles.co.uk
Mobiles UK only has the Nexus 5X 16GB listed, but multiple networks are included as options. The online store expects deliveries to kick off for October 23.
Buy the 16GB Nexus 5X from Mobiles.co.uk (opens in new tab)
EE
The UK mobile operator has the 32GB Nexus 5X listed in carbon on plans from £26.99 with an upfront fee of £139.99. No word on the exact date as to when the smartphone will be available for purchase.
Buy the 32GB Nexus 5X from EE (opens in new tab)
Google Store
And there's always the Google Store. Shipping from October 22.
Buy the Nexus 5X from Google (opens in new tab)
Notice somewhere else where there's a sweet deal on Google's new smartphone? Sound off in the comments!
John Lewis is also selling it!

I will have to check them out (holding quite a few John Lewis vouchers he says)

All the carrier plans seem to be rip offs. But then what's new? It's interesting that CPW is selling the 5x cheaper than ever one else. Makes it an even better deal. Posted via the Android Central App

When following and posting in the new "Mine has just been delivered" thread by smithy1983uk last evening I saw on CPW you could get great deals, such as 5gb @ £31.99 on EE with no upfront on the 16gb model or only £49.99 up front for the 32gb. 10gb data on EE was £44.xx or only £39.xx on O2, all with ul talk and text.
I'm afraid to look again today. :(

Good spot, £349 SIM free cheaper that from Google or any other suppliers

Did EE mix up the n5x with iPhone? What a ridiculous deal! Posted via the Android Central App

CPW are still doing better deals on EE and O2, £49 up front for the 32gb.

Actually that's not a bad deal. They've lowered them quite a bit since last week when they announced them. That works out about £15 a month, for the 1gb plan, when you factor out the cost of the phone. Better than the £19 for a 500mb plan that some were asking before. Posted via the Android Central App

Minimum data I want for a phone now is 5 gb, so that 31.99 is a steal on the best network for me. But I don't have a home line or wifi, (BT screw up) so 10gb on EE is all tetherable but it's £45 territory, and then you're into wanting a 6P " for a few dollars more", or an X Style outright which I would place higher than a 5X as a device, but now the 6P looks lovely as a Note 5 alternative and then there's...
I'll wait to see how a new job works out :(

despite the 5x pricing compared to the 6p in general in the UK the nexus phones aren't worth it too expensive
Android Central Newsletter
Get the best of Android Central in in your inbox, every day!
Thank you for signing up to Android Central. You will receive a verification email shortly.
There was a problem. Please refresh the page and try again.