Hands-on with the Samsung Level Link wireless adapter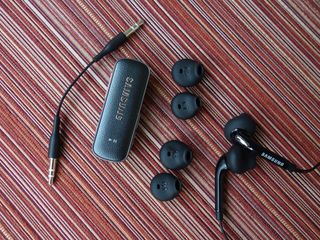 Most folks have at least one gadget that doesn't come packed with Bluetooth, relying on a direct connection to get their audio from one end to the other. Where the Level Link shines is its ability to plug into any 3.5mm audio port and send or receive audio straight through to your favorite pair of wireless headphones or car stereo. Its intuitive design helps get the ball rolling from unboxing, too.
This handy 2-inch adapter comes with an attached alligator clip on one side that's useful for exercising or traveling. The opposite side sports Samsung's pebbled polyurethane material that looks great next to the brushed aluminum edges and Samsung logo. A pair of OEM headphones comes bundled with the adapter that reaches 28" in length and includes 2 extra sets of earbuds for a smaller/larger fit. For direct-connecting the Level Link to your audio device there's a short 3.5 to 3.5mm auxiliary cable that gets the job done.
The functionality here is simple. There's a send/receive switch on the side of the Level Link that tells your device how to manage the audio. If you're at home and want to keep things quiet late at night, you can connect the Level Link to your TV's 3.5mm audio port (check your TV for this, as some older models do not have this connection) and switch it to "send". You can then pair up your mobile device with the Level Link and use your favorite wireless headphones or the wired OEM headset that comes with the wireless adapter. And since the Level Link packs Multipoint technology, you can pair up more than one wireless headset at a time when catching up on Game of Thrones or Silicon Valley with your friends.
Read our Samsung Level On Wireless Headphones review
For using the Level Link with your car stereo, you can connect the adapter to the auxiliary port and switch the adapter to "receive". From there you can stream audio straight from your smartphone or tablet without fumbling for cables. There are also convenient buttons for skipping and pausing tracks on the Level Link adapter if you don't feel like grabbing your mobile device while driving. The aptX Bluetooth Audio provides great quality and is definitely acceptable next to a direct connection from our experience.
After a full charge, you can expect around 5-6 hours of playback time and 8 days of standby. Samsung's thrown in a 32" microUSB charging cable sans wall adapter for keeping the unit juiced up as well.
Image 1 of 4
The verdict
Even though most current gadgets are packing some version of Bluetooth, chances are the Samsung Level Link (opens in new tab) can still serve a purpose for you. Since my 2010 Dodge RAM doesn't have a Bluetooth stereo, I find myself using this adapter the most during my commutes. The ability to pair up with more than one device is an advantage over many other Bluetooth adapters of its kind. You can scoop up the Level Link wireless adapter right now for $79.99.
Buy now (opens in new tab)
Get the Android Central Newsletter
Instant access to breaking news, the hottest reviews, great deals and helpful tips.
Damn. $80 :-(
I was all excited as I read through this review as I am currently fumbling with a 3.5mm plug every time I get in the car...but I think I'll keep fumbling at that price :-)

Kinivo BTC450 Bluetooth Hands-Free Car Kit for Cars with Aux Input Jack (3.5 mm) - supports aptX by BlueRigger http://www.amazon.com/dp/B009NLTW60/ref=cm_sw_r_udp_awd_mXeNvbMTQVXFK?ta... I have one love it Posted via the Android Central App

Good recommendation. I have the same kit, and honestly couldn't be happier with it. Easy to use, great call/audio quality.

+1 on this solution. Been using the MPow Version since last Christmas. Love it. Posted via the Android Central App

So if you put it in receive mode, could you also use it to connect a wired pair of earphones/headphones to your phone wirelessly? That would be helpful say if you already have a decent pair of earphones which are wired but want to sometimes used them wirelessly for running or cycling etc (and then just use a cable tie or something to neaten it all up).

That's good. Just a shame about the price.

There's plenty of cheaper BT receivers out there, I've been using an old Sony MW600 with my high end IEM and other wired headphones for a good three years or so, I don't think I paid more than $45 for the thing back then. After a couple of years it even gained functionality since my N5 could transmit song titles to it (something that never worked with the HTC Bluetooth stack on previous phones). I'm pretty sure Sony has released half a dozen different models since then. The only thing that makes this Samsung unit a little unique is that it's both a send and receive unit in one, you usually get one or the other. Sending audio from a device sans BT is pretty situational tho, can't even think of one common usage case besides TV watching...

Just noticed there's actually several Anker/Aukey adapters on Amazon that do TX & RX for under $50, even a Jabra... So yeah, $80 seems like a rip. The MW600 that AC reviewed four years ago had a display, more functionality, and it was cheaper ever then. Dunno how in earth something this dead simple gets more expensive with time... If Samsung's doing anything special for better SQ (beyond paying the Apt-X license), like a better than average DAC or analog stage, they should probably advertise that... Otherwise this comes off looking rather overpriced.

Oh yeah of course, I actually have a few already, I was just confirming this particular product would let you do it because it seemed like a particularly nice unit otherwise as it has support for multiple connections as well as both transmit and receive options which most don't. Still not quite enough to justify its price through in my opinion.

This has been possible for like 5+ years now... and there are plenty of much cheaper variants on amazon :)

Indeed there are loads of cheaper units just most don't also do transmission AND support multiple simultaneous connections. That said, it is still not quite enough to justify its price in my opinion.

I'd love something like this with a bit of an EQ, so I can up the bass when I'm at the Gym.

Monoprice has a bluetooth transmitter for $20.

But do they have a tiny portable Bluetooth receiver that supports Apt-X?

In my experience Apt-X is rather overrated, it didn't sound any different than a device using standard SBC, at least when they default to the highest SBC bit rate, old stuff that defaults to lower rates can be pretty bad. Maybe the Apt-X adapters I tested (one by HTC and one by Samsung) just had other faults in the chain (bad DAC, bad analog output, etc), couldn't really say... Most of the time you don't have any assurance that Apt-X is even enabled anyway, and at the end of the day it's just another codec. AFAIK no mobile device actually uses the lossless variation of Apt-X which would be much more interesting. I tested with some pretty decent headphones (Beyer, Etymotic), bookshelf speakers (Infinity P163) and my car's stereo FWIW. Not really against it, just saying I wouldn't rule out any Bluetooth device over the lack of Apt-X. A proper DAC and proper amplification can make much more of a difference depending on what speakers/headphones you're using it with.

Can you clarify the multi-point functionality? Does this mean you could play one audio signal to multiple speakers/headphones at the same time? If so, THIS is why it's worth the extra $$.

That's right. You can connect multiple devices to the Level Link, say, if you had a couple extra pairs of wireless headphones and wanted to stream the audio from your music player or TV to each pair, you could.

Awesome. For those of you who don't get the functionality, think about linking several Bluetooth speakers at a gathering (without the need for a Sonos) OR when traveling, being able to watch a movie on a tablet with someone wirelessly.

Sounds like they finally brought back the HS3000, which was one of the only tiny Bluetooth receivers to support Apt-X and simultaneous charging and playback. The only problem is that the Samsung HS3000 was $30 and this is $80.

My kinivo 35 dollar Bluetooth adapter is fantastic and gives me everything I need to make my 2008 dodge nitro Bluetooth compatible Posted via the Android Central App

In send mode, can I add an external mic to record audio in my iphone ?