Hands (and ears) on the Samsung Level On Wireless Headphones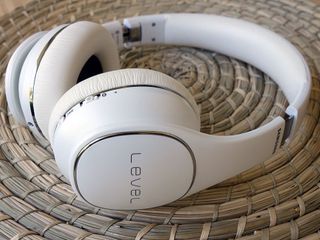 Need a serious boost in audio quality when jamming your mobile tunes? Samsung's Level On Wireless Headphones (opens in new tab) are awesome for any genre of music and they don't get uncomfortable after those long sessions. Add a few unique touch controls and a nifty carrying bag and you might just be looking at your next pair of wireless headphones.
Design
Without a doubt, these headphones are very well built and designed for optimal comfort. The ear cushions are extremely soft and allow your ears to conform to the padding, without extra weight or pressure making it unbearable after a short span of time. The padded headband inside also keeps a comfortable and secure fit, not quick to slide off the ole noggin. The exterior plastic body is completely smooth, featuring chrome accents around the ear pieces — enhancing the overall sleek design of the headphones. The adjustable sides seem sturdy enough to hold up to extensive use, and can be folded for when it's time to travel.
On the bottom you'll find a 3.5mm headphone port for direct connections as well as a micro-USB charging port. Cables for both are included with the Samsung Level On Wireless Headphones — a 32" USB charging cable with a lengthier 50" auxiliary cable — color matching the specific headset you desire. The right headphone holds your power and Bluetooth switch next to the ANC (Active Noise Cancellation) control.
Pairing
Having Bluetooth 3.0 along with NFC for pairing options makes setting up the Level On Wireless Headphones a breeze. By sliding the power button over to Bluetooth logo for a few seconds will put the headset into pairing mode, showing up under your device as Samsung Level On. If your mobile device is NFC enabled, then a simple touch to the left headphone will prompt pairing right away — definitely the easier method of the two.
Need Bluetooth? Read our Samsung Level Link wireless adapter review
Functionality
With the Level On Wireless Headphones (opens in new tab) you gain a variety of intuitive controls that allow you to manage your audio without your mobile device. For example: On the RIGHT headphone you can slide your finger up and down to adjust volume levels, slide it forward or backward to jump to different tracks, double tap to pause or play, and when you need to utilize S Voice simply press and hold for 3 seconds. I really like that they didn't print any guides on the headphone to keep a uniformed look through and through. For those that don't care for reading instructions, you may have your work cut out for you.
The internal Li-ion battery provides 11 hours of playback and talk time while Active Noise Cancellation is on. To get some extra life, you can turn off ANC and get up to 23 hours. Inside are high-def 40mm drivers matched with low latency aptX technology that spits out dynamic range and beautiful bass tones. A cool feature Samsung has implemented with these headphones is a specially designed EQ circuit that maintains the sound clarity, even when ANC is turned off.
The range on these headphones is impressive to say the least. While my house is only 2 bedrooms and 2 wide living rooms, I was able to roam anywhere around the house without a single hiccup. When inside my garage I started to get some slight interference, but at that point there are more than 5 walls between my Galaxy S6 edge and these headphones.
Samsung Level App
If you're really looking to get the most out of these headphones, you'll want to download Samsung's Level App (opens in new tab) to dig deep into EQ customization. The default screen shows 6 different presets ranging from Pop to Jazz, with volume bars on each side that work in conjunction with the headset and your device. For experimenting here, you'll definitely want to have the active noise cancellation kicked on for the best results. Personally, I jumped between normal and rock presets for most my tunes which included a variety of heavy rock. You can also enable notifications and S Voice on this same screen.
Under the SoundAlive window there are some pretty neat adjustments you can make, basic or advanced. Easier, more user friendly tweaks can be made on the basic window, which divides your treble, vocal, bass, and instrument areas. The minesweeper-esque layout is simple to understand and allows you to add more flavor where you want. Switching over to the advanced layout, you've got more accurate level adjustments — if that's your thing.
What's inside
Bundled with the Samsung Level On Wireless Headphones (opens in new tab) is a 3.5mm auxiliary cable, micro-USB charging cable, and soft carrying bag. Everything you need and more to get started using these amazing headphones. The carrying bag is actually really nice, featuring both Samsung and Level logos on the front along with pull straps for keeping the top closed. To fit the headphones inside easily, you'll definitely want to fold them up first, otherwise you can't completely close the bag.
The verdict
In a nutshell — yeah, these wireless headphones are amazing across the board. I haven't come across many pairs of on-ear headphones that don't leave my ears and head aching after more than 45 minutes. Samsung's nailed these in my opinion. The intuitive touch controls are one of my favorite features next to the quality sound and EQ customizations available through the Level App. These headphones are currently priced at hefty $249 and come dressed in black sapphire, red, blue and white (as shown) — leaving enough color options for just about anyone.
Buy the Samsung Level On Wireless Headphones (opens in new tab)
I don't do wireless. I like huge sub bass and these tiny batteries on them only seem to last like 9 hours maximum rated on regular music .. Posted via the Android Central App

They are wireless (rated 23 hours without Noise cancelation, and 11 hours with cancelation) or you can plug them in to be weird. Read. Posted via the Android Central App

haha ya I read a bit after I posted. I'm still a little hesitant. Plus I don't use over the ear headphones. Guess I was right before I even read it all ..

How long did it take you to figure out that this was an over the ear headset? Posted via Android Central App

Well there is a picture of them before you read the article. So I'm guessing he had to have known before he read anything.. And to not be wrong. He changed his mind and now says he don't like over the ear headphones. But loves his bass?? Lol or he could have just said I didn't read they had a plug-in and moved on.. Ha ha Posted via the Android Central App using a Note 4

If you like bass. You will not get a lot of bass from earplugs.. Lol.. Over the head ear muffs are the only way to truly pump some bass into your ear.. Posted via the Android Central App using a Note 4

Then don't do wireless. Plug them in.. Posted via the Android Central App using a Note 4

Does it work with non - Samsung phones?

Of course! Any phone with Bluetooth and/or a 3.5mm headphone port.

Haha it's amazing how folks dont even read the whole article but so ready to slam the product. And the sammy hating continue Posted via the Android Central App

Picked up a pair of Bose QC15's last week thinking they would have a better sound quality than my Sennheiser in ear Momentums.. They'll be going back this week.

That cover on the Edge is so ugly.

I just picked up the Samsung gear circle. Love em. They have replaced my plantronics voyager edge! Posted via the Android Central App

Thinking about getting a pair myself the sound is spot on much better the the base filled beats headphones Posted via the Android Central App

Not sure if this question will make sense or if anyone can answer right away but let's say for example I plug in the 3.5 jack...does that help preserve battery life?

That's a dang good question. Since the headphones are still doing their thing, and possibly using ANC, you (might) get a little more battery life. I can't see it being substantial enough to warrant going w/o Bluetooth if both choices are available, though. Just my two cents.

What is the differences between these and the previous Level On and Level Over models?

Previous level on has no bluetooth wireless and Active Noise Cancelling features. Thats what I read from the internet.
Android Central Newsletter
Get the best of Android Central in in your inbox, every day!
Thank you for signing up to Android Central. You will receive a verification email shortly.
There was a problem. Please refresh the page and try again.