Hands-on with the Archos 35 Home Connect and Smart Home Phone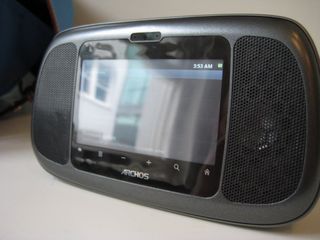 Tablets were the main focus of Archos' recent London press event, but also in attendance were two more unusual Android devices -- the Archos 35 Smart Home Phone and Archos 35 Home Connect, both running Android 2.2 Froyo. The former is exactly what it sounds like -- an old-fashioned home phone based around smartphone hardware and software. The latter is a home entertainment hub, internet radio and media player combined into one device.
Join us after the jump to find out what we thought of both devices, and be sure to check out our coverage of Archos' new G9 series tablets if you haven't already.
The Archos 35 Smart Home Phone is a DECT-compliant device running on a 1GHz single-core Texas Instruments OMAP chip. This isn't going to dazzle anyone with its speediness, but is more than enough to power the basic Android experience. Build quality is similar to the other Archos products on display at the event -- greyish matte plastic on the back, with a sleeker, black look to the front of the device. So, basic, functional and plasticky, though it's probably unreasonable to expect a premium design for the $160 asking price. The plastic chassis, however, does make the phone incredibly lightweight.
On the front of the device is a 3.5-inch LCD, above which sits a front-facing camera capable of 720p recording. Video calling suddenly becomes a lot more feasible on a device that's based in the home, though without Android 2.3.4 or Android Market access, you'll be limited to whatever video calling software Archos' AppLib store can provide.
The Archos 35 Smart Home Phone runs on Android 2.2.1 Froyo, and there's only a minimal amount of skinning going on, which will please Android purists. Various customized Archos apps are included, including video and music playback programs, but there's no Android Market access, which potentially limits the lifespan of the phone. As Archos moves to embrace the Android Market on its tablet devices, we were a little disappointed to see the same didn't apply to its new home phone. Performance seemed more than adequate, though the pre-production demo units did seem to be experiencing some touchscreen issues, perhaps the result of being caked with several layers of finger grease from various attendees.
We're still a little sceptical about how useful an Android phone would be if it's permanently confined to your house. One of the best things about smartphones is how portable and personal they are -- we're not sure how well this would translate into a grounded device that's (potentially) shared between multiple people. However, Archos did talk us through a few neat uses for the 35 Smart Home Phone, including home security and baby monitoring using the front-facing camera.
It'll also ship with the ability to act as a remote control for the Archos 35 Home Connect, which is neat, but we're not sure that this alone will be enough for the Smart Home Phone to be broadly successful. The $160 price tag, however, could be enough to tempt a few non-smartphone users over to the Android platform. Perhaps it's best to think of it as a gateway drug for smartphone hold-outs.
The Archos 35 Home Connect is powered by the same 1GHz OMAP chip as the Smart Home Phone, and also runs Android 2.2.1 Froyo. There's the same lightweight grey chassis found on other Archos products, a 3.5-inch LCD and connectivity in the form of Wifi and a USB port. Inside a generous 4GB of on-board storage is provided, alongside a micro-SD card port supporting cards up to 16GB. You also get a front-facing VGA camera for video calling, although we can't imagine making video calls on a device like this without feeling just a little but silly.
The Home Connect is powered by an internal rechargeable battery, but this doesn't seem to affect the weight too much -- it's very light and easily portable, so you shouldn't have any problem moving it from room to room.
A major focus here is Internet radio, and Archos is shipping the device with access to over 50,000 stations through the bundled TuneIn app. This also explains the presence of the large speakers on either side of the screen, which provides decent audio quality, though nothing comparable to even an entry-level Hi-Fi system. The device does video playback too, with Archos promising to support "most common video formats". Other apps include the basic Android browser, alarm clock and email app, alongside Archos' AppsLib marketplace. Again, there's no Android Market access, and no bundled Google apps, and that makes us sad.
Like Archos' Smart Home Phone, there's no real killer app for a device like the Home Connect, nor an obvious target demographic. Radio, music and video playback is all well and good, but these are hardly unique or ground-breaking features. It'd work well on a nightstand, replacing many more basic devices like clock radios. But for a lot of people, their smartphone already does an adequate job of waking them up in the morning and telling them the time. So we have to conclude that Archos is aiming the Home Connect at non-smartphone people who also happen to be big on Internet radio and digital media, and unfortunately we're not convinced that there's much crossover between those two groups.
Android Central Newsletter
Get instant access to breaking news, the hottest reviews, great deals and helpful tips
Alex was with Android Central for over a decade, producing written and video content for the site, and served as global Executive Editor from 2016 to 2022.
I'd be all over the home phone if i had service... i just rely on my cells though. Great product idea. just shorted lived with the younger crowd.

Good to see they got the order of the buttons right.
Back-Menu-Home-Search

This is the necessary step to test the market for smart land lines... I know Cisco and a few others make smart land line phones but this could open the doorway to a sleek, multi-line, video-conferencing office phone. Archos is REALLY stepping their game up by addressing this and several other untouched niche markets within the smart device world. If developers could create a VOIP ecosystem to reside on top of this that would be awesome! Does anyone smell a Vonage app for Android?

Let me correct myself... Google Voice...

Ya know, at first I was going to take exception to your assertion that there's no market for the Home Connect. I think its a great looking product, and I would love to have it on my nightstand. Then I realized that, with a little patience, I can put that $160 toward a new phone next year and put my Droid X on my nightstand with a set of computer speakers. I'll end up with a nicer phone, a perfectly adequate alarm clock with local music, cloud music, internet radio, terrestrial radio, podcasts and better sound through the computer speakers. I really like the model, but I agree that the market seems limited.
Android Central Newsletter
Get instant access to breaking news, the hottest reviews, great deals and helpful tips
Thank you for signing up to Android Central. You will receive a verification email shortly.
There was a problem. Please refresh the page and try again.