There are a lot of savings to be had on this one deal. First of all, Target has the Philips Hue 80-inch light strip down to $79.99. While that's not a mind-blowingly small amount for this strip, it does regularly sell as high as $90 so you're saving $20 right there. Plus, Target is offering a $35 gift card with the purchase. Then, Target just has a blanket Black Friday special where if you order $50 or more worth of stuff you'll get a coupon emailed to you worth 20% off a future purchase. There will still be plenty of deals between now and Christmas, so you'll be able to finish off your present shopping with that.
smart lights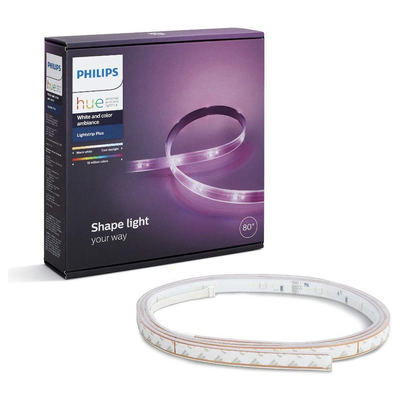 Not only that, but Target has an ongoing Black Friday deal where if you spend $50 you get a coupon for 20% off a future purchase. Also, Target Circle has a 15% off in-store coupon for Philips Hue, bringing the total down to $67.99 in store.
$79.99 + $35 gift card
To top it all off, if you live near a Target you have the potential to save even more. Target Circle has a blanket 15% off coupon for Philips Hue products. These savings can only be redeemed in-store, but if your Target has the light strip you can get it for a total of $67.99 on top of all the other savings. Target Circle also requires you to sign up, but it's free and easy to do.
This light strip is compatible with pretty much any smart home. Set it up with Amazon Alexa, Google Assistant, Apple HomeKit... or even Microsoft's Cortana, Samsung's SmartThings, and more. The strip comes with the hub it needs to connect to your network. Since Hue lights go through a hub, you can connect up to 50 lights at once and you won't fill up your Wi-Fi network with all these individual devices.
Put the light strip anywhere you want. Use it as bias lighting behind your TV. Set it up underneath the edges of your bed so you can see where you're stepping at night. Light a bar or other piece of furniture for the ambiance.
The Hue lights can sync with games, music, and movies and can be controlled by the free Hue app. The lights are also smart enough to learn and remember your routines and timers, even if the internet goes down. Forget to turn the lights off when you left the house? Just use the app and control them from anywhere!
The bulbs are Energy Star certified and designed to last up to 22 years.
We may earn a commission for purchases using our links. Learn more.