Google Translate adds support for ten more languages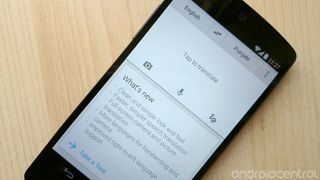 Google has added support for 10 more languages to Google Translate, allowing an additional 200 million people to translate text to and from their native languages. Support for the 10 new languages is now live on the Google Translate web portal, and Google says that support will reach mobile apps shortly.
Google announced in a blog post:
The 10 new languages supported by Google Translate include:
Chichewa
Malagasy
Sesotho
Malayalam
Myanmar
Sinhala
Sudanese
Kazakh
Tajik
Uzbek
Source: Google Translate
Never heard of any of those. Must be rural indian tribes. Didn't know they had cell phones.

that's a racist and offensive thing to say. Mayanmar is a country Sinhala(3 million people) is secondary language in srilanka and malayalam is used in Kerla state of India(35 million people). so just stfu

What about the app getting material design? I think it's the last remaining one Posted via Android Central App

That's very Good check out more updates are here : http://www.huewire.com/technologies/google-translate-adds-support-for-10...
Android Central Newsletter
Get the best of Android Central in in your inbox, every day!
Thank you for signing up to Android Central. You will receive a verification email shortly.
There was a problem. Please refresh the page and try again.