Amazon Luna vs Google Stadia: Which cloud gaming system is better?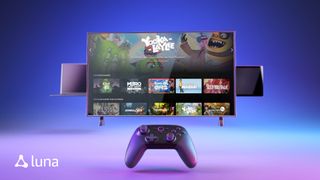 (Image credit: Amazon)
Google Stadia
Stadia has been available for over a year and has steadily improved throughout that time. The controller's inclusion of Google Assistant was a nice touch and exclusive features give it a lot of potential. The library is large now at over 160 games with lots of AAA-quality titles in every genre, but the limited selection of Pro games for new subscribers pales in comparison to Luna's channels.
Google Stadia
Available to play right now for free
Pro subscription is optional
YouTube integration, friend lists, and direct messaging
Stream Connect, State Share, and Crowd Play/Choice features
Google Assistant built-in
Growing library of AAA-quality titles
Future is uncertain with internal studio closures
Must purchase most games
Limited selection of 25-30 games included with subscription
More expensive hardware
Amazon Luna
Luna provides a Netflix approach to cloud-based gaming, including developer-specific channels that include the unlimited play of launch day titles from studios like Ubisoft. It's currently only available through an early access invite and has a limited library of AAA-quality titles. With a purely subscription-based model, Luna will become even more appealing as the libraries grow
Amazon Luna
Over 100 games included with subscription
Lowest priced hardware
Stream on two devices at one time
Twitch integration
Developer channels
Only available through invite right now
Requires a subscription
Fewer new AAA-quality games
Fewer platform features and integration
Uncertain long-term subscription pricing
With Amazon announcing its Luna game streaming service you may find yourself wondering how it stacks up against Google's cloud gaming service Stadia. These two services have some great features but we'll show you why we think one is the better option for most people.
Amazon Luna vs. Google Stadia: Pricing and availability
Google's Stadia debuted over a year ago and has spent all this time expanding its catalog of games and adding major new features. Amazon's Luna provides significantly more games in its subscription, even for new users, right out of the gate. However, Luna still lacks many of the newer AAA-quality games that Stadia has like Cyberpunk 2077, Madden NFL 2021, and others.
You can play Stadia right now for free with no strings attached on PC, mobile, or Chromecast (as long as you have the Stadia controller for that last one). There is a free trial for the Pro subscription, but you can cancel the auto-renew right after signing up if you want. To hop into the full ecosystem though, you can snag the Stadia Premiere Edition bundle for $100, which is basically the only way to get a Chromecast Ultra these days. The latest Google TV device does not officially support Stadia yet, but it can be sideloaded.
Individually, a Stadia controller is $70 so the bundle is a great deal if you don't have a compatible Chromecast device. For additional costs, Stadia Pro is $10 per month and provides access to 25-30 games at any given time, 4K streaming, 5.1 surround sound, and special discounts. However, you can use almost any wireless game controller with Stadia if you're playing on PC or a mobile device — no Stadia controller or Chromecast required.
The free games change every month but if you have claimed a free game you retain that game as long as you maintain your subscription. If you cancel. they're gone from your library, but if you renew in the future, all past claimed games become playable again. All other games, unless on sale, are full price. If you buy a game using your Pro discount, you get to keep access to it even if you end your Pro subscription. The free Stadia plan would be a great solution for someone that wants to play a few of the available games without the restriction of gaming hardware or just try out free games like Destiny 2 or Super Bomberman R Online.
Amazon has taken a very different approach with Luna. Similar to Netflix, you pay a monthly fee for "channels" and gain access to over 100 game titles. Not only do you not have to buy each game on top of your subscription, there is no option to do so at all.
Amazon's Luna controller is $50 AND available through early access invite. You may also want to pick up an Amazon Fire TV Stick 4k For $50 since it'll be the best way to play Luna on your TV when it becomes widely available. You can request early access to Luna's $6 subscription now but just note that pricing may change.
Swipe to scroll horizontally
| Header Cell - Column 0 | Google Stadia | Amazon Luna |
| --- | --- | --- |
| Subscription Price | Free/$10 | $6 (Introductory) |
| Free trial period | 30-days | 7-days |
| Controller style | Left thumbstick below D-pad | Left thumbstick above D-pad |
| Controller price | $70 | $50 |
| HDMI TV dongle price | Chromecast Ultra $70 | Fire TV Stick 4k $50 |
| Games included in subscription | 25-30 each month | Over 100 |
| Simultaneous streams | 1 | 2 |
| Ability to play a game being streamed | Yes | Yes |
| 4k support | With Pro | Coming soon |
| Frame rate | 60FPS | 60FPS |
Amazon Luna vs Google Stadia: Game availability
Stadia has over 160 games while Luna has a little over 100 games. However, only about 25-30 (depending on the month) of the games are included with Stadia Pro, while all games in Luna+ are included for the one subscription fee.
Right now there is a fair bit of overlap in the libraries available on Stadia and Luna. Both services include major Ubisoft titles like Assassin's Creed Valhalla and Watch Dogs Legion, as well as other titles like Metro Exodus, Panzer Dragoon Remake, Everspace, the SteamWorld franchise, and more. However, there are major differences as well.
For starters, Luna has Control, Resident Evil 7, Yooka-Laylee, and Rainbow Six Siege, in addition to several retro and retro-style indie offerings like Sonic Mania, Castlevania Anniversary Collection, Contra Anniversary Collection, and Bloodstained. Stadia, on the other hand, leans more towards heavy hitters like Hitman 1-3, Madden, Cyberpunk 2077, Red Dead Redemption 2, Destiny 2, and more.
Ultimately, Luna provides a better overall value from its subscription offerings, but lacks the higher-end content Stadia features that puts it more in line with traditional game consoles. The low subscription fee gives you access to over 100 games on Luna, but that doesn't include the recent AAA releases Stadia gets — or any recent releases at all right now, for that matter. The business model for Luna implies that separate channels will likely pop up for other publishers, like Ubisoft's own Ubisoft+ content, but we don't know which publishers will do this just yet. That being said, if you want access to Ubisoft games in the cloud, you can either buy them on Stadia or subscribe to Ubisoft+. Having the choice is a nice benefit.
If you're in it for recent releases and want a platform that is already growing with an active community, Stadia is the clear choice at this point. However, that comes with one major caveat if you want confidence your platform will still exist in five years.
Google recently shut down Stadia Games & Entertainment, its in-house studio and publisher that was handling the publishing of exclusive third-party titles such as Outcasters and Submerged: Hidden Depths, as well as the development of unannounced exclusive first-party games. Jade Raymond also left the company with the studio's closure and it remains to be seen what exactly will come of the 150 developers employed there. That's not great for the outlook of Stadia in the long term, but according to Google it just means they're refocusing on third-party content and getting more publishers on board.
Amazon Luna vs Google Stadia: Bandwidth and performance
Both Luna and Stadia work great if your internet is good enough. That may sound dismissive, but it's the truth. There is very little difference in terms of performance between these two services, although in my experience, I'd say Stadia games seem a bit sharper and the option for 4K streaming is a great bonus.
Amazon and Google each recommend a connection of at least 10Mbps for 1080p streaming. If you want to stream games in 4K with HDR, Google recommends at least a 35Mbps connection.
Both services chew up data very quickly. If you have a data cap on your internet then it will likely be difficult to manage a cloud gaming service. To stream games in 1080p, you're looking at at least 10-15GB/hr of data usage, and for 4K content on Stadia you can double that. This means if you want to play a long game such as Red Dead Redemption 2 on Stadia, which takes an average of about 50 hours just to finish the main story, that would be at least 500 GB of data for just 1080p.
Amazon Luna vs Google Stadia: Features and integration
Both Stadia and Luna offer a fun cloud-based gaming experience. Other than the flipped left thumbstick, Amazon and Google's controllers even look very similar. Both systems also include their parent companies' Voice Assistant services, support up to 4K streaming at 60FPS, and connect to most screens. I would even speculate that pricing after Luna's early access will likely match or come close to Stadia's $10 per month.
Stadia now supports cool integrations with Youtube through features like Crowd Play, and other Stadia-exclusive features such as State Share and Stream Connect. For example, a game streamer could challenge viewers to a race or a player can share a specific game "state" from a mission in Hitman. Luna will have nifty integrations with Twitch as well, like being able to start playing a game directly from a Twitch stream you are watching. Stream Connect on Stadia could hopefully make local co-op cool if we're ever allowed to have people over again. Stream Connect is like split-screen unleashed, with the ability to add additional viewpoints or multiple other players streams.
As it stands, Stadia definitely feels more "complete" since it has had a year headstart and Luna is still in Early Access. You can capture screenshots and videos, share those on social media, there is a friends list with messaging and party chat built-in, as well as updates and upgrades to the platform every month with ongoing new releases.
When I use Luna I can't help but feel like I am "testing" something or experiencing a "trial" of sorts, not that I am using a fully-realizing gaming service. There is a lingering "incomplete" feeling, which is still to be expected at this stage.
Amazon Luna vs Google Stadia: Stadia comes out ahead, for now
With similar hardware and service offerings, how can Google and Amazon differentiate from each other? Price and content are the key categories, and right now Stadia simply has the better library with more flexibility in how you access your games. Stadia Pro doesn't have most of the best games available, but if you want to play titles like Hitman, Cyberpunk 2077, or Madden on any screen at any time, Stadia is your only option.
However, with an introductory price of just $6 per month with Luna, you get an impressive catalog of games including Resident Evil 7, Control, GRID, and over 100 more included at no additional cost. Although, Luna is missing tons of features that would make it feel more like a complete platform.
After over a year Stadia has finally managed to deliver on most of its pre-launch promises, but with the closure of Stadia Games & Entertainment the future is definitely uncertain. Google has managed to amass a solid library of titles and Stadia Pro eventually becomes a great value the longer you stay subscribed since the library grows over time, but Luna offers more bang for your buck right out of the gate. The Ubisoft+ susbcription is available for both services.
If you are looking to get started playing right now and want to join a platform that has a supportive community, Stadia is the obvious choice. However, as time goes on and Amazon continues to grow Luna as it builds towards a full launch, that tide could shift due to the power of its low monthly subscription granting access to so many games.
Play now, anywhere
More flexibility with a stronger library
Stadia is a solid cloud-based gaming platform that has come a long way since launch. With over 160 games, several top AAA titles, and a robust platform with all the features you'd expect, it's the clear winner for right now. You still have to purchase most of the best games but it has free options and Stadia Pro continues to get better over time. Time will tell what the closure of its internal development studio will mean going forward.
The Netflix of cloud gaming
Cheaper pricing, great potential
With a good library of games, lower pricing for hardware, and a great introductory offer, Luna instantly becomes an excellent offering to those looking for a cloud-based gaming service. The Netflix-style allows you to pay one price and get unlimited play for hundreds of games, but it remains to be seen how aggressive the channel strategy will be over time.
Sign up for Black Friday email alerts!
Get the hottest deals available in your inbox plus news, reviews, opinion, analysis and more from the Android Central team.