Google is shutting down Inbox on April 2, 2019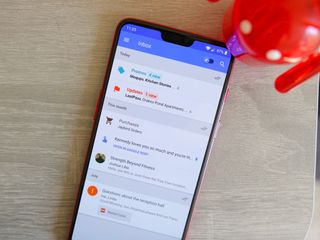 Last September, Google broke a lot of hearts when it announced that Inbox by Gmail would be shutting down in March 2019. While it may be March 19 and Inbox is working just fine, the end is nigh.
Google's started showing a pop-up on the Inbox app and website confirming that the app will shut down in 14 days. 14 days from now is April 2, 2019, making that Inbox's final day.
I've since migrated over to Newton as my primary email client, but it's going to be tough to see Inbox sail off into the sunset. It was my go-to email app for quite a few years, and while Gmail has improved a lot since Inbox debuted in 2014, I still don't enjoy using it nearly as much.
Are you still using Inbox?
Joe Maring was a Senior Editor for Android Central between 2017 and 2021. You can reach him on Twitter at @JoeMaring1.
Sooooo much! I tried going back to Gmail (as suggested by the nagging pop-ups). But dang is it sub-par compared to Inbox!
And those god awful adds make my skin crawl everytime. Come on Google, you're already scrubbing my Inbox for the sweet sweet data it contains. I think that's payment enough for the service!

This is why I don't invest in Google services at all. The only one I do is Google Voice as I heavily rely on it for business use. I never used G+, Hangout, Duo, none of it and glad I don't. Google sucks when it comes to their services other than ad based essentials. That's all they ever cared about. I expect ads on the homes screen one day.

Booooo, Google! I likeInbox MUCH more than Gmail, and would've preferred you added Gmail functionality into Inbox and make it your only email client, rather than the other way around. Inbox is clean, attractive, functional, useful, efficient. I'm glad you're slowly improving Gmail, but here's my two cents: as soon as Gmail looks and functions like Inbox, you'll have won!

I'm using Spark developed by our team at Readdle. We're launching the Android version in the beginning of April (now there are Mac and iOS). Spark is fast, fully customizable, and helps me clear my inbox with a couple of swipes. It supports snoozes, email scheduling, and follow up reminders as well as unique team features such as shared drafts.

I use Spark on my Macbook. Is there an early release that is available to try on Android right now?

There's no web client so it's a half solution at best.

Excellent, I've been looking forward to to an Android Spark for eons!

I've never used Inbox. I've been using BlackBerry Hub ever since I left BB10.

Ditto. I added BB Hub for Inbox/Calendar/Contacts as soon as they became available on Android. They're totally worth the $1/month subscription fee, which I easily cover with Google Rewards.

Oh well. Good riddens. Looking forward to the next app/service they pull the plug on. I won't be using it when they do.

Good riddance* ... Just saying...

Inbox stopped working for me at the beginning of the month

Unfortunately, there are no email clients that fully support Gmail labels. I use labels extensively. As well as stars and other filtering techniques. No other email client can effectively mange labels. For me, it is why I use Gmail. I hope Gmail will adopt bundles as that is the best feature that inbox has. For any other email account I use Blackberry hub...

BlackBerry Hub here too. Why use anything else? I share an email account with my wife for household stuff. If I delete an email after I've read it with Inbox or Gmail, she can't read it later. BlackBerry Hub allows me to delete on just my phone and not the server.

I tried Inbox when it first became available, and didn't like it. Been using Gmail ever since.

Never heard of it. Wasn't crazy about Gmail and went with AquaMail. Love it.

This totally sucks. Any email clients that handle bundling like Inbox?
Android Central Newsletter
Get the best of Android Central in in your inbox, every day!
Thank you for signing up to Android Central. You will receive a verification email shortly.
There was a problem. Please refresh the page and try again.