Google says Oreo will roll out to some partner devices by the end of the year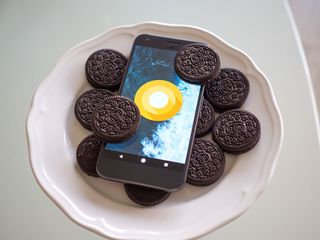 While Google's first party devices get new Android releases immediately, the same can't be said for partner devices. Since these devices comprise the vast majority of Android devices, we run into situations like Nougat only being available on 13% of all Android devices a year after release.
But there may be cause for hope: tucked in the Android Oreo announcement post was this quote:
Google has made vague promises like this before, but the fact that the company is naming specific partners is new. Google caveats that by stating the partners may be launching new devices with Oreo, not necessarily upgrading existing devices. We may see the LG V30 and Sony Xperia XZ1 launch with Oreo, but the rest of the devices are expected to be upgrades. Samsung is also expected to announce the Note 8 this week, but that will likely launch with Nougat. Time will tell if the partner companies make good on their word.
Android Central Newsletter
Get instant access to breaking news, the hottest reviews, great deals and helpful tips
As always, will believe when I see it.

You will see it at the end 2018 if you own the new and the latest device... I`m using it on my Nexus 6P now

Sorry skepticism, you're not welcome here.

I have it on my 6p as well. People love those flashy Samsung devices but get mad they don't see software updates haha

I honestly don't get mad about the slow software updates, they usually change things while adding little benefit. I do get mad when using stock Android because it feels so stripped down and worthless like it isn't a full phone OS. But to each their own.

I love stock Android. Why does bloatware make it feel like a full OS?

That's what I'm saying. I want a clean smooth os experience that doesn't have redundant apps and carrier bloatware or Samsung bloatware. I have a 6p on Oreo and I get great battery life smooth os with no bloatware so I can download the apps to get the functionality I want. You can't say that for a Samsung or LG device.

What you don't get is the enhancements behind the curtain which makes things possible for the OEM'S

Cheers mate
I owe you a drink is you're wrong.... even if ... I'm.. s1... s2 I'd lte...s3... s4... s5... s7... but still long for security updates that I've had to obtain from willing developers at xac developers

Ahahahahahah Hell will freeze over if Samsung and LG actually deliver it before 2018.

I believe LG MAY launch the V30 with it. That's where they did last year with the V20.

Well, if they release the phone with it, they won't be upgrading devices to it. I'm obviously talking about the updates being delivered ;)

Not obvious, you simply said "delivered" without additional qualifications.

Isn't Hell in Norway? Probably freezes fairly regularly...

Running Nougat for another 5 or 6 months is hardly going to ruin anyone's life.

Essential should've released with OS 8

You mean delay the Essential long enough Oreo could have been finalized and loaded during manufacture? Not sure that would have pleased anyone.

Do people ever get pleased?

Given the option between get the phone now and update to 8 later, or wait another month or two to launch the phone with 8, I and probably many others including essential prefer option 1.

I see noting here in Oreo that's a must have right now. My s8 is super stable with 7.0 . I fill like I'm not missing a thing as far as features are concerned samsung by nature come loaded to the hilt

Agree. Very little entices me in what I've seen so far.

Lol! Good one, that's funny as hell.

I'd rather my S8+ on Nougat over a Pixel on Oreo.

Im looking forward to buying a new Nougat device before year's end. Oreo? Well maybe next year. And then again maybe not. I went from Kitkat to Marshmallow. I've never had a phone with Lollipop.

Why would the V30 launch with Oreo but not the Note8? Isn't the Note further out?

Same thing that happened last year. LG shipped the V20 with Nougat and Note 7 Marshmallow

Got it on my Pixel XL an hour after the announcement....real world problems am I right?

My V20 launched with 7.0 out of the box last year. It's still on 7.0. I have a nexus to fill the instant upgrade void.

Still rockin my note4 waiting for a worthy successor

You might as well keep using it. After all this site keeps telling us that OS updates are not important.

Google is being too optimistic, no way we see it, especially Huawei and Samsung.

Well we all know Sammy will take at least six months minimum to a whole year .

Does anyone know when the OnePlus 5 will get the update (considering OxygenOS is nearly stock)?
Android Central Newsletter
Get instant access to breaking news, the hottest reviews, great deals and helpful tips
Thank you for signing up to Android Central. You will receive a verification email shortly.
There was a problem. Please refresh the page and try again.