Google releases new Handwriting Input keyboard with support for 82 languages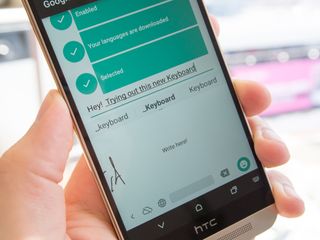 Google Handwriting Input works with devices running Ice Cream Sandwich (4.0.3) and up, and supports input in both print and cursive writing in a pretty staggering 82 languages — presumably simplifying things from the current system of having separate Google keyboards for handwriting-centric languages. Here's a breakdown of the keyboard's main features:
A useful complement to touchscreen typing or voice input
A fun way to enter emojis by drawing
Useful for languages that can be challenging to type on a standard keyboard
Works across your Android phones and tablets running Android 4.0.3 and up
If you claim your handwriting is terrible, try it out and see if it can convince you otherwise
Once you download the keyboard, you can switch to it just as you would any other keyboard and see it looks identical in styling to the current Google Keyboard. However, if you're writing something out and decide you want to switch back to a keyed keyboard, you can do so in just one tap (the globe button left of the space bar). Google Handwriting Input also takes input both with a finger and a stylus, so even those of us with fat-finger syndrome have options.
Image 1 of 4
Image 2 of 4
Image 3 of 4
Image 4 of 4
Overall, the keyboard looks to handle even the messiest of handwriting input pretty well. If you'd like to check it out for yourself, you can grab the keyboard from the Google Play badge above.
Why swipe when you can just write, lol. Posted via the Android Central App

Galaxy Note users REJOICE. Rooted Galaxy S III Stock Galaxy Note 4
Rooted LG G2
If it ain't Tech, it ain't Right!

I wouldn't say rejoice. I mean, the Note 4 has a quick option to bring up handwriting instead of having it always be a handwriting keyboard.

It also will default to handwriting if the spen is not docked. Posted

That default only happens when using the Samsung Keyboard Posted via the Android Central App

Yeah, but if you have the pen out and hover over a text box, a small icon appears that lets you go right to the handwriting keyboard.

I can finally replace my Newton!

Samsung did it. And better... Sent via carrier duck. They were out of pigeons

of course they did Posted via the Android Central App

They h just copied it from Apple though. /s Wubba lubba dub dub!

No they did not. They used an earlier version of the MyScript Stylus keyboard (which is available from the play store).

/s = end sarcasm Posted via the Android Central App

Although Samsung does not mention it but Samsung Keyboard too uses Myscript handwriting input and Swype's sliding input, both are industry leaders in their respective fields. which makes Samsung's native Keyboard a very good one actually, specially with google voice recognition, except when I am writing in hindi, where google hand writing input is the best free one i know of.

Reminds me of the days of Palm...

Aye, but we have come a long way from Graffiti*. *Which does exist for Android:
https://www.androidcentral.com/e?link=https%3A%2F%2Fwww.anrdoezrs.net%2F...

Haha I remember graffiti! Classic stuff. Posted via my Nexus 6

How about a comparison review with the standard Samsung Note handwriting input?

Night and Day! I have spent 30 plus hours searching for an S Note replacement. Today I tested 6 of them alone...all disappointing for what S Note used to do (well better, anyways) before the first kitkat update. I have tried every workaround including a factory reset and trying to "write slower." I even thought about rooting to a Note 3 Rom... but this fixed it!!! --- ♡And then you fall in love with Google all over again.....

Y is it not available in my country? I speak english Posted via the Android Central App

there is a place for all unrestricted apps http://www.apkmirror.com/apk/google-inc/google-handwriting-input/

It's like your old Palm III all over again.

Did I return the Note 4 too soon?

It performs similar to the swype keyboard handwriting function, quick is not great. The samsung keyboard handwriting is so much more advanced that it is not even a comparison.

Yes.... Never ever underestimate the Note. They are best in class devices and have been for almost 3 years now. Posted via the Android Central App

One thing I can see this being useful for... people like me for whom the letters on the onscreen keyboard are pretty small.

Why not available in my country? Aaa! I rest my case.

Samsung is using handwriting recognition from MyScript company. This company have a keyboard application beta version using handwriting. MyScript Stylus beta available in the Google play here a review link by cnet. http://www.cnet.com/how-to/use-handwriting-to-input-text-on-android-with...
The application is very interactive and intuitive. Could be a good app competitor to Google keyboard? What do you think?

Not available in my country :/ Posted via the Android Central App

MyScript Stylus is far superior with its gestures and the ability to scroll around in the writing area.
https://www.androidcentral.com/e?link=https%3A%2F%2Fwww.anrdoezrs.net%2F...

I'll be curious how this stacks up with the built-in handwriting recognition on the NVIDIA Shield tablet, which I use a lot and is decent.

I tried it and liked it. very accurate, so far. I've never been fast with the touch screen keyboard. I did much better with physical keys on my old, trusty Palm phones (pre Pre).

why the separate app? would be more convenient to have this as a feature of the normal keyboard

I hope this means there will be better official support (and features and APIs) for stylus (like the "S Pen") on Android.

What he said. Posted via the Android Central App

gave it a try. My hand writing is bad and it did a good job. I won't use it all the time, but nice to have when I want it. better then nvidia's app on the shield tablet and more intuitive to use as well.

How does this affect your security if you have turned on the features; Online recognition and\or the Share hand writing samples. Then you use this input method to enter a password. Are you then potentiality exposing the password?

Looked at the Google handwriting app and it's great, but not as easy to use or accurate as myscript Stylus. 1) really hard to correct an incorrect entry 2) no contextual recognition 3) can't select word from choice 4) slower Posted via the Android Central App
Android Central Newsletter
Get the best of Android Central in in your inbox, every day!
Thank you for signing up to Android Central. You will receive a verification email shortly.
There was a problem. Please refresh the page and try again.