Android 6.0.1 will bring more than 200 new emoji to Nexus phones and tablets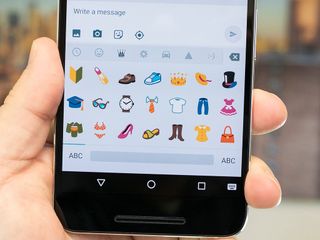 Google today is unleashing Android 6.0.1, bringing along with it more than 200 new emoji to Nexus users.
The all-important taco is among them, are are unicorn and cheese. So we've got that going for us, which is nice.
Not all emoji are created equal, of course, and Google says it's already working with other manufacturers to share these new Unicode 8 characters.
The new emoji — a long-awaited update on the Android side of things, as our iOS-wielding cousins have been enjoying them for some time now — first were teased last week by Google's Hiroshi Lockheimer.
Jared started off writing about mobile phones back when BlackBerry ruled the market, and Windows Mobile was kinda cool. Now, with a family, mortgage and other responsibilities he has no choice but to look for the best deals, and he's here to share them with you.
I hope this fix a lot of bugs too. mainly the ok google detection fix

This is about Tacos, not bugs :p :)

But isn't it always about tacos? At least it should be

Bug fixes would be a lot more useful to most users .... Hangouts has countless bugs.... Nexus 6P has a huge issue with auto brightness.... Direct share can't even be done if you use Hangouts for SMS....and yes....OK Google doesn't work if your phone is locked...despite having the option checked in settings.... I'm sure there are more....but at least we are getting 200 useless emojis.....Priorities Google please Posted via the Android Central App

Actually my ok Google detection works when locked on my Nexus 6P, so speak for yourself. Posted via the Android Central App

Guess it's not a problem then. I know 4 people with the phone and it doesn't for them ....but as long as you're good. Is there a need for the rude comment? Are you the OK Google police? Jeez. Posted via the Android Central App

Yuck, comment freak out is gross. i think he's implying that it isn't necessarily an OS level bug.

I'm not sure that would qualify as a rude comment. He's obviously speaking for himself and not for everyone, meaning it doesn't mean anything about your experience, just that his works fine. For the record, ok google detection works just fine on my 6P while locked with screen off.

I just tested mine and it worked as well - doesn't mean that for those it doesn't work for it is or isn't a bug, could be settings, could be another app interfering - hard to say without troubleshooting. I don't like things that work sometimes though. I have "From the Google App" and "Always On" both on and "Trusted Voice" off. and it DOES work. Is that similar to yours?

I have all the settings applied correctly but it just doesn't want to work if the screen is off. Maybe it is just my phone but I do know other people with the issue. I also have an issue with auto brightness being way too sensitive to the slightest movement and it almost acts "jumpy" can't seem to settle. It also auto adjusts when watching video which may not be a bug but seems distracting and useless to me. Posted via the Android Central App

Yeah there are several other users reporting it not working so please let us know what you're seeing after the update, whether or not these things are fixed.

Just throwing it out there that on my 6p "OK Google" wakes my phone and inputs my voice commands but also tells me that it can't complete my request because the phone is locked, despite having smart lock on, etc. Posted via the Android Central flApps

It wasn't the comment.... It was the "speak for yourself" aside that I found rude. Posted via the Android Central App

It was rude. Moto X 2013 (U.S. Cellular)

It was rude and unnecessary. Some people just don't understand how to communicate with others.

Why even bother with the whole, "speak for yourself" commentary? Posted via the Android Central App

Exactly....thanks for seeing my point. Posted via the Android Central App

God, people are easily offended these days.. Geez....

Same here. Posted via the Android Central App

It is EXTREMELY hit or miss, no matter how quiet the room is or distance between me and the phone.

and what makes you think that 6.0.1 is just emojis and dont include bug fixes??
6.0.1 also include December security fixes just an fyi

Yes, "reports say that it's a minor one bringing some bug fixes and stability improvements, although a quick look at the image shared by @LlabTooFeR (see above) suggests that it also includes Google's December security patch." - GSMAERNA I haven't seen anything that says whether or not "OK Google" is fixed. I just tested it on my 6P and it did work... but I don't know what settings I have that may be different from yours.

Did you make sure to also enable Trusted Voice? That is how I got it to work on my 6P.

yes, i did but the phone never detects when the screen is off. It works like a charm when screen is on

Yes, but you got all these buttery smooth bugs FIRST! And that's what counts.

like those buttery lag bugs dont exist on phones with older version of android. a galaxy phone with 5.1 has it own set of bugs even when they get update last

LoL my Samsung S6 running 5.1.1. is super smooth!!! Dam It Feels Good To Be A Google Gangster

It'll be silky smooth. BTW, what's a nexus 6p? I had no idea that was in star wars Posted via the Android Central App

I had issues with my 6p's microphone. Since it was already a replacement, I elected to return the device and wait for them to work out the hardware issues. I've read of lots of people with the mic issue, or at least a perceived microphone issue. My callers couldn't understand anything I would say.

My voice recognition works when it's locked but I have an older model vehicle and I use one of those tape adapters to listen to music from my phone. Voice recognition worked with the adapter on my old HTC One but when I plug the adapter into my 6P I can't use voice recognition anymore. It can't hear me. They really do need to fix the auto brightness. It's annoying when it keeps changing for no reason.

Google doesn't care about bugs.... All they care about is how to copy ios

we dont care about your troll comments. All we care about is emojis which is universal and dont belong to ios exclusively

There are actually thousands of people having the "Ok Google" lockscreen bug. See here and subsequent threads:
https://productforums.google.com/forum/#!topic/websearch/O3TZLIAKQ1U

This is great! I just wish Google's stock emoji weren't so awful. A lot of them are very different from the iOS/everyone else emojis, so it can be hard to translate. Anyway, I haven't gotten an update on my 6P yet, so I'll be on the lookout.

Edit: It looks like a lot of them have been fixed to look more like standard emoji. Nice work! Maybe on the next update we'll get the diverse skin tones.

That's good because the stock did look awful.

An honest question here: Why the hell do we care? Do adults actually use emojis other than the random sarcastic text? I asked my wife about this yesterday when I first saw the headline and she responded: *birthday cake* *top hat* *gay Asian coupe* Seriously though, she doesn't give a damn about emojis either.

Yes. I am in several Hangouts (Android Central Moderator Team, etc) and Slack - things, whatever they call them, and Emoji's are used a lot.

Agreed Posted via the Android Central App

It adds emotion to conversation. If you tend not to have emotional conversations, then not really a big deal.

Emotion, no. Other forms of expression, yes. The literal translation of emoji is "picture character", so emotion has little to do with it.

Actually I agree with KidCuda... it add emotion and tone to a text.. if i say "kiss my ass" to my GF she will obviously get mad.. but if i put a kiss blowing emoji at the end everything is all good !

Well now it does: http://www.oxforddictionaries.com/definition/american_english/emoji With texting or some type of non verbal type of communication, it's easier to express and set the tone/mood/etc of the message. When it comes to communication, emojis are helpful in conveying the message just as much as the actual text.

I get that. I use the smiley, frown, and concerned faces. I have no use for the other 20 million emojis. No idea why the general public is so excited when companies release more. What other tiny picture could you possibly want/need in your conversations.

Looks like my comment got deleted... Bit of a StarStarStarStar take really. Sigh Posted via the Android Central App

I hate them. Most of the time people seem to just use the totally at random like 5 year olds. They don't look the same across platforms or even from app to app sometimes, so what even is the point? Sadface, laughing face, nail polish, poop. Posted via the Android Central App

Yup. I hate them too. My eyes suck too - I can barely discern some of the subtle differences between the (what is up to now?) 100 or so different round faces. ENOUGH already. ;)

How do we download the new update? Is it automatic or can it be done manually? Posted via the Android Central App

If you don't have a Nexus, start praying : )

I have the 6p Posted via the Android Central App

Ok then, praying not required.

Or if you have a Nexus 6 on AT&T, start praying...or manually flashing. :(

No kidding. I already plan to use Christmas break to backup and flash a current noncarrier influenced version then be very careful what OTAs I apply.

Hope they include middle finger Posted via the Android Central App

Exactly lol Posted via the Android Central App

Yeah I need that on occasion for my apple buddies ...just kidding! Posted via my S6 Active with Samsung Pay!

Middle finger, poo emoji back at ya! JK!

Excellent use of a Caddyshack quote. A+

+1 Posted via the Android Central App

Keep the emoji give me MMS on wifi. Been broken since Marshmallow.

MMS works fine on wifi using Messenger on my 6P.

Coming to Galaxy S6 users in late 2016 Posted via the Android Central App

Ayyyyy and everyone else is still on 5.1.X wonderful

I have one. It's just stupid that other manufacturers can't keep up. It makes android as a whole look bad. I have no idea how to fix it, but luckily that's not my job, it's google's.

Yeah true. That's one side of Android being open.

I asked my wife if not having the latest Android version makes Android look bad. She said, "What's an Android version?"

+1, general population has zero clue Posted via the Android Central App

Might be a stupid question but will the new emoji automatically be available on all 3rd party keyboards after the update, or will each keyboard app have to update to allow for the new emoji? Does this update just allow for emoji to be viewed on the device (instead of the "X" I've been seeing) and used on Google keyboard? I use SwiftKey and was just wondering.

It's a fair question. Even if they're not though you can bet the major third party keyboards will have compatibility updates out almost instantly Posted via the Android Central App

I hope it doesn't take 2 months to update on project fi like 6.0 took.

What about wi-fi drain and proximity sensor problems in Nexus 5

How about those factory images? I need to flash some new radios on my Nexus 6 Posted via my Nexus 6

Updates are nice, fixing the 5x would be better __________________________________________________________________________________-_________________________-____________________

What is wrong with the 5X? Posted via the Android Central App

What's right with it? Posted via the Android Central App

To be fair it's a pretty decent phone. I have it and it isn't terrible, even for the price. It just has a bunch of bugs and issues. Really it just feels like they didn't quite think everything through and rushed it out the door to meet launch without adequately testing it. But with any luck they'll patch it and fix the issues.

Hopefully it will do that too.

Google better man up and bring middle finger much needed. Posted via the Android Central App

"The all-important taco is among them, are are unicorn and cheese." I really, really don't like being that guy, but this sentence just hurts my eyes. Posted via the Android Central App

All I care about is one thing. Try to keep marshmallow relevant for a bit to stop fragmentation......at least for a couple of years we need just marshmallow revisions like 6.1....6.2.....6.3 for a bit so that we can have most of the phones out with the next 2 to 3 years have it. 6.0 should have been lollipop 5.2 personally. Posted via the Android Central App

I agree with this. I especially agree that it should have been 5.2 Posted via the Android Central App

That would be totally specifical. You could call 6.0 jellybean and it wouldn't change anything. Posted via the Android Central App

Honest question; is there an international standard or what?

iOS and Android have different emoji, also, try using emoji in something like WhatsApp and you'll also get different ones. So I doubt there is any kind of standard worth it's name. One of the reasons emoji are so stupid. Posted via the Android Central App

They are part of the Unicode standard, and have been for several years. As with the rest of Unicode, though, implementation is spotty. https://en.wikipedia.org/wiki/Emoji#In_the_Unicode_standard

I wish there was a way to hide the emoji I never use. I hate paging through all those stupid things to find one of the ten I actually use.

SwiftKey saves your most used for easy shortcuts if that helps. Posted via the Android Central App

Maybe it will also come as an OTA to the Nexus 6 AT&T Lollipop branch to oblivion...
...well maybe by summer?
Already planning on using Christmas vacation to backup my Nexus 6 and flash a current version, then only manually apply future OTAs that I know are not carrier influenced.

Has anyone with a Nexus 6 gotten the OTA 6.0 yet?

dude, just give me my taco emoji and we can be done

Find this app, Emoji Stickers Camera, already support the new android emojis, which are added in Android 6.0.1 Marshmallow update, by this link https://www.androidcentral.com/e?link=https2F2F... Cool.

Actually.. I am using 6.0 marshmallow and I have updated the google keyboard through playstore. And saw that the new emojis are working there.. So I would like to know if new emojis of 6.0.1 are supported by 6.0 or not?
Android Central Newsletter
Thank you for signing up to Android Central. You will receive a verification email shortly.
There was a problem. Please refresh the page and try again.