Google Play is still in beta, but it's good to be back on Chrome Stable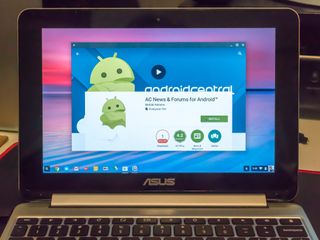 Google has made a lot of progress getting Google Play and Android apps working on Chrome. It wasn't the worst thing to come out of Mountain View when it initially launched, but there were bugs and it lacked a lot of polish, especially when running next to Chrome itself which is dead-simple and very user-friendly. The worst part of the experience for me and many others was using the Chrome Dev channel.
I really like being able to run a handful of apps from Google Play on my Asus Flip. I actually enjoy using a Chromebook for work and play, and the addition of apps like Slack and Hangouts — that are far better than their corresponding Chrome extensions — make me more productive. Each is one less thing I have to use my phone to do. But some of that shine was taken away when the browser would crash, or tabs would reload while I was a few hundred words into a writing groove, or everything would just stop working for a few seconds at a time. That makes things pretty rough, and eventually, I was back to the Stable channel on another Chromebook and left my Flip be a "testing device" which is really what the Dev Channel or Canary are for. Playing with developer software is fun, but I don't recommend you try to depend on it.
Thankfully, the Chrome Stable update to 53.0.2785.129 for the Asus Flip and the Acer R11 carried the Google Play store along with it. It's still in beta, and it can still be a little finicky. The Play Store tells me I have no connection more often than it should. Every once in a while when I go to pull up an app from my shelf it has to restart. Annoying, but not show-stopping because everything else is working fine again. And it's nice to have those few apps available again even if not perfect. My long national nightmare is over. Or something like that.
There are plenty of other Chromebooks that will get access to Google Play "soon." The Chromebook Pixel (the 2015 version) hasn't been updated to a Stable channel build with Google Play just yet, but we know it's coming. Along with plenty of models from HP and Dell and everyone else who makes them. We have no exact timeline, for I'm looking for it to be a few weeks yet so Google and everyone involved can make sure the initial push to more users goes as smoothly as they had hoped before they push things out to any more models — we all know how Google likes to take its time with software rollouts and extended testing. When it happens we'll let you know.
Here's where I ask you to write a bunch of words! If you have an R11 or a Flip and didn't jump to Dev to try Google Play (a longshot, I know) tell us what you think about it now. It's a definite improvement on the Stable channel, and that might make us think it's better than it is because we saw how much worse things could be. And if you've been using Google Play all along on your Chromebook, let me know that I'm not crazy and it really is a better experience on Stable.
Senior Editor — Google Ecosystem
Jerry is an amateur woodworker and struggling shade tree mechanic. There's nothing he can't take apart, but many things he can't reassemble. You'll find him writing and speaking his loud opinion on Android Central and occasionally on Twitter.
Will report after work today Jerry!

Is there a way to sideload Android apps on supported chromebooks? Posted via the Android Central App

Yes, dev channel + developer mode.

Your not crazy, Jerry. It's a far better experience on the stable channel. Haven't had everything go dark for 30 seconds at all since I've been on the stable channel. Actually got to watch the game on SlingTV too.

I hear that. The display shutting off while the "stuff" was still going in the background was what made me bail on it for work stuff.

I have an r11
It doesn't have the play store.
It's just on version 52.2743.116
I had to go to properties and check for and apply updates. It restarted, I then had to go into properties again to check the box to allow the play store on my chromebook.
Not hard, but not the seamless transition that I was led to believe.:-)
Joe

When it comes out of beta it should be enabled as part of the setup for new accounts, and done like any other updated permissions app or extensions for updates.

The AC app was the first Android app I put on my chromebook!

I am enjoying android apps on my Asus Flip. Great to be able to watch Sky through the Sky Go app and play a few games I played on my phone. Also the Kindle app for a few reference books it's good to see in colour.

I'm glad to be back on stable. Worst bug I hit in dev was clicking on a link in Aquamail email sometimes crashed things. I was actually surprised how well everything worked together, it's pretty well thought out. This definitely replaces the need for a big tablet for me. Can't wait for the next generation of powerful chromebooks shipping with play store.

Thanks for all the great Chromebook coverage you've been providing, Jerry! Getting ready to switch my Flip back to the stable channel. Haven't had too many issues with dev channel, just a few little full-screen & rotation quirks. My flip is a tablet replacement, not a laptop replacement so no real problems with the few bugs.

My R11 arrives this week.. Can't wait.. Android apps FTW

An R11 could be a great option as I debate between tablet or chromebook. With it running Android Apps it would be great. Do you need the SSD to store Android apps? I would want more than 32GB.

I am so impressed with Android apps on the Flip....I can't believe how well this works....it transforms the device to a true lap top tablet hybrid and and all-in-one. I really wish people would give Chromebooks a chance cuz I love mine and the Play Store has just opened up so much more usefulness.

By the time mine gets the store it'll be so outdated my 6 year old will own it. Just gimme the pixel phone running Andromeda and all will be forgiven.

Anyone know if this is an added paid feature for people who are already paying for google apps for business without device management? It looks like I have to agree to the device management policy but am not sure if there is a charge if I agree to it.

We've been running the Beta version of ChromeOS since we got the Flip for the Google Play access and have loved it... Out of curiosity, when we want to jump down to Stable ChromeOS, will we have to powerwash the Chromebook? Or will it downgrade without us losing anything? Thanks in advance!

It automatically powerwashes the chromebook when you go to more stable versions Canary>Developer>Beta>Stable. Everything should re-install if you use the same google account.

Just moving back over to stable, appreciate the time you've took to make my Flip a great purchase Jerry, thank you Sir.
Android Central Newsletter
Thank you for signing up to Android Central. You will receive a verification email shortly.
There was a problem. Please refresh the page and try again.