First impressions: Android apps on the Acer Chromebook R11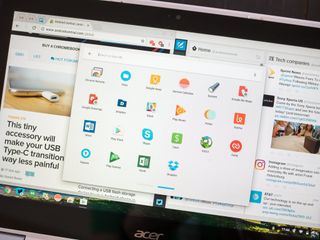 After watching Phil and Jerry have fun getting acquainted with Android apps on their ASUS Chromebook Flips, I finally had my opportunity to give the new and exciting setup a try on the Acer Chromebook R11. After previously relying on my demo experiences from Google I/O this year, I was excited to get started with it.
What I found was generally a mixed bag when it comes to usability, built on a base of great potential for the future. Here's how it all works in the real world.
Smooth, simple and integrated — the Chrome OS way
I absolutely have to applaud Google for how simple it all is. When I flipped my Chromebook R11 over to the Dev Channel and rebooted I had the Play Store loaded up and ready to go in seconds. The Play Store is completely familiar to anyone who's used an Android phone before, but also feels at home here to an entirely new user. You can click around just fine, find apps and download the ones you like.
Apps are perfectly integrated into the system as well, which is the next big part of the experience. Android apps are just regular icons in the Chrome OS app list. Notifications land in the notification area alongside Chrome OS notifications, and apps that need access to parts of your Google account can do so seamlessly. It's clear to me that Google has done this the right way. The framework and system are properly implemented. This is the perfect structure of a seamless integration of Android apps into Chrome OS as just general "apps" going forward.
Right now, the issues are entirely with the actual user experience surrounding the apps. Let's talk about the rough edges.
The experience isn't all there yet
Android apps, as they currently exist in the Play Store, are in no way designed to be used on a laptop form factor with a keyboard and mouse. That's just plain and simple, and no fault of the developers — they haven't had a reason to make their apps for this style of device.
Android apps run and display just fine, but a vast majority can't be resized — they're stuck in a fixed-size landscape or portrait window, or in a full-screen mode. The apps often aren't ready for keyboard input, so arrow keys don't navigate text fields and you can't use the enter key to submit a form. Apps of course rely on the "hamburger" and "overflow" buttons, which aren't intuitive or easy to use on a non-touch device. That's for the apps that are actually "compatible" with Chromebooks, which at this point feels like more of a simple majority of the Play Store than anything else. Even fewer should be marked as "compatible" it seems — there are lots of crashes here, too.
Beyond that, it's already clear that you don't need to install an Android app for every kind of task on a Chromebook. As it turns out, the web running in a full-blown browser like Chrome is still a really great way to get things done, even with fully functional apps available. Gmail, Facebook, Slack, Google Docs/Sheets/Slides, Hangouts, Google Maps, Twitter ... they all work pretty darn well on the web, and right now the apps don't offer a better experience. Sure there are apps like Skype, Microsoft Word and casual games that perform well as Android apps in ways that web apps can't; but others that you'd think would be great — like Google Calendar — are hamstrung by the Chromebook's security paradigm that only lets you use it with a single Google Account.
Flipping the Chromebook R11 around into a "tablet" mode makes things quite a bit better, of course, as now you're just dealing with the same kind of full-screen touch-only app experience as you'd expect on an Android tablet and the interface paradigm doesn't create any problems. But then, of course, you're wielding a 2-pound tablet that's not really that comfortable to hold or use for a long period of time. Of course this opens up tons of possibilities for future convertible 2-in-1 devices that resemble a traditional tablet and can be "docked" into a keyboard ... and indications are that those types of devices could be coming as soon as Android apps on Chrome OS roll out to the mainstream.
So for all of the potential I can see in Android apps on Chromebooks, and the proper groundwork that has been installed, I acknowledge we're still quite a ways away from Android apps being the new go-to standard for getting things done on this platform. There's so much left to do — and that's why we're here in Dev Channel watching it all be built before our eyes.
More thoughts to come
We're just hitting the tip of the iceberg when it comes to using Android apps on Chromebooks, as you can see. With things still in the Dev Channel and just a few Chromebooks being supported at this point, we have a long runway to figure this all out and see how it comes together.
If you're interested in learning more about the Chromebook R11 itself, sans Android apps and the Dev Channel, we'll be bringing you a proper review of it soon!
Get the Android Central Newsletter
Instant access to breaking news, the hottest reviews, great deals and helpful tips.
Andrew was an Executive Editor, U.S. at Android Central between 2012 and 2020.