Google Pixel Slate: News, Release Date, Specs, and more!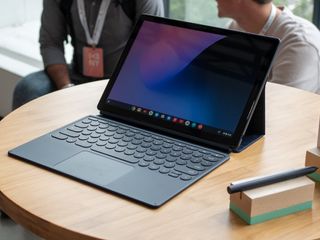 Alongside the Pixel 3, Google announced its new detachable: the Pixel Slate. The Pixel Slate builds on what made the Pixelbook great: a premium design, high-end specs and the latest features of Chrome OS. The Pixel Slate will be available later in 2018, so stay tuned for more!
The latest Pixel Slate news
November 15, 2018 — Google's Pixel Slate will finally start shipping in December
After pre-orders opened up for the Pixel Slate earlier this month, we now have official shipping dates for when Google's new tablet/laptop hybrid will start shipping out.
Starting with the base $599 model, it'll be available starting December 11/12. If you want to step up to the vastly more powerful $999 configuration, it'll also be available starting then. After the $699 variant? You'll have to wait until December 18/19 before you can get your hands on it.
When is the absolute earliest you can get the Pixel Slate? If you choose the $799 or $1599 version and pay for expedited shipping, you should have it as soon as December 4/5.
November 6, 2018 — Google Pixel Slate now up for pre-order at Best Buy and B&H
Want to be among the first to own a Pixel Slate? Ahead of the Google Store itself, Best Buy and B&H have opened pre-orders for the new Chrome OS device for the 64GB, 128GB, and 256GB models that cost $799, $999, and $1599, respectively. Per Best Buy's site, the Pixel Slate's release date is slated for Thursday, November 22.
In addition to the Pixel Slate itself, you can also pre-order the new keyboard cover for $199 and the Midnight Blue Pixelbook Pen for $99.
All the big details
Check out our hands on!
We got a few minutes with the Pixel Slate at Google's hardware event, and we came away impressed. We'll see later how well the device performs as an everyday device, but if you want to read a bit more about the Pixel Slate (or just lust after the gorgeous design), you'll want to check out the hands-on!
More: Google Pixel Slate hands-on: Chrome OS built to take on the Surface
The specs
Swipe to scroll horizontally
Category
Google Pixel Slate
Operating System
Chrome OS
Display
12.3-inch 3000x2000 (293 ppi) Quad HD
72% NTSC color LCD
Multi-touch with Google Pixelbook Pen support
400 nits brightness
Speakers
Front facing
Stereo
Processor
Intel Celeron/8th Gen Core m3/8th Gen Core i5/8th Gen Core i7
RAM
4GB
8GB
16GB
Storage
32GB SSD
64GB SSD
128GB SSD
256GB SSD
Keyboard
Detachable
Infinite angle adjustment
Full-size with 19 millimeter pitch
0.8 millimeter travel
Fully backlit
Trackpad
Etched glass edge-to-edge trackpad
Ports
Two USB-C with charging, 4K display-out and data transfer / Connector for Pixel Slate Keyboard
Cameras
8MP, wide angle front facing | 8MP rear facing
Connectivity
Wi-Fi: 802.11 a/b/g/n/ac, 2x2 (MIMO), dual-band (2.4 GHz, 5.0 GHz)
Bluetooth 4.2
Additional features
Pixelbook Pen active stylus
Google Assistant with one-touch button
Colors
Midnight Blue
Corning Gorilla Glass detail
Platform updates
Years of free OS updates
Security
Titan Security built-in
Fingerprint sensor
Weight
1.6 pounds / .73 kilograms (without keyboard)
Dimensions
11.45-inch x 7.95-inch x .27-inch / 290.9mm x 202mm x 7mm (without keyboard)
Other
3-axis Gyroscope
Accelerometer
Hall Effect Sensor
Ambient light sensor
Price
The Pixel Slate starts at $599 for the model with a Celeron processor, 4GB of RAM and 32GB of storage. The Core m3 model with 8GB of RAM and 64GB of storage comes in at $799, the Core i5 model with 8GB RAM and 128GB storage goes for $999, and the top end with a Core i7, 16GB of RAM and 256GB of storage clocks in at $1599. The keyboard costs an additional $199 and the Pixelbook Pen remains at $99.
You can choose from a couple keyboards
The Pixel Slate — just like any other Chrome OS device — will work with any Bluetooth or USB keyboard; but there are some official options as well. Google's own keyboard connects with POGO pins, meaning you don't have to use a USB port or worry about keeping it charged like you would a Bluetooth one. It is a bit pricey at $200, but you get a full layout, backlit keys, a smooth glass trackpad, and the keyboard doubles as a folio to keep your Pixel Slate protected. When it's time to get down to business, the Pixel Slate keyboard unfolds to any angle you'd like, though it's not great for lap use.
If you do want something more for lap use, Brydge has a great option for you. The Pixel Slate connects to it via Bluetooth, and Brydge says the battery should last up to six months. When it's time to recharge, Brydge's keyboard can charge from the same USB-C cable that your Pixel Slate can. You still get a full layout, backlit keys — though these are square keys instead of circular — and a glass trackpad. The Pixel Slate just slides in, and it looks no different than a standard laptop. It's also $40 cheaper than Google's own keyboard, which is always nice.
Bonus features
Customers who pick up the Pixel Slate or the Pixelbook will get three months of YouTube TV included.
Be an expert in 5 minutes
Get the latest news from Android Central, your trusted companion in the world of Android