Google Pixel Slate: News, Release Date, Specs, and more!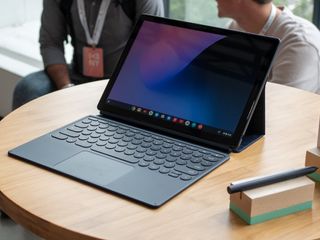 Alongside the Pixel 3, Google announced its new detachable: the Pixel Slate. The Pixel Slate builds on what made the Pixelbook great: a premium design, high-end specs and the latest features of Chrome OS. The Pixel Slate will be available later in 2018, so stay tuned for more!
The latest Pixel Slate news
November 15, 2018 — Google's Pixel Slate will finally start shipping in December
After pre-orders opened up for the Pixel Slate earlier this month, we now have official shipping dates for when Google's new tablet/laptop hybrid will start shipping out.
Starting with the base $599 model, it'll be available starting December 11/12. If you want to step up to the vastly more powerful $999 configuration, it'll also be available starting then. After the $699 variant? You'll have to wait until December 18/19 before you can get your hands on it.
When is the absolute earliest you can get the Pixel Slate? If you choose the $799 or $1599 version and pay for expedited shipping, you should have it as soon as December 4/5.
See at Google Store (opens in new tab)
November 6, 2018 — Google Pixel Slate now up for pre-order at Best Buy and B&H
Want to be among the first to own a Pixel Slate? Ahead of the Google Store itself, Best Buy and B&H have opened pre-orders for the new Chrome OS device for the 64GB, 128GB, and 256GB models that cost $799, $999, and $1599, respectively. Per Best Buy's site, the Pixel Slate's release date is slated for Thursday, November 22.
In addition to the Pixel Slate itself, you can also pre-order the new keyboard cover for $199 (opens in new tab) and the Midnight Blue Pixelbook Pen for $99 (opens in new tab).
All the big details
Check out our hands on!
We got a few minutes with the Pixel Slate at Google's hardware event, and we came away impressed. We'll see later how well the device performs as an everyday device, but if you want to read a bit more about the Pixel Slate (or just lust after the gorgeous design), you'll want to check out the hands-on!
More: Google Pixel Slate hands-on: Chrome OS built to take on the Surface
The specs
Swipe to scroll horizontally
Category
Google Pixel Slate
Operating System
Chrome OS
Display
12.3-inch 3000x2000 (293 ppi) Quad HD
72% NTSC color LCD
Multi-touch with Google Pixelbook Pen support
400 nits brightness
Speakers
Front facing
Stereo
Processor
Intel Celeron/8th Gen Core m3/8th Gen Core i5/8th Gen Core i7
RAM
4GB
8GB
16GB
Storage
32GB SSD
64GB SSD
128GB SSD
256GB SSD
Keyboard
Detachable
Infinite angle adjustment
Full-size with 19 millimeter pitch
0.8 millimeter travel
Fully backlit
Trackpad
Etched glass edge-to-edge trackpad
Ports
Two USB-C with charging, 4K display-out and data transfer / Connector for Pixel Slate Keyboard
Cameras
8MP, wide angle front facing | 8MP rear facing
Connectivity
Wi-Fi: 802.11 a/b/g/n/ac, 2x2 (MIMO), dual-band (2.4 GHz, 5.0 GHz)
Bluetooth 4.2
Additional features
Pixelbook Pen active stylus
Google Assistant with one-touch button
Colors
Midnight Blue
Corning Gorilla Glass detail
Platform updates
Years of free OS updates
Security
Titan Security built-in
Fingerprint sensor
Weight
1.6 pounds / .73 kilograms (without keyboard)
Dimensions
11.45-inch x 7.95-inch x .27-inch / 290.9mm x 202mm x 7mm (without keyboard)
Other
3-axis Gyroscope
Accelerometer
Hall Effect Sensor
Ambient light sensor
Price
The Pixel Slate starts at $599 for the model with a Celeron processor, 4GB of RAM and 32GB of storage. The Core m3 model with 8GB of RAM and 64GB of storage comes in at $799, the Core i5 model with 8GB RAM and 128GB storage goes for $999, and the top end with a Core i7, 16GB of RAM and 256GB of storage clocks in at $1599. The keyboard costs an additional $199 and the Pixelbook Pen remains at $99.
You can choose from a couple keyboards
The Pixel Slate — just like any other Chrome OS device — will work with any Bluetooth or USB keyboard; but there are some official options as well. Google's own keyboard connects with POGO pins, meaning you don't have to use a USB port or worry about keeping it charged like you would a Bluetooth one. It is a bit pricey at $200, but you get a full layout, backlit keys, a smooth glass trackpad, and the keyboard doubles as a folio to keep your Pixel Slate protected. When it's time to get down to business, the Pixel Slate keyboard unfolds to any angle you'd like, though it's not great for lap use.
If you do want something more for lap use, Brydge has a great option for you. The Pixel Slate connects to it via Bluetooth, and Brydge says the battery should last up to six months. When it's time to recharge, Brydge's keyboard can charge from the same USB-C cable that your Pixel Slate can. You still get a full layout, backlit keys — though these are square keys instead of circular — and a glass trackpad. The Pixel Slate just slides in, and it looks no different than a standard laptop. It's also $40 cheaper than Google's own keyboard, which is always nice.
Bonus features
Customers who pick up the Pixel Slate or the Pixelbook will get three months of YouTube TV included.
THIS looks amazing! I would get this. Kind of in the market for this type of device. But... would I get the keyboard to go w/ it... Hmm... raises the price up to $800. I would like the pen! Do you think a normal Logitech keyboard would work well w/ it?

Any USB or Bluetooth keyboard will work perfectly.

Yeah, it's cool, but very expensive. They're directly competing against the iPad pro in terms of prices it seems. I'm not sure how that's going to work out.

Looks cool. Priced me right outta the market for it tho. There's too many $599 Chromebooks that offer more than this. Many are convertible so I can do the same thing as this, even if they are bigger.

Why would anyone get these at this Price? You can get a Surface or other OEM device and have a real computer. Even an iPad makes more sense.

If and how well can this stuff run Android apps and would it be compatible with the Google Play Store?

This will run Google Play and Android apps very well right out of the box, as well as desktop Linux apps.

Bahahaha Google. You've gone completely off the rails.

Looks cool, but I already have a surface pro. I had my fingers crossed for something like a traditional tablet... Not 12 inches... My Nexus tablet is on its last legs... Any ideas?

I bought the 10" Huawei M5 Mediapad. I really like it, especially the sound. Also the Samsung S4 is great but expensive. I use to have the Galaxy tab pro.

I really think they have made a mistake with the pricing 200 for a keyboard they lost the plot?

I have a Surface Book and what kind of GPU does the slate use anyways?

Looks like the status has changed for the Slate on Best Buy, they keyboard and pen are still slated (no pun intended) to arrive by 11/22. The Slate had the same date, now showing "We'll let you know when it ships." I have all 3 items pre-ordered...so lets see when the slate actually arrives...

I wonder why they put the goofy kickstand thing in the cover like that instead of built into the tablet? Looks like it would be super annoying to use on your lap (more so than something like the surface pro 3 which I have and isn't all that great to use on your lap). I think I would stick with a regular laptop style two in one where either the keyboard can detach or fold all the way around. You can get the HPchromebook 14 x360 with an i3, 8GB ram and 64GB storage for $599 msrp right now. ($450 on black Friday) A Pixel slate with worse specs for $800 if you include the keyboard or a model with similar specs (though it is the m3 processor instead of the i3) for $1000 is a tough sell.

Yeah honestly I don't understand why so many people are buying these convertible tablets instead of two in one laptops... Especially if you want to get work done on them, the tablet makes zero sense imo

A tablet makes a lot of sense as a media consumption device, but at ~8", not 12+.
For productivity, the laptop form factor makes WAYYYYY more sense than trying to shoehorn productivity onto a tablet with a keyboard case and kickstand.
Laptops are more stable in more situations (on your lap, on a bed, the arm of a chair, etc...), not top heavy, the keyboards are generally more comfortable, they can fit bigger batteries.... the list goes on and on. So I totally agree. Convertible tablets are an attempt to make 1 device fit 2 different use cases, and they end up being worse for both than a traditional laptop and a small tablet.

Can't understand every price and even worse every price jump.
Android Central Newsletter
Thank you for signing up to Android Central. You will receive a verification email shortly.
There was a problem. Please refresh the page and try again.