Google Pixel Buds second opinion: A genuine triumph with one damning flaw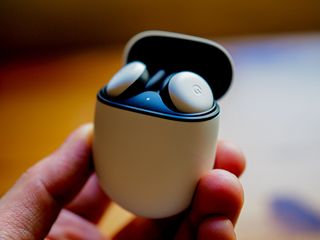 (Image credit: Android Central)
I've lost count of the number of true wireless earbuds I've tried over the past year, but it's well over 20. Some, like the superlative Jabra Elite 75t, are memorable. Others, like Mobvoi's awful TicPods 2, are only memorable for their flaws.
Most true wireless earbuds, fall somewhere in the middle. They're good, not great, excelling in key areas and disappoint in a few notable ones. Even my beloved Elite 75t's are often criticized for spotty connectivity and poor quality control, though I've yet to experience any of those downsides.
I say this as a preamble to Google's excellent but divisive Pixel Buds. Ostensibly the successor to the 2017 wired version, they were shown off at Google's October 2019 hardware event alongside the Pixel 4 series and the Pixelbook Go. We knew they were coming the following spring, but given the tepid response to the Pixel 4 and the limited appeal of the Pixelbook, the not-Nest part of the hardware team needed a win.
Thankfully, the Pixel Buds are mostly a win.
The Pixel Buds are incredibly comfortable
I'll start with the obvious: if you've read any of the reviews, you'll know that the Pixel Buds 2.0 are comfortable and low-profile, sitting near-flush in most ears as they twist and rest for a nice seal. Google took the path of least resistance in designing these, attaching a relatively long tube to the round matte plastic housing, and a permanent silicon fin, to ensure a snug fit without getting too far embedded in the canal.
The low-profile design means that there isn't a ton of passive isolation compared to, say, the Jabra Elite 75t, but there's also less pressure inside the eardrum so much less need for occasional resitting.
I spent a few days wearing the Pixel Buds at every opportunity and would often forget they were in my ears at all, especially when wearing just a single bud. I also appreciate that, unlike the (otherwise-excellent) Galaxy Buds+, adjusting one of the Pixel Buds slightly doesn't accidentally activate the built-in gestures, something that drives me crazy with Samsung's offering.
I also encountered a few rain showers with the Pixel Buds, and am pleased to report that the IPX4 rating isn't just for show; the earbuds were no worse for the wear coming back from a run dripping in rain and sweat. A wipe down and they were good as new.
The Pixel Buds sound really good
I've been test-driving a lot of different true wireless earbuds lately, two pairs of which — Audio Technica's ATH-ANC300TW and Sennheiser's Momentum True Wireless 2 — are considered "high-fidelity." In particular, their sounds are characterized by wide soundstages, a pleasing vocal mid-range, and "accurate" lows and highs that don't overdo it to hide poor fundamentals.
The Pixel Buds do the same thing, but don't quite have the same quality of components as those more expensive alternatives. The soundstage is just a bit narrower, the bass is slightly more diffuse, and the highs are ever-so-slightly recessed. But that's a huge compliment: these sound great, especially for the price. They're not as bombastic out of the box as many of their competitors, and are therefore more amenable to equalization. I find that Wavelet's custom EQ for the Buds, which amplifies the bass and tremble while recessing the mids, works wonders for most music genres.
Overall, I've been really pleased with my listening experience on the Pixel Buds. They make most music genres sound good, from grimy alternative to sultry R&B. I'd avoid these if your biggest priority is thumpy bass, but then again, I'd probably avoid most true wireless earbuds if you're looking for powerful-and-accurate bass. You can't really have both.
The Pixel Buds are easy to set up and use
Given that the Pixel Buds have the word "Pixel" in the name, you likely wouldn't be surprised to find they work best with Pixel phones. But if your phone is running a recent version of Android, all it takes is opening the case nearby, AirPods-to-iPhone-style, and the device recognizes its presence and sets it up immediately, walking you through a number of intuitive steps to get various features working.
On non-Pixel devices, the Pixel Buds prompt you to download a dedicated app, but on the Pixel, all set up is done through the Bluetooth menu. Either way, there isn't a lot to configure — you can opt into Adaptive Sound and In-ear detection, along with Google Assistant — and it takes a few seconds to get working.
The gestures are also intuitive — a single tap for play/pause, double and triple taps for next and previous songs, respectively, and swipes left and right to raise and lower volume. Holding down a finger on the gesture area activates Google Assistant. As I wrote earlier, there are very few false-positives which is great, but I'd like a way to edit the gestures to better suit my needs, as I can on many, many other earbuds. I assume Google will add this feature at some point, but not having it right now is frustrating.
The Pixel Buds have hands-free Google Assistant, for better or worse
One of the Pixel Buds' marquee features is hands-free Google Assistant, which means you can activate the ethereal voice-in-your-ear with a hotword, even when your phone is off and in your pocket. It's extremely helpful, but it comes with a couple of caveats, one of which is a deal-breaker for me.
When you enable Google Assistant on your earbuds, it encourages you to also toggle spoken notifications, which reads your incoming notifications as they come in. On paper, this seems like a great idea; in practice, especially when you receive a lot of them, it's a nightmare. I disabled this feature almost immediately, but there's no way to turn off the audible "ping" of incoming notifications without disabling Assistant entirely. Google wants you to remember that Assistant is there, and in my opinion, it's a vexing oversight that needs to be corrected. It's so frustrating, in fact, I disabled Assistant just to prevent Samsung's annoying chimes in my ear even when the phone is on vibrate.
But if I weren't so fickle about my music being interrupted, having hands-free Assistant in my ears is a revelation. It responds quickly and reliably, and does the things I want it to do, like call my mom or tell me when it's going to rain. It can even remotely lock my front door lock if I forgot to do it, or tell me how many days there are until the end of 2020 (who hasn't Googled that at least once this year?).
The Pixel Buds have an amazing case with wireless charging
I care less about the total hours contained in the charge of a wireless earbud and more in the portability and ease-of-charging of the case itself. Each Pixel Bud has around five hours of use per charge, and the egg-shaped case contains an extra four charges within, for a total of around 25 hours.
The case is relatively small by TWE standards, around the same overall dimensions as Apple's AirPods Pro case and a little chunkier than the Jabra Elite 75t, but it's the perfect size to fit in a coin pocket or pair of pants. The case snaps open and closed with a satisfying thud and the magnets take hold of each bud with confidence.
The case also charges wirelessly, which is convenient, and takes USB-C for a faster top-up when needed.
The Pixel Buds are not perfect
The lack of active noise cancelation isn't a problem, per se, but it's a growing market need that Google will likely have to address in a future Pixel Buds release. I say it's not a problem mainly because passive isolation in a pair of earbuds like this gets you 90% of the way there; active noise cancelation can only do so much to overcome external noise when only the ear canal, and not the entire ear, is covered.
Even on tier one products like Sony's WF-10000XM3, the quality of the noise cancelation doesn't match that of a pair of over-ear headphones, mainly because the latter seals not just the ear canal but the entire organ.
Another minor issue with the Pixel Buds is the quality of their microphone. While no one I've spoken to has complained about it, it's not quite up to par with Apple's superlative AirPods series, nor the Jabra Elite 75t. It's middle-of-the-road, and may be problematic if it's tacked onto an already-poor connection or loud environment.
The bigger problem, at least for some people, is a pervasive connectivity issue that appears to affect some Pixel Buds units and not others. The problem manifests as one earbud cutting out shortly followed by the other and then springing back in sync together. Google's promised to fix Bluetooth connectivity issues with the Pixel Buds, but I had to get the company to send a second unit out to me to alleviate the issue, and even then it's still not perfect.
The issue appears to be location-dependant, and is likely exacerbated in areas with lots of 2.4Ghz signal. For example, I can't use the Pixel Buds while standing in my nearby dog park, which is surrounded on all sides by houses, likely because there's just too much Wi-Fi interference. While walking around the city, though, the interruptions are rare but consistent, and at home they're non-existent.
In my opinion, the problem isn't bad enough to warrant holding off purchasing the Buds, but it's something to keep in mind. The good news is that it appears Google is proactively not only working on the underlying problem itself, but replacing anyone's earbuds who is affected. Google is also promising a fix in August to address the problem.
The Pixel Buds are now available in Canada (and eight other countries)
I'm writing about the Pixel Buds in July and not April because they have not been available in Canada until now. For $239, they're by no means cheap — the Jabra Elite 75t cost the same — but they're well worth their asking price. There's stiff competition, but if you're running a modern Android phone and take advantage of the Google Assistant, there aren't many better options right now.
Google Pixel Buds
The Pixel Buds are excellent true wireless earbuds, with a great design and lots of features that just make them a joy to use. They're expensive, but you get your money's worth.
Sign up for Black Friday email alerts!
Get the hottest deals available in your inbox plus news, reviews, opinion, analysis and more from the Android Central team.
Daniel Bader was a former Android Central Editor-in-Chief and Executive Editor for iMore and Windows Central.