The Google Pixel 3 addresses our biggest complaint with the Pixel 2: its display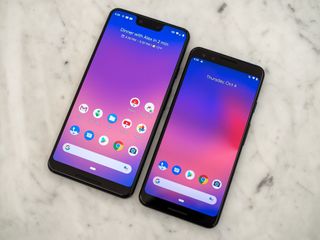 (Image credit: Android Central)
It only took a few weeks after the launch of the Pixel 2 and 2 XL for a major problem to be discovered: aggressive screen burn-in and image retention, particularly on the larger 2 XL. These very real and substantial problems were amplified by the fact that the rest of the screens' characteristics weren't good to start with. They were dim, inaccurate and lacking saturation. The displays were bad enough that it kept many people from buying the phones altogether — or at the very least wait for steep discounts. Software updates mitigated, but didn't fix the problem — in the end, they were just bad displays.
With the Pixel 3 and 3 XL, Google focused on display quality to make sure the sort of problems that plagued the last generation have no chance of cropping up again. The perception that Pixels have bad screens will live on for some time, but anyone who sees one of the new phones will have their opinion changed.
Google Pixel 3 and Pixel 3 XL hands-on preview
Google spent an inordinate amount of time making these displays as great as possible, and in my time with the phones it absolutely showed. The OLED screens are clearly higher quality panels than either the Pixel 2 or 2 XL, which is a great (and necessary) starting point. No amount of tuning can fix a panel that isn't capable of producing the results you want.
Google took these better displays and went to work calibrating them: there was a huge focus on starting with precise display accuracy at the start, and further calibration was then applied in software to make them perform as well as possible in a wide range of situations. Google says that the displays, when set to "Natural" mode (in the display settings), are 100% RGB compliant and "visually indistinguishable from perfect" — you may recognize that exact sort of wording from reviews of Samsung's stellar displays. That's good company to be associated with.
But not everyone wants accuracy, they want eye candy — that's why the Pixel 3 and 3 XL ship in a new "Adaptive" display mode by default, which bumps up colors and saturation but has been tuned to limit the over-saturation of skin tones and reds in particular. This is akin to what Samsung, LG and just about every other company is doing on their phones to make them look extra-nice in stores and be appealing right out of the box.
But again, Google didn't just bump up the saturation to cover up the fundamentals. It also worked on the other important factors in judging a quality display, like notably reducing off-axis color shifting (which is inherent in all OLED panels) and increasing the brightness for a full-screen image to a minimum of 400 nits. (Not to be confused with peak brightness for small portions of the panel, which is often much higher.) It all looked wonderful indoors — the question now is how well it all works outside, where Samsung currently holds the top spot in daylight visibility.
And yes, Google wanted to address the worries of burn-in and image retention — a big issue on the Pixel 2 XL in particular. Google says it has reduced the burn-in potential by half compared to last year. It has also applied additional mitigations in the software to address particular problem areas like the navigation bar and ambient display — for example Google's own apps use an equal mix of white and black nav bars. The displays will exhibit some sort of burn-in and image retention over time like any other OLED screen, but Google's confident its phones won't perform worse than the industry averages in either respect.
For fans of the smaller Pixel 3, It's important to note that all of these great improvements are applicable to both displays. Making the Pixel 3 and 3 XL displays look and perform identically was a goal of Google's, and to my eyes it was achieved. Speaking with Seang Chau (VP Engineering) and Raj Singh (Sr Director, Tech Engineering) from the Google hardware team, I immediately understood just how seriously Google took the displays this year, and how proud both were of the end result. I can see why — these look like a pair of screens that can compete with the best.
I've yet to see exactly how these new-and-improved screens perform out in the real world, where fringe cases of poor ambient lighting conditions can really put a smartphone display to the test. But given the great starting point these phones are working from, it doesn't look like they'll be a talking point in the same way they were last the last two years — and they may even be a standout feature of the Pixel 3 and 3 XL.
Get the Android Central Newsletter
Instant access to breaking news, the hottest reviews, great deals and helpful tips.
Andrew was an Executive Editor, U.S. at Android Central between 2012 and 2020.