Galaxy Note 9's screen receives record-setting rating from DisplayMate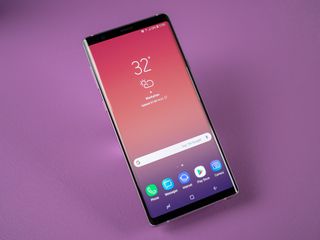 That Samsung's phones have the best displays in the business isn't all that surprising at this point. What's truly amazing, though, is that they keep getting better at a steady pace despite already being well ahead of the competition. The Galaxy Note 9 marks another leap in display quality for Samsung, with the stylus-packing phone's display taking home DisplayMate's highest rating yet.
In DisplayMate's testing, the Note 9 hit record marks in several areas. It has a record-high Absolute Color Accuracy, which it says is "visually indistinguishable from perfect." It has record-high color accuracy and intensity, independent of the on-screen image. It has record-high small color shifts, brightness shifts and viewing angles, including when displaying white. And somehow Samsung managed to get the Note 9's full-screen peak display brightness to 710 nits, which is 27% higher than the already-fantastic Galaxy Note 8; the screen is capable of 825 nits of brightness in situations where 50% of the display is active (aka not black), and 1050 nits for very small portions of the display (1%) are active. The list goes on ... here's a full breakdown of the plaudits:
Highest Absolute Color Accuracy (0.5 JNCD) – Visually Indistinguishable From Perfect.
Smallest Change in Peak Luminance with the Image Content APL (2%).
Smallest Shift in Color Accuracy and Intensity Scale with the Image Content APL (0.7 JNCD).
Highest Peak Display Brightness (1050 nits with 710 nits at 100% APL).
Largest Native Color Gamut (113% DCI-P3 and 142% sRGB / Rec.709).
Highest Contrast Ratio (Infinite).
Lowest Screen Reflectance (4.4%).
Highest Contrast Rating in Ambient Light (239).
Smallest Brightness Variation with Viewing Angle (27% at 30 degrees).
Smallest Color Variation of White with Viewing Angle (1.3 JNCD at 30 degrees).
DisplayMate's ultimate rating of the Note 9's display is "A+" and leaves little doubt as to how great this display is with its conclusion:
DisplayMate's tests are very much focused on the scientific measurement of the characteristics of displays and how they compare to one another, but the results really do back up the eye test: the Note 9's display is gorgeous to look at. The Note 9's display seriously outperforms the competition in just about every respect, and even outperforms its own displays shipped as the latest and greatest just six months ago with the Galaxy S9 and S9+. If you're a screen quality buff above all else, it's clear that you shouldn't look anywhere but the Galaxy Note 9 (opens in new tab).
See at Samsung (opens in new tab)
Andrew was an Executive Editor, U.S. at Android Central between 2012 and 2020.
"Frankly, it isn't easy every year." Kudos for Samsung for advancing their display tech even when they're already at the top.

When DJ Koh said that, you could just hear the exhaustion in his voice. But definitely, kudos to Samsung. I haven't been this excited about a phone launch in so long. I'm more excited now than when I switched from the S7 edge to the S8+ and when I switched from the S8+ to the Note 8. I'm pre-ordering the Note 9 tomorrow.

Impressive. Has it been a big deal for anyone switching from a Samsung flagship to another flagship to experience the quality difference?

I recently purchased the s9+ in the spring. Love the display its gorgeous. I have found when looking at phones like a oneplus 6 or older gen iPhones, both of which I owned, the quality is very drastic in comparison. It makes other flagships seem outdated by comparison, and when you throw in the battery life, well let's just say I'm a big fan.

I switched from Note 9 to Smartisan But Pro 2 SE. I love the display on that phone.

impressive how you switched from a phone that is still unreleased to a cheap chinese phone that's a year old. any other stupid lies you would like to shout out?

I mean, personally I loved the Motorola Startak display too, 20 years ago...

Yes, kinda. I went from the S7 to the Essential and definitely miss having AMOLED

I know it's an old comparison, but when Google ditched wireless charging after the Nexus 6, I had to go looking for a different phone. I tried a few, including the Note5, V10, G4, and a Motorola (I forget which one). The reason I ended up sticking with the Note5 was purely due to the screen. Even a couple years later, this screen is still fantastic, and I know it's nowhere near as good as the Note 9. But it's bright, sharp, and the automatic brightness just seems to work better as well. I use Nova to get around the TouchWiz (which isn't really that bad these days anyway) and I'm good.

They need another record setting in software updates would love to see them win that

So true, software updates are all that keeps me from a Samsung device anymore. Well, that and some of the bloat.

The newest Android letter never brings anything new to Samsung's software. Its always meh, or it ruins it in some way. All the new features are always on the Samsung experience years before Google figures it out and ruins it half the time.

More people need to explain this.
For example, I have notification dots on my old Note 4 running marshmallow. OS updates on Samsung phones are really boring because all the new "features" coming to stock Android have been Samsung phones for years.

True, but you need what's under the hood , things you do not see. This is as important or more important than features. Samsung features are not possible without each version of Android.

All Android devices receive security updates every month. Apart from that the new android updates provide small changes - if there are bug fixes that need to be made then they're usually addressed by Samsung in an update.

Not False. I have a Note5, which is technically no longer "supported." I received a security update a week or two ago. I'm on T-Mobile.

That doesn't even make sense. Samsung pro-actively implements new features to work around stock Android's limitations. Case in point, Bluetooth 5 wasn't available until Oreo but the Galaxy S8 had in Nougat. Multiwindow has been part of Samsung's UX since Android 4.4.4, stock didn't get it till Nougat.

Samsung's features are very possible without the latest version of Android. I remember when Android barely got the close all recent apps ability. I thought that was standard, just like Samsung volume control to control media was before Google's. Samsung's multi window is still 10x better than Google's.

You guys are not getting what I'm saying. The ability is in the source code. Google just doesn't want to put the features into their phones at any given time. A year from now Samsung will come up with even newer features because of Oreo and Pie which were not feasible with Marshmallow or Nougat. Google will probably follow one or two years after that.

This is so true. It was either last year or the year before, I was watching Google I/O and they were presenting the "new" features to Android. Holding up my Samsung, I kept asking myself what's new? Apparently, there's still no dark theme/mode. I've been using a dark theme for 2 or 3 years now. On time OS updates are generally important to developers, iOS users, and anyone who loves early access to bugs.

Yep. Android OS updates happen and then it's like a sleuthing game trying to figure out what changed.

Software updates and the software itself. And the tackiness of the whole experience. Beautiful phone though.

Samsung's displays really are amazing, phones and TV's.

Either you live on beta software with your pixel or you get a flagship Samsung device that in my opinion has a a more stable build of Android with frankly more software abilities than stock .

What stable built for Samsung you referring to? Not only is the software stable on the pixel, the single lens camera is a beast. Every other phone has duel lens and more. Also not everyone wants all the loaded features Samsung provide. Simplicity is the ultimate sophistication.
"Leonardo da Vinci".

I so agree I own a pixel 2 xl and a note 8 and the note 8 is not stable especially in app performance compared to the note. When using a lot of apps on the note I always notice lag the app freezes or if it's an app like navbar apps my note won't even function correctally while using it. My pixel runs smooth. I've noticed a lot of apps not operate as they should on unless on a pixel device. Samsung's software is way out of date I'm on 8.0 with June's security patch while my pixel completely up to date and security updates are one of the most important. Samsung's software is so bloated still I don't care what anyone on here says yes you can delete allot of the apps but bixby needs to go Google assistant was always better and continues to be. I always keep coming back to my pixel because of the consistent app performance, battery life, camera and simplicity

The 845 chipsset changes everything. I had the Note 8 and now the 9+. Damn, 845 is a beast.

The Snapdragon 835 was a "beast" as well. My V30 runs amazingly fast, and is light years ahead of my girlfriend's mid-range LG phone. But the software still leaves a little to be desired. Despite games and other apps running flawlessly and stupidly fast, the V30's software still stutters and slows down at points. Restarts always return the phone to prime performance, but those niggles are there nonetheless. These are issues my Pixel XL never have. These are issues my Windows phones never had. But my V30, and every Samsung phone I've ever owned, are plagued by these random slowdowns, despite having the fastest silicon available at the time.

Some people are just looking for a simple, concise, straightforward software experience. I don't want to have to dig through endless features or bloat (depending on how you look at it) to get to the software experience I want. That's why I only buy devices that are as close to stock as possible. I've had a great experience with my Pixel 2XL and I'm looking forward to getting the Pixel 3. Samsung devices are not for me.

I have yet to see am example or comparison of "digging" to get to ant single feature our option. If I want to open an application or perform a task. Can you give me an example of how it is easier or more difficult on my phone than a pixel or any other phone with stock android? Keep in mind that I own a note 8 and have access to pixel phones as well. I like both. I have yet to have a slowdown or lag on my Note and I am curious about the new pixels as well but playing with the new iPhones with notches I can honestly say that the stop gap screen issue of notches is something I will definitely avoid as long as possible.
As I keep phones for 1 or 2 years max, software updates past this time period are lost on me.

The note not slowing down or lagging is a complete like because either own a note I and a pixel 2 xl and the note 8 isn't a lag fest but it sure is no pixel. Go into the settings on the note and look through the setting I mean settings have settings and that's not an exaggeration. There's too much going on. The color schemes and change for the sake of change is bullshit because we're spending near 1000 dollars for a device that has outdated software. The naviagation bar on the note was changed just because even though stock Androids was fine and looked way more pleasing than Samsung's vision of it the way the home screen works on the pixel is way better than Samsung's. When I say that I mean how you uninstall an app from the home screen and the folder look when opened. Samsung has to give every little part of the U.I a good dam setting of some kind for absolute no reason.

Samsung pay.
Samsung Dex.
Secure Folder. Three things I can't live without now. I know it's not for everyone but for those who use it, they know what I mean.

Interesting.. I don't go through all of what you mentioned. I just tell the phone what I want it to do at whatever system level and it just does it. Even without that simplicity, I have never, not once felt what you described on any phone really since Symbian OS..
Then again I find iOS, Android, Windows OS and blackberry system all to be quite basic/simple in any form so maybe I'm missing your point. I have not found system settings to be any more buried on any platform. Perhaps different way to put it might be that you may have more options on some platforms that may confuse people that don't know what they're looking for.

I've been using Note devices for years, and I don't see what you're seeing. Sure, the settings window/menu is a bit different. But it's only just that... different. It's still simple to navigate and find what you need with little to zero effort. It's not like it's non-intuitive, as it's pretty simple. Just different. I can uninstall from the homescreen no problemo. I just happen to use Nova-Launcher which provides that (and before you argue that it requires a different launcher, I'd install Nova on a Pixel device as well since the stock Google Now launcher sucks rocks in comparison to Nova).

Beta software? Lol, that's pretty funny. The 'beta' software is buttery smooth, not unlike many Samsung devices.

I have been using my Pixel 2 XL since November of last year and have had zero problems with the software, and that includes the ACTUAL Android beta I had been using since a few weeks after I/O.

Samsung is the king of screens.

Yes Samsung does the best display, can't argue with that.

I really love Samsung's hardware. I really wish there was a Google play edition.

My brothers S9+ has a great display, not arguing that. However it isn't uh, awe striking or anything. It looks like a very nice, vivid display I can hold in my hands, and that's it. It doesn't make other displays look horrible, it just outshines them a bit.

... Best displays in the business. Which is the main reason i buy Samsung. It's the most important part of the phone.

I totally agree, to me the display is the best feature on a phone. And that's exactly why I purchase Samsung phones. There is no finer display! The note9 just got the highest rating of any smartphone on the planet with Displaymate. A+!

ppfffttt! why would I want to trade in my dim, blue-shifted pixel 2 XL for that crap. If I want to see realistic colors I'll look AWAY from the phone..

The Pixel lacks in many areas! The build quality is Auful! And the screen is just average! ....
What I find interesting most reviewers on Youtube who review the pixel xl just want to review the camera! ...Why is that? I know! Because that is the main feature!... What about the rest of the phone????

The rest of the phone? Yes, it makes great phone calls. lol. Only thing Samsung has is its display. Everything else is crap. Bixby? HAHAHAHAHA. Pixel for the win in all categories except for screen, unless, you don't care for smoother apps, not having multiple apps that do the same thing, monthly scheduled updates, free original backup of photos and vids, etc, etc. benchmarks? To be honest, it's all a joke as the average user will not know the difference unless you throw numbers at them that are meaningless. The difference between these measured tests are so minute that you really don't tell the difference. Build quality of Pixel 2? What's wrong with the quality? absolutely nothing, lol.

Super job Sammy, always great displays.

Things like this is why Samsung is the Android King, while other OEM's are struggling to understand why their mobile divisions can't make a profit.

I love Samsung.. Ive had only Samsung phones since the S4, but none of this matters when their panels tend to burn in so severely...

i've has a s3 a s6 Edge a s7 and now a s9 plus. what screen burn in are you talking about? not one of my phones has ever has screen burn ins.

My friend's s8 has burn in. But she uses her phone a lot more than normal people do. OLED screens (the tech that Samsung's SAMOLED screens are based on) biggest drawback is the potential for burn in. But with the exception of the original Galaxy Note and the Note 7, I've owned every Galaxy note device and not one of them have had burn in problems.

We all have pretty old Note5's in my family. None have any burn-in. Not sure what you're referring to.

I was almost tempted to buy the note 9 after a trade in offer meant that I would have £400 off of the list price which is much less than what I paid for my Note 8 but I want to wait for the Note 10 and get the most out of my Note 8 which still feels and performs the same way as it did when I bought it almost a year ago. The performance on these phones have been overkill for a few generations now. I will stretch the value one more year before changing.

The note 9 is supposed to be the last note. s10 and Galaxy X which are very different from each other has no plans for a note line. I hope that just means the S pen is coming to the regular s lineup

The Note line isn't going anywhere. In 2016 various websites also said Samsung might discontinue the Note because of the Note 7 battery issues, and it's still here.

Interesting. I'm up for change. I hope for a Note 10.. If not then a Valley or Note 9 at a discount. I use the s pen too much.

Pulse Width Modulatuon at low frequency, big no-no for sensitive user

The PWM has been mostly addressed by Samsung. I saw some testing on the Note 8 on notebookcheck dot net. If you look at the test results, the frequency is very high, which pretty much eliminates the issue with panels that don't handle this effectively - "The frequency of 257.7 Hz is relatively high, so most users sensitive to PWM should not notice any flickering. However, there are reports that some users are still sensitive to PWM at 500 Hz and above, so be aware."

For myself, the display is my number one feature. Now Samsung is the king in two areas the display & 1 TB of storage in your pocket or purse. It doesn't get any better. Their displays are unmatched by anyone. Especially with videos or movies!

Display quality is the most important feature of a phone for me. It's why I bought my first Samsung phone, and why I'm sticking with Samsung. I got an LG G3 when it was released and instantly regretted it, so I switched to the Note 4 after that.

Yep. I went from a Note5 to a V10 and right back to the Note5. Have had it ever since.

NO ONE cares about your pixel!! Ugh this article isn't even about phone performance. Pixel owners (some not all) are like the vegans of the phone world. Not everyone likes stock Android. It's all subjective but I'd rather had tons of options no matter how useful one may think it is than the minimal with vanilla android.

It's like that vegan cartoon -- some guy walks into the bathroom and passes a dozen urinals to get right next to you to say "I get the updates first".

Our favorite Rene Ritchie doesn't retweet stuff like this but anything bad about Android, Samsung etc he'll be the first to retweet 😂

Imagine a day when we could have Samsung hardware and software from Google only. With all updates from Google and no oem proprietary tracking software to clash with Googles tracking software. Really wish the pixel would bring back wireless charging like my Nexus 5 had.

Not saying this ain't actually truly the best display so far but..I wish DisplayMate tests something other than iPhones and Samsung Galaxies.

I agree, but then again a lot of other displays are built by Samsung, haha. I'd like to see more in-depth testing on LG displays like the G7 ThinQ, and also Sharp displays as well.

If only they had a project fi version.

I've always been a huge fan of Samsung's AMOLED displays, and the build quality of their phones are undeniable. But I just can't get around the Samsung Experience, and I'd miss my Hi-Fi DAC dreadfully if I gave up my V30. I'll be taking a look at the Note 9, but I doubt I'll make the jump.

VERY impressive display! Let's hope that the amount of time that it will take before the Note 9 display begins to show signs of screen burn will be equally impressive. It seems like the better and brighter Samsung AMOLED phone screens become, the more susceptible they are to getting screen burn from normal daily use. My Samsung Galaxy Note 5 took more than a year before certain elements of my Home Screen were permanently burned into the display and ghostly images of them were visible against lighter colored on-screen backgrounds and images. I never owned a Galaxy Note 7, so I can't comment on the screen burn issue with that phone. My Galaxy Note 8 began to show noticeable signs of screen burn after just two months- and it has only gotten worse. I'm about to get my Note 8 display replaced under warranty (and then get rid of the phone). Yeah, I know- I should keep the screen so dim that I can barely use it- yada, yada. Sure, that's why I spent $1000 on a phone with a killer display- just so I can't enjoy it as I'd like to.
Android Central Newsletter
Thank you for signing up to Android Central. You will receive a verification email shortly.
There was a problem. Please refresh the page and try again.