Google photos will automatically mail your best photos to you for $8/month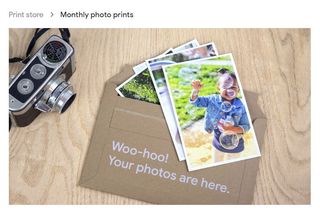 (Image credit: James Bricknell)
What you need to know
Google photos will ship you 10 of your photos each month.
The service will cost $8.99 a month.
Right now, there is a six-month free trial.
Users of Google Photos are starting to see an invite to a new service that will offer physical photos to your door for a monthly fee. The service is called unsurprisingly, "Monthly Photo Prints," and it promises to send you 10, 4x6 inch matte copies of your "best photos". I assume this means this service is somehow curated, and it would have to be.
I take a lot of photos that get uploaded to Google Photos, some good, some abysmal, and I hope that Google isn't relying on an algorithm to figure out what I would like to receive in the mail. For $8 a month for just ten photos, each of them needs to be the very best they can be. Having any duds would sour people on this service very quickly, so a human is likely curating these pictures somewhere along the line.
How to sign up
Signing up can be done through the web interface of Google Photos though we are not sure if everyone is getting the option to join. If you can join, there will be a blue bar at the top of your main page that invites you.
Click the Start here button to be taken to the Monthly Photo Prints homepage.
Click the Get Started button.
You can choose your own theme; Mostly people and pets, Mostly landscapes, or A little bit of everything.
Review your checkout. As you can you see, you don't start paying until July. Click the Subscribe button to complete.
Let's get physical
I never really thought I would be interested in having physical photos anymore. After all, we take hundreds of pictures every week, and who has the space for all that? It was only after my mum was diagnosed with Alzheimer's that I saw the advantage. With physical pictures, she can see us, her family, everyday hanging on her wall — or in the case of the photo books, on her coffee table — and they always make her happy.
Is $8 a month a little too much money for ten pictures? Maybe. There is a six-month trial, though, so it might be worth it just for those 60 pictures. There are a lot of precious memories being made every day, it might be worth our time to save some of them on paper.
Get the Android Central Newsletter
Instant access to breaking news, the hottest reviews, great deals and helpful tips.
Since the days of the HTC Hero James has had two or three Android phones stuffed into pockets. James is always on hand to offer advice on phones, apps and most recently, PlayStation, especially VR, It's now something of an obsession. Find him @keridel wherever Media Socials itself.