Google confirms Nexus S Jelly Bean roll-out, lists carriers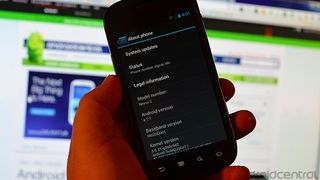 We broke the news yesterday that some GSM Nexus S models were starting to see their Android 4.1.1 Jelly Bean update rolling out, and now we have the official confirmation from Mountain View. Google took to its +Nexus (opens in new tab) Google+ account to bring news that Jelly Bean is currently pushing out to customers on at least five carriers around the world, as well as the unlocked GSM models, presumably. Here's the official word --
No word on Sprint's Nexus S 4G just yet, but given that phone's history with updates, owners could be in for a fairly long wait. If you've already gotten Jelly Bean on your Nexus S, shout out in the comments and let us know how you're doing.
Source: +Nexus
Android Central Newsletter
Get instant access to breaking news, the hottest reviews, great deals and helpful tips
Alex was with Android Central for over a decade, producing written and video content for the site, and served as global Executive Editor from 2016 to 2022.
Forget waiting for Sprint, I'm running hp420's Jelly Bean ROM.

Yeah. Sprint LOVES to drag their heels on everything. Just look at LTE/WiMAX and other updates to various Android devices.

wimax isnt sprint was 3rd party. LTE they are pretty much on schedual

A 3rd party that Sprint owned a large portion of.

Sprint does not own Clearwire they owned a big part of the shares for the company but to say they owned Clearwire is wrong. And LTE came out right on schedule so they only thing you really have going right now is the lateness with the updates.

How long do you think it'll take for a rooted version that's CWM flashable to come out? :D

: ( aww man! c'mon Sprint! I ♥ my Nexus S 4G and I am craving the Jellybean!

Dude the sprint galaxy nexus will get updated before the nexus s and that's no where in sight!

Running JB on my unlocked Nexus S. Pretty smooth.. and to stevent.. they have had a rooted flashable version since 7 hours ago.

Yea I'm running one of the official OTA ones thats on XDA but I lost my Hotword Detection setting in Google Now even after reflashing with a complete wipe. Have all default languages set to English US and it still won't come back :'(

Does that old dialer trick still work, to get the update pushed?

I have a Nexus S i9020T unlocked with T-Mobile and STILL haven't received my Jelly Bean update...why? I am in the US

Guys, If you happen to have ICS 4.0.4 stock just do what I did for my girl's Nexus S: 1. Go to SETTINGS / APPS 2. Scroll to the right To "ALL" 3. Scroll down to "GOOGLE SERVICES FRAMEWORK" and click on it. 6. Click on "FORCE STOP" and "CLEAR DATA" 7. Back out and go "ABOUT PHONE" / "SYSTEM UPDATES" 8. You might need to do it from 1-10 times. Depends on your luck. But you will get the OTA forced to you. Enjoy. Remember, this is only if your on stock ICS 4.0.4

Tried that maybe 12 times, still no luck. I have an unlocked Nexus S i9020T for T-Mobile in the US. i

Thanks, this worked for me on the sixth go :-)

This trick worked for me on my second try! Thanks for the tip!!

The trick to getting this to work easily is enabling airplane mode, then turn on WiFi (keep airplane mode On) I rebooted the one after doing that, then I followed those steps it worked like a charm. Something about the Sim card I think Interferes with it.

Faster way would be the checkin command:
Dial: *#*#2432546#*#* This will force your Android to check-in with the Google servers and should get it to download the update when you hit System Update.

Do you think that this will work with Sprint?

Do you think this works for the Nexus S 4G?

they say they dont know at att

Just updated OTA this morning on my AT&T phone, but I happen to be on TaiwanMobile at the moment. Android version 4.1.1
Baseband version
I9020AUCKJ1
Kernel version 3.0.31-g3b0c5d2 android-build@vpbs1 ) #1 PREEMPT Fri Jul 13 11:51:48 PDT 2012
Build number JRO03E See some minor differences, but nothing major is working better.

as always UK phones are last to get updates :)

Update was waiting for me this morning. The phone is much more responsive to touch inputs (ICS was very laggy). So far very happy, will have to see how battery life is. UK T-mobile unlocked.

I wish the binaries would show up already

I'm with Sprint but I'm not waiting.

Sooooooo happy I dropped sprint 3 months ago for this exact reason. Nexus means nothing to Sprint

Did the Google services framework this morning on my wife's nexus s on T-Mobile. After 4 times it worked. JB runs great! Really makes Samsung look stupid for their reasons for not updating the Galaxy S to ICS.

WIND and Mobilicity customers in Canada are receiving the OTA now. Funny they list Rogers and not AT&T since Rogers uses the AT&T version.

Might be why I got my update OTA this morning, I have an AT&T version, but I'm not on AT&T at the moment.

Guys Jelly Bean wasn't what I was expecting...that unique and beautiful CRT screen off animation is gone and the UI lags and stutters like it was running on ICS. It is smooth,but only for a few seconds...randomly...

Do a fresh reinstall, the CRT screen off animation still exists. Sounds like it was a bad update install.

It is horrible. It lags way too much, the only way I can run it is to change the dev settings to no processes running and turn off all animations. Why is it every time I reboot I have to change the processes back to what I like?

Received mine. On Vodafone NZ. Did as DaX05 mention above.

Dax05 you are a genius!
I did what you said and it worked the second time,thanks.

My i9020T on T-Mobile got the JB 4.1.1 update on 7/20. Works well for the most part, somewhat sluggish at times while using Google Now. Overall, extremely pleased with my Nexus S, thanks Google for supporting the NS! Up for renewal in the fall and will be looking forward to picking up the next Nexus.

I'm in Ottawa, Canada. Got the jelly bean update yesterday. Love it so far. Oh and I'm on mobilicity.
Android Central Newsletter
Get instant access to breaking news, the hottest reviews, great deals and helpful tips
Thank you for signing up to Android Central. You will receive a verification email shortly.
There was a problem. Please refresh the page and try again.