Google-branded headphones pass through the FCC, and they're ... uninspiring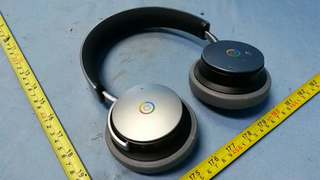 Fun stuff pops up at the FCC from time to time while it's being certified for use in the U.S., and the latest bit of hardware is Google-branded over-the-ear headphones. The grey-and-black cans have a little Google branding flare and appear to have a touch-sensitive area for at least power. Around the sides you see a pretty standard arrangements of ports and buttons ... but yes there's a Micro-USB port there, which is odd.
The headphones are being certified for Bluetooth, of course, and there's a 600mAh battery inside. We're not sure if there's active noise cancellation (edit: other photos seem to show ANC) or any additional smarts here, but there seem to be a pair of small slits on the earcups that could be microphones used for both that and phone calls.
Now it's easy to look at what's here and not be very excited about the shoddily made, cheap-looking headphones that use an old port and don't seem to have anything interesting to them. But remember that the hardware submitted to the FCC doesn't necessarily have to be final hardware. These could very easily be early engineering prototypes that simply have the right size and electronics inside to be evaluated by the FCC, but will have external hardware developed further after certification.
I sure hope that's the case, because I agree there isn't much to be excited about here. Even though Google has a somewhat spotty record of making overpriced accessories for its phones, it has at least released high-quality products that are made nicely and get the job done. Let's hope these headphones, if they end up being released, at least follow the same path. There's also a good chance that these are just cheap, low-end headphones to sit alongside the other gimmicky "Google" hardware from its merchandise store, or are just for internal use.
Andrew was an Executive Editor, U.S. at Android Central between 2012 and 2020.
Uninspiring? Naaahhh ugly and horrendous are the words. Ugly just like the Pixel.

I've always wondered about Chromecast headphones that could be used along with a Chromecast video. I wonder if this could be something like that?

That would either require you only use the headphones on Wi-Fi, or setting up a Wi-Fi direct connection with the phone itself. Bluetooth with AptX HD is much more battery efficient and will sound just as good. Others have speculated it could feature Google Assistant built in, which would be interesting. I'll add my name in the "hope they have USB-C" bucket, though the last thing I need is another set of headphones.

A pic on another website shows an ANC button next to the power button, so it seems to have that

Android Police is now stating that they are (likely) a replacement for a headset that's currently given to employees, so it wouldn't be on sale to the general public.

These headphones are just a new model of https://shop.googlemerchandisestore.com/Google+Redesign/Electronics/Audio/Google+G+Noise+reducing+Bluetooth+Headphones.axd Anything Pixel 2 or Android O related will have Bluetooth 5.0 and LDAC support. The headphones in this article use this: https://www.aliexpress.com/store/product/BTM625-CSR-A64215-Bluetooth-audio-module-modules-Bluetooth-4-0-4-2-I2S-TWS-APTX/1775761_32724693915.html

Geez Google. Can we haz moar Pixels? I feel like Google is just waiting as long as they can to officially discontinue the Pixel. I really wouldn't be surprised if production has stopped altogether and they're buying time until they can start leaking Pixel 2 info.

Something more expectable is that the next Pixels will DROP the 3.5mm jack and ship with these headphones. The path is now paved.

Why? What would be the advantage of dropping the headphone jack? Also, the article mentions that these headphones have a headphone jack themselves for wired input so...

Pouring all their resources into these is obviously why they haven't been able to turn out Pixels in sufficient numbers. It's all so very clear now. Lol. On a serious note though, I've checked on the Google store the last few/several days to get my mother a 5" white Pixel in either storage capacity for Mother's Day, and the only thing their site has to say is. "out of stock", period. SOL! As a result, my mother will be receiving a rose gold, 128Gb iPhone 7 for Mother's Day, with Apple Care, and a wallet case, with absolutely no problem with availability and 2 day delivery. Get your sh*t together, Google.

That's a darn shame. Google was saying that the Pixel has the highest rated camera and has proven so, but aren't making the device available for people to experience it themselves. Word of mouth marketing is not in Google's favor at this point. If someone were to ask me about the best Android phones, I'd completely discount the Pixel at this point because its so difficult to find. In order to keep the Pixel relevant through the summer into the fall, Google should discontinue the 32GB and only produce the 128's with a price drop of $75-$100. The way the stock shows in the Play store, one would think these devices are meticulously hand crafted by a team of 4 people.

I'm trying to figure out how these were judged without being tested. Evidently it's because of the way the FCC sample device looked. I don't like the way any of them look, get over it. They maybe the best sounding pair of bluetooth cans to ever hit the market. ...But androidcentral said they don't look "inspiring" so don't bother.
Android Central Newsletter
Get the best of Android Central in in your inbox, every day!
Thank you for signing up to Android Central. You will receive a verification email shortly.
There was a problem. Please refresh the page and try again.