Google billboard teases potential Pixel 2 event date of Oct 4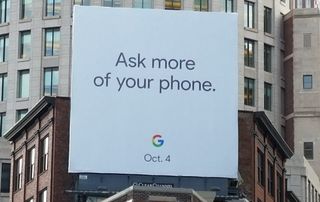 Initial reports pegged the Google Pixel 2 announcement for October 5, but it doesn't get much clearer than this image sent to Droid-Life: a billboard, spotted in Boston, with the phrase "ask more of your phone" accompanied by a Google logo the date of October 4. Barring some weird coincidence, it seems like that's the date for the next Pixel event.
Last year's Google Pixel event, which was held in San Francisco, was (not so) coincidentally held on October 4 as well. It wouldn't be surprising if Google wanted to keep that date going, and initial rumors only being off by one day isn't too shabby.
Now, what exactly could "ask more of your phone" actually manifest itself as in the Google Pixel 2 and Pixel XL 2? Well, we don't really know — that's a pretty vague statement. Initially it could be taken literally in terms of what Google Assistant could do on the phones, but it could also be a figurative statement — we all want more from our phones.
But we do know what current leaks and rumors are pointing to: two phones from different manufacturers, with the smaller Pixel sticking with a design closer to the original and the larger phone going with something closer to an LG V30. Expect a slightly newer version of Android Oreo with a few extra features, and of course some app and service updates that make it all sing.
Android Central Newsletter
Get instant access to breaking news, the hottest reviews, great deals and helpful tips
Andrew was an Executive Editor, U.S. at Android Central between 2012 and 2020.
Yup I saw this coming right after the Apple event. This is what I've been waiting for. Let's go Google.

More...bezel?
I kid, I kid. I love my Pixel.

Let's go. I need to know if it's Pixel XL 2, LG V30 or Samsung S8PLUS

Most anticipated Android phone of the year (for me) Can't wait

Sorry but no. That title easily goes to the iPhone X And I meant that just as it sounds. 😆

Cant wait to get disappointed like with Pixel ? Google has been releasing pretty crappy phones lately

I really hope Google made deals to get this on every carrier this time around . As a T-Mobile customer I really want the Pixel but don't have the means to pay for it unlocked upfront , that's why I like the instalment plan. I might be forced to get an iPhone 8 = /

I talked to my local AT&T guy and he was pretty confident that they were NOT going to have it at carrier level, which I think is a horrible mistake. But....they didn't ask me. 😁

Google offers 24 month, interest free financing. You can absolutely have a Pixel directly from Google on installments.

This holds true if you buy it on launch day. Anyone who decides to hold out to see the reviews and real life use feedback come in, they're waiting for the lone elf to build a Pixel. Ships in 6-8 weeks...or Out of Stock for a long time.

Buy it on launch day. Then decide if you like it. If not, return it. Not that complicated.

There's no guarantee that the outages of the Pixel will also afflict the Pixel 2 (or whatever it's called). There'll probably be week-long reviews available on launch day, released from embargo. My guess is Daniel Bader with one and possibly Andrew and/or Alex with another.

That's if it's in stock!! I tried for months to get a Pixel XL and finally had to settle for an S8+ because of battery issues with my 6P.

https://www.androidcentral.com/e?link=https2F2F...

Sweet. I'm usually off on Wednesdays.

How do I remove the Managed Bookmarks folder on my phone?

I need an honest opinion, Does it lag like the Galaxy after a couple of months of use? Does it stay as buttery smooth as when you used it day one? I am an iPhone user but decided to switch last year and got the note 7 and after the recall I wanted to get the pixel but decided to wait a year to switch to android. Now I got the note8 but if it is gonna lag on me, I would switch back to the pixel or back to the iPhone.

It's not going to lag like a Samsung device.

My S8 hasn't lagged one bit and I've had it since May. The laggy days of Samsung are long behind. These thoughts should've died with Lollipop.

Tell that to my S8. Two factory resets here. Years with LG and I never had lag like this so quickly.

I'm sure it didn't bootloop either. Rolls eyes...

Bootlooping was a prelude to catching fire .. LG just couldn't get that module correct .. only the Note 7 got it right. ;)

It seems like it depends on who you talk to. My stepmother gets the new Galaxy S model every year and every year the phones start lagging after a couple of months of use. I don't know if it's something she's specifically doing or Samsung's doing. I've had my Pixel XL since it initially went on sale and the performance seems about the same.

It's probably the types of apps she's downloading. All phones lag to a certain degree after a certain amount time because you (the user) load them up with apps and content that either runs in the background, taking up resources, or puts a bunch of content on them that the phone has to sift through to find what it needs. Most users aren't diligent enough to keep their device clean of superfluous content like pictures that are already backed up to the cloud and to disable background syncing of the more resource draining apps like Facebook.

Pixel XL owner since launch and no lag for me. It's been the smoothest phone I have every owned. My last phone was the Samsung S6 which jittered and jumped all the time.

The pixel shouldn't lag. I've had mine since November and it's still buttery smooth. I did a small stint with the Galaxy s8 and couldn't tolerate the stuttery software. After picking up my pixel one day I realized the Galaxy s8 was not for me. The pixel is like the iPhone of android. It just works and the software is clean and minimal it's worth trying out and going from there .

My S8 hasn't lagged yet. I've used it for more than 4 months now and it's still going strong. I do clean up the background processes every week or so using the device maintenance app so there's that.

i'm super excited for the Pixel XL2! Here's to hoping T-Mobile is included as a carrier. Would be a real shame if this is locked into Verizon again.

It was never locked to Verizon! Why do people think this?! The exact same phone that you would buy at Verizon has always been available for purchase directly from Google from day one. The exact same version that would work on any major US network (i.e. any of the big 4 and their subsidiaries). And yes, Google offers interest free installment plans for their phones, so it's exactly like buying it from your carrier.

Spot on. Sounds like a lot of people have bad credit or no credit.

For me, its the principal of walking into a Verizon store and asking them for something. "What carrier do you have now?"
"What are you currently paying per month?"
"How much data do you get?" "Well sir, here at Verizon, on the nation's most reliable network, we can offer you a much better deal." ...That's what I don't want.

See other comments, no need to go the Verizon route.

The comment he replied to suggested buying it from Google.

I don't think Google did a great job of communication of this to the average person. All you saw was Pixel commercials with a Verizon tag at the end. And people are more used to installments from a carrier. And some, probably have trouble getting credit from Google.

You can't have terrible credit and get a post paid credit line from a carrier either.

Bring it on Google! The last phone that's yet to be unveil (at least for me that is) I haven't upgrade phones in two years, so I will be choosing between the Pixel 2, S8, or LG V30 for my next upgrade.

Fun times are ahead of you. Enjoy picking from an all-star lineup.

Can't wait I'm ready for the xl 2... Hoping for duel front facing speakers everything else looks good.

https://youtu.be/etmUU1bs41s

The worst thing Apple did was hold pre-orders off until 10/28 for the iPhone X. I've been trying to decide between the two and thought i'd have to pre-order the iPhone and make the decision to sell it if i like the Pixel 2. Now i can sit back on 10/4 with all the info on the iPhone X and make a decision on the my next phone with all the right knowledge.

Pixel 2 XL looking like phone of the year!

LG V30 is most likely better

I want the XL 2 to have SD 835, brighter screen, and less bezels. Everything else is gravy.

Says the same thing on Google search page
Android Central Newsletter
Get instant access to breaking news, the hottest reviews, great deals and helpful tips
Thank you for signing up to Android Central. You will receive a verification email shortly.
There was a problem. Please refresh the page and try again.