Google Assistant in Allo: Everything you need to know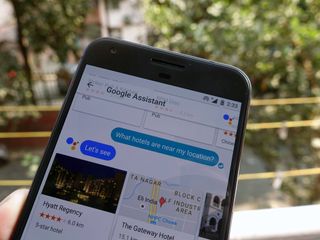 Update March 2017: The Google Assistant is coming to all Android phones running Marshmallow and above, making it available on hundreds of millions of new devices.
Google's AI-powered Assistant is the standout feature of the Pixel and Pixel XL — and it is now available on hundreds of millions of Android devices. The Assistant is an evolution of Google Now, and is also available as a chatbot on Google's messaging app Allo, Google Home, Android Wear 2.0 watches, and Android TV.
Interactions with the Google Assistant are conversational in nature, and the service does a great job of remembering your line of questioning. For instance, you can ask the Assistant about the first Doctor Who episode, and it'll give you the details in the form of a card containing air date and additional information. Later, if you ask a question along the lines of when the next season will air, it will remember the earlier thread and surface results about the upcoming season.
The goal is to make the Assistant personable and readily available to answer your queries. The service is still in its infancy, but the advantage with Assistant is that it can readily draw on a huge pool of data from Google's knowledge graph. As more and more users start using the service, it will use its AI smarts to deliver better recommendations.
In this guide, we'll showcase how the Google Assistant functions within Allo. Think of it as a primer on what the Assistant is capable of today. Given that the underlying functionality of the Assistant is the same across devices, there won't be vast differences in implementation when using the service in Allo, phones, Google Home, and other devices. That said, a few features are limited to certain devices. For instance, you won't be able to use the Assistant to set reminders or make calls using Google Home, but you have that functionality on phones.
There are similar limitations when using the Assistant with Android Wear 2.0, but if you're using an Android phone running Marshmallow and above, there's a lot to look forward to. Assistant on Allo has also picked up added features, all aimed at making it easier for you to communicate with your friends and family. Here's what you can do with the Google Assistant in Allo.
Subscribe to daily alerts in Google Assistant
Google Assistant lets you subscribe to receive news stories, weather information, fun facts, poems, currency exchange rates, and more on a daily basis. The Assistant will automatically use your current location for weather alerts, but you can specify a different location.
When it comes to news, you'll be able to select publications and categories. You can then select a particular time for the Assistant to deliver the daily briefs. Once you're subscribed, you can at all your active subscriptions or make changes by asking Assistant, "Show active subscriptions."
Unwind with Google Assistant
Feeling bored? You can ask the Google Assistant to play songs and videos, tell jokes, and if you're in the mood to procrastinate some more, you can also play puzzles and games with the service. Just say "let's play a game," and you'll see options for solitaire, tic-tac-toe, chat games (guessing Hollywood movies based on emojis is harder than you think), quiz games, and more. Games featured in Google Doodles are also available, including Pac-Man, Rubik's Cube, and Beethoven.
Use Google Assistant to set reminders and alarms
With Google Assistant, it's easy to set alerts, reminders, timers, and more. Just ask the Assistant to set a reminder for a specific date, choose the time, and you're done. The reminders are contained within Allo and don't show up in other services like Keep or Google Now.
Search your photos using Google Assistant
If you're looking for photos of a particular place or person, Google Assistant will be able to search through your Photos library. You'll also be able to set search parameters based on when the photos were taken. It's a nifty feature if you're looking to access a photo quickly. You can also ask Assistant to surface all images taken at a particular location.
Use Google Assistant to find your emails
You can search through your Gmail inbox directly from Allo. Assistant will be able to show you your most recent emails, or you can search for mails from a particular person, or emails from a specific day.
See your calendar entries in Google Assistant
Assistant integrates with your calendar to surface upcoming appointments. Just ask, "What's my agenda tomorrow?" and the Assistant will show you your calendar entries for the following day. As Allo has access to your calendar, you can also create new calendar entries from within the messaging service.
Find things to do nearby with Google Assistant
If you're looking to go out, the Assistant can recommend nearby restaurants, pubs, hotels, and other places of interest. You can also search for movies playing nearby.
Use Google Assistant to solve math problems
What good is a voice-guided assistant if it can't help you solve math problems? Just ask Assistant your query, and it'll give you the result immediately. It won't be able to solve complex equations, but if you're dealing with percentages or currency conversions, the Assistant comes in handy. You can also ask the Assistant for algebra formulas, and it'll surface a cheat sheet of basic formulas. Wish I had this when I was in high school.
Raise your GIF game
The latest update to Allo makes it even easier to send GIFs. You can now find GIFs by tapping on the smiley icon and swiping left, and Google is introducing a new feature called Lucky that automatically picks out a GIF for the occasion. Just select the smart reply with the Lucky icon, or enter "@lucky" followed by a phrase to quickly share a random GIF automatically. For instance, entering "@lucky cool" will result in a random selection from Giphy's vast catalog of GIFs tagged with that keyword.
As an aside, you can also animate emoticons in Allo. Select your emoticon, touch and hold the send button, and drag up to animate it.
That's it — for now
That's a quick list of things Assistant is capable of. With the new update, Assistant is readily accessible as a shortcut in the compose window next to the smiley icon, making it convenient for you to invoke the service. Google is constantly improving Assistant by leveraging its machine learning skills, and with the virtual assistant making its way into hundreds of millions of phones in the coming weeks, its usage is set to skyrocket.
Harish Jonnalagadda is a Senior Editor overseeing Asia at Android Central. He leads the site's coverage of Chinese phone brands, contributing to reviews, features, and buying guides. He also writes about storage servers, audio products, and the semiconductor industry. Contact him on Twitter at @chunkynerd.
I didn't know i could play pacman! Thanks. Very informative.

I tried it for simple text messaging, but found it confusing. I use the stock messaging app on my S7 edge. I obviously don't understand it totally. Maybe it's not meant for basic texting? Probably operator error .

It doesn't include SMS function yet. It needs to be able to text for it to take off IMO.

Anyone figure out how to turn off notifications? I made the mistake of saying OK to getting the weather forecast every morning at 8am, as I'm out of the house at 7:30. I've tried a million ways to Sunday to cancel or change the notification and can't. When something as obvious as "cancel this notification" right after the notification gets "here's a result from search" with a link to how to deal with the Android notification bar on Stack Overflow, I'd say this feature isn't ready for prime time.

Well I asked the Google Assistant in Allo how to do this.
Heres what it said - Tap and hold the conversation you want to change setting for. Tap turn off notifications. Sounds easy why don't you give it a try?

Thank you, but that didn't work. Also, it would be kind of funny if it did, right? I mean, the whole gimmick is you can talk to your phone and have it do things, but you would need to tap and hold in this situation? Again, not ready for prime time. But this is Google's standard MO: Apple releases inferior but fully tested products and apps, where Google uses us as beta testers.

As soon as Google is doing something new or an update it s always a huge mistake (pretty sure that in 2 years this Allo crap will be in a trash as all their ideas from their stupid developers... they should buy new companies and should not waste their money for their horrible developers).... It s something never been tested or by only crazy people who think they have tested all situations but they don't care by Google... It s always messy, not finished and badly designed... It s Google !

Its @Google Show my subscriptions. Then you can alter them.
Also use "what can you do" for a list of commands.

I don't see how this is any different than hitting the microphone button in the google search bar...

It's no different I think it's a whole bunch of hype for nothing this sounds like Google Now to me

Nevertheless, now that I know assistant is baked into Allo, Allo is off my devices. All of them.

Nevertheless, now that I know assistant is baked into Allo, Allo is off my devices. All of them.

Its contextual AI, not just search & commands. Its AI is more in depth

I tried to use it for texting, but it sucks because when you send a text it sends a link to the Play store to the person you're texting and it wants them to install Allo which is beyond lame (Duo does the same), needless to say I'm not using either now because it's too much hassle. Any texting app needs to be able to talk to any other texting app without installing anything. This is especially important when you're talking to someone with an iPhone that doesn't understand. I really want to give Assistant a shot, but currently i think Google Now does a much better job of implementation with its being a widget instead a whole new app. Its very jarring and disappointed. Google Now which does the Assistant thing. There's Hangouts which does communication, but then there's Allo and Duo which does communication and then Messages... I mean it's just a mess. There should be one integrated Assistant like Siri and one Communicating app that handles text and video calling. I'm not sure why Google needed 6 different thIngs.

Apple has iMessage and Facetime, that's two different things.

Yep and that's all that's needed. Well I guess three of you include Siri.

I never quite figured out what the heck allo was. How is this different than what I already have?

Google has to many redundant apps and it should have implemented the material design of Google messenger and functionality of Hangouts all into Allo and added SMS capabilities. Most users wanted this to be Android's version of iMessage when in reality what it really is somewhat of an Whatsapp knock off with a cool virtual assistant and stickers. The app has plenty of potential and I do use it, but Google is going to have to add much more functionality or it will be largely forgotten about in a year or two in my opinion.

I would say it's already forgotten. Only us freaky tech people that follow the latest in Android land know about it.

I completely agree... I used Allo once and uninstalled it. I'm not going to use two or three different Google apps just to message people, just stupid. Messages, Hangouts, Allo, and Duo... should all be built into one app.

"now available on..". Not really, not yet.

Google Assistant in Allo still doesn't work with G Suite accounts so it's pretty useless to me.

I don't want an AI assistant, how do I turn it off?

How about custom trigger words arrogant google. I hate amazon but may go to the dark side.

Is there a way to get Google Assistant to pop up, like long pressing the home button? It too many steps to get to assistant.

Yes, that's supposedly coming in the update that was just announced

No the Google Assistant in Allo is purely a messaging based assistant and you can only access it within Allo. But the Google Assistant is available in other forms like on the Pixel phone ( where you can access it by long pressing the home button)... also soon Google is pushing out an update through the Play Store which will make the Pixel version of Assistant available on every phone that uses Android 6.0 and above.

Google Assistant is finally in masses! Did you get your assistant?
youtu. be /Ogzh60uTJus
Android Central Newsletter
Get the best of Android Central in in your inbox, every day!
Thank you for signing up to Android Central. You will receive a verification email shortly.
There was a problem. Please refresh the page and try again.