Android will officially support foldable phones, but app developers need to do the work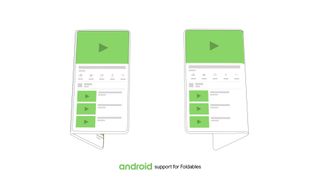 Foldable phones are on the (very near) horizon, and Google's pledging official Android support for the new form factors from the start. The support comes both in the core Android software itself, but also in APIs for app developers to use. Google's thinking about "foldables" as effectively having two states: one when the device is opened up as a single display, and another when it's folded in half to show just a portion of the display.
But you don't want apps to only work in one mode or the other, it needs to flow from one size to the other seamlessly — Google calls this "screen continuity." This effectively just uses the current APIs available to app developers that let their apps seamlessly re-flow and reorganize for multiple screen sizes. But now, those changes will happen in real time as a display is unfolded. Think about the way that Google's apps change their density and interface elements as you rotate from portrait to landscape.
VP of Android Engineering, Dave Burke, breaks down the improvements:
Samsung is expected to be the first mainstream brand to launch a foldable smartphone, and Google even named it specifically in this announcement. But Samsung won't be alone — this new foldable display technology will make its way through the market in 2019.
Now, we just need developers to get on board with the APIs, many of which are already available, to make their apps flow properly to multiple screen sizes. As we've seen over the last few years with the effective death of Android tablets and uptake of running Android apps on Chromebooks, there are millions of apps out there that really aren't designed to run on anything but a 4- to 6-inch phone screen. That's going to have to change as these new flexible form factors are released to the world.
Andrew was an Executive Editor, U.S. at Android Central between 2012 and 2020.
Samsung just showed off a working prototype of their foldable screen. even had google onstage. They hid the cool stuff about it with a generic cover. Seemed to fold almost flat.

All tech sites have been tablets are dead Chromebook chromebook blah blah blah now what they going to say as these are basically foldable tablets

So it's a phone that's the size of say nexus 7 tab that folds in half? So twice as think as a regular phone and a lot bigger when folded? Sorry old man alert but why? What's the point?Even more resources being used for this little if wanted product. Just because science can do all this kinda thing do we really need it? Does it help us in any real way? Who is so desperate for a phone that's going to be the size of the original mobile phones I remember from my teens and 20's in the 1980's Just saying

Actually do more research... People don't like watching videos on small screens. Even on my Note 8 I wish it was a bigger screen. It's also a big deal for those that read comics and manga. I see it as a good way for doing art. For the current phones you have to keep zooming and pinching to what section you want to work on. This can be annoying. If I had a 7.0 inch screen it's more space to work on for my drawings

I can't wait! If the new Galaxy X comes with a S Pen I'll be even more happy. I draw and it's annoying that there isn't more space to draw on the phone. A 7.0 screen would be good. I also watch a lot of videos some from Crunchyroll, VRV and the subtitles are small because of the screen sizes now. I also read alot of comics and manga and a bigger screen will help in me reading the fonts. So yes I can easily see this selling our when it goes up for preorder. Sadly I'll have to wait till August when my contract is up...
Android Central Newsletter
Get the best of Android Central in in your inbox, every day!
Thank you for signing up to Android Central. You will receive a verification email shortly.
There was a problem. Please refresh the page and try again.