Google announces Assistant, an ongoing two-way dialogue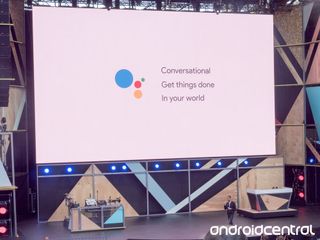 Google has announced Assistant, its new way to be there for users and assist in getting things done in the real world. The Assistant is an ongoing two-way conversation that understands your context, gives you control and more. Around 20% of Google's search queries come from voice on mobile devices, and this will help bring better information to those results. Google Assistant will extend beyond just phones: it will be on wearables, in your cars, on your computer, and in your home.
Once you ask a question, like "Where is the Taj Mahal?", and then ask "how old is it?", Google will know the context of your question to be able to provide an answer. Additionally, if you are searching for movie tickets, you can ask "what's playing tonight?" and Google Assistant will help automate the buying process. Be sure to stay tuned for additional information as it is made available from Google.
More: Google I/O 2016 coverage
Jared started off writing about mobile phones back when BlackBerry ruled the market, and Windows Mobile was kinda cool. Now, with a family, mortgage and other responsibilities he has no choice but to look for the best deals, and he's here to share them with you.
F bomb epic Posted via my LG G4

This is cool. Most of my texts etc are taken from voice input while driving. In fact most of my calls etc while driving are started by voice input. Voice interactions are a natural way to communicate; I'm glad that Google is continuing research in this area. Posted via the Android Central App

That video presentation was Uber amazing. Posted via the Android Central App

Yeah, I'm seriously interested. I hope, it's as practical as it is cool. Posted via my Gift from God Nexus 5X/Nexus 6 with Project Fi

Why does it have to be a killer of anything? Those that prefer Google will use Google, and the same can be said of Microsoft and Cortana. I'm certain, eventually, Cortana will reach the same level of integration and automation, with both Windows 10 and Mobile. Posted via my Gift from God Nexus 5X/Nexus 6 with Project Fi

well cortana already does a lot of these things for me :3 you know the ones i use xD to me it seems like a try to erase cortana by adding the power she has but halo funs will never leave cortana :D

Not sure I get how this is different from Google Now which already does all of these things? Looked v similar in the video. Posted via the Android Central App

I was thinking the same thing. Posted via the Android Central App

Well it's a case of "amazon did one we have to do it too. " Posted from my Nexus 6/Nexus 7 2013/Surface Pro 3

Yup. Going by the trailer they just want to call attention to functionality that already exists rather than doing anything new. It's best to assume I'm being sarcastic. if I'm ever serious I'll type "/s" to make it clear.

Nailed it, dude. Posted from my Nexus 6/Nexus 7 2013/Surface Pro 3

The only way this will be revolutionary is if it asks you a follow up question WITHOUT being prompted. "Can I do anything else for you" after say 15 seconds of silence. AND no matter what, it should return you to whatever app you were using before you said "Ok, Google". I'm driving in my car listening to Google Music. I say, "Ok, Google". It starts listening. I set a reminder. Once I'm done and Google Now says "Reminder set" it should return me to my music. It doesn't. The Google Now interface just stills there and I have to tap the return home key and then start my music again. SO LAME. It's 2016 and literally everyone has their phone mounted or hooked in when driving. In NH, it is against the law to use your phone without some sort of hands free option. I'd love to drive around with a Google engineer and show him the simple failings of using Google Now while driving.

This may be an issue with your car's bluetooth or your particular phone. I generally don't have any problems with GMusic or Pocket Casts resuming playback after an "OK Google" interaction on my 5X.

I know what he is talking about. The problem is not resuming playback. The problem is that the screen will stay on Google Now. It's like if you received a call, the dialer never went away after you called.

Exactly. Which means you can't access search or playback options. The only thing I can do from my steering wheel is skip forward and back and adjust the volume. Posted with my LG G4 6.0 via the Android Central App

"Once you ask a question, like "where is the Taj Mahal?", and then ask "how old is it?", Google will know the context of your question to be able to provide an answer." This has been a feature offered by Google for several years, one that sets it apart from Siri and Cortana.

That video is awesome! Posted via the Android Central App

Like many others, what are the differences between this one and current Google Now? Posted via the Android Central App

It's got an updated name.

It's conversational, more responsive, and relevant.

best answer +10000000 Posted via the Android Central App

Another COPY from scroogle... hey sit and see what others do..... then copy it.... never use your brain.... oh there is no brain? just a simple wire from one ear to another to keep them tight!!!!

Sorry, I just don't like it. Using the New Google Search & Now on my phone is fine. I have the 2 additional optionservices on my Samsung Note 4. The ability to set a Home Tab, & 2nd option in settings is Merge tabs and apps. I can turn this off or on. The 3rd reason is tied to the Home Tab. If that is set then when going to the 3 ... top right corner there are 12 items to choose from. Without the Home Tab there are only 8 items. Missing items are Share, Print, Find in page, & Add to Home Screen. I know that none of these could be used unless you were on a site. Just annoying. Major issue is that I want Chrome and the ability to type my URL request. Which supports suggested pre-typed suggestions. This doesn't work will under Search & Now. 4th issues is that if I do force the Home to be Chrome I am forced to log on which does away with any privacy. So all my Browsing show my email address and name. I can turn off location but that is not as important. I can only use this option if I type in https://google.com. It will not let me use http://google.com. ANY SUGGESTIONS WOULD BE MUCH APPRECIATED. Two weeks and 7 hours of logged calls to Google non of the Techs I spoke to could explain why this was so differenthat on the Tablet. 3 hour with Samsung & it was clear that this was a Google search issue not related to the tablet. One Google Tech told me I should call Microsoft to find the answer. (That says a lot for the support group).

Hey im ive only had my lgtreasure since September &I love singing on the Smule sing app.But a couple days ago my speaker became Very distorted &nothing but static. Anybody know what is going on&could offer me some help please? Id soooo appreciate it😃...Thanks.!!!
Android Central Newsletter
Thank you for signing up to Android Central. You will receive a verification email shortly.
There was a problem. Please refresh the page and try again.