The good and bad of Samsung's One UI interface for Android Pie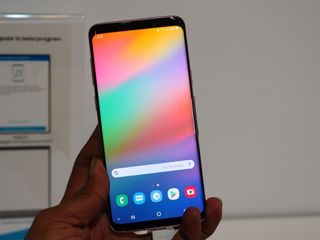 Samsung held its 2018 developer conference on November 7 in San Franciso, and while the highlight of the opening keynote was the company's new foldable AMOLED display, something else that was a big focus was Samsung's new Android interface called "One UI."
One UI will initially be rolled out as a beta for users later this month, and in January 2019, will officially make its way to all Galaxy S9, S9+, and Note 9 devices.
What we've seen of One UI so far looks quite promising, but it's also not without its faults. Here's both the good and bad that you can look forward to when the update lands on your phone.
The good
Similar to the transition from TouchWiz to Samsung Experience, One UI does a lot to help clean up the entire interface so that it's simpler and easy for people to use. For the end user, that means a less busy settings page, cleaner app icons, a new "Focus Area" on the lock screen that helps you see what's asking for your attention, and buttons that are easier to press.
That last point results in one of the biggest changes with One UI. With this update, Samsung's reworked its first-party apps and other elements so that you don't need to stretch your thumb or other fingers far across your phone's display in order to do something.
In many areas of One UI, you'll see that apps and other parts of the interface are split into two distinct sections — the Interaction Area and Viewing Area. The Interaction Area takes up the lower half of your screen and houses all of the buttons and tabs you need to touch. Above this is the Viewing Area that shows related info that doesn't require your input.
The idea here is to put everything you need within easy reach even on large phones like the Note 9 and Galaxy S9+, and if Samsung implements it right and can get other devs to hop on board, it could be a great alternative to simply resizing the entire UI to a lower portion of the screen.
Something else that's big with One UI is that it's designed to be easy on your eyes. No matter what time of day it is, Samsung wants One UI to be pleasing and enjoyable to look at. As such, One UI ships with something called "Night Mode" that implements a system-wide dark theme across the main UI elements and Samsung's own apps.
Speaking of themes, Samsung's making One UI more personal by also having parts of the interface change their appearance based on what color phone you have. Seeing as how Samsung's been getting more and more adventurous with colors over the last couple of years, having those bold hues go beyond the back and side of your phone could result in some huge aesthetic #goals.
Rounding out all of that, don't forget that One UI is based on Pie. That means new gesture navigation, improved notifications, new emoji, and everything else included with Android 9.
The bad
As great as One UI looks, that's not to say it'll be without its faults. Although we can't give any definitive opinions until we have more time to use it for ourselves, I can see a couple potential pain points for the interface.
While I'm personally interested to see how the Interaction Area and Viewing Area idea plays out, it's entirely possible that this will be nothing more than a huge waste of space in apps that it's implemented. In the examples we've seen so far, the notes and messaging apps push all of the actual content down to the very bottom while reserving the upper half of the screen to just say "All notes" or "Messages." It might look pretty, but that's also a lot of wasted screen real estate that could be serving a real purpose.
Not only that, but this new method of app design could make things more difficult for users instead of easier. Now on Samsung phones, you'll have some apps that follow One UI standards and others that use Google's Material Theme one. That could get confusing.
And, of course, there's the argument of it being easier to just have stock Android on Samsung phones going forward rather than Samsung continually reinventing the wheel. C'est la vie.
What do you think?
We'll soon have a better idea of how One UI works in the real world once we're able to install it on our own devices, but until then I want to know what you think. Are you excited for One UI? Do you think it's an improvement over the Samsung Experience? Do you just wish Samsung would convert to stock Android?
Whatever you think, let me know down in the comments below!
Samsung's new Android 9 Pie interface is called 'One UI', beta begins in November
Android Central Newsletter
Get instant access to breaking news, the hottest reviews, great deals and helpful tips
Joe Maring was a Senior Editor for Android Central between 2017 and 2021. You can reach him on Twitter at @JoeMaring1.
Samsung should put the clock back on the right. No reason for it to be on the left.

Its for phones with a top Notch !

Samsung is one of the only companies that has fallen prey to that notch BS. I hate the notch as do every other Samsung user. In a focus group and survey done by Samsung, 96% of their customers said no to the notch, specifically, you give us notch, we go some where else. You take away headphone jack, we go, etc. In a world where everyone is trying to follow the absolute horrendous iPhone, Samsung stands alone.

Not isn't a problem. If it weren't there, you'd have a bezel across the entire top and you idiots would be crying about how it looks "old school" and the bezels are "huge." These companies can't win with you people.

No reason for it to be on the right either. And, besides, a lot of manufacturers have the time on the left when you open the notification center anyways, leaving the right for the drop down arrow and the settings button. I'd rather the time was on the same side (left) then maintain a UX that really makes little difference either way.

Hopefully it's a visual placeholder for the service provider and not the final placement.

Why should they put it on the right?

Hey, does someone have the wallpaper link and does someone know the icon packs? Thanks.

Well Material Design and having interface options at the top of 6"+ phones is an actual pain so kudos to Samsung for thinking of the user. I'm glad Samsung is pushing for ease of use instead of Google who seem to just be coping Apple for the sake of aesthetics and not user experience.

I never understood why Materi design did that. My biggest aggravation is how it removes the microphone button from the keyboard and moves it all the way up on the search bar (in youtube for example). I thought the whole point of material design was supposed to be easy of use but it's just aggravating. Therefore I'm also happy to see a company care about it's users again. That was Apple's strongest componant back in Steve Job's day, was never strong for Google, and seems to finally be important at Samsung. Let's hope the above comment about notches and headphone Jack's is correct, and they truely are listening to their customers. Their phones have been so good since the s8 that people arent feeling compelled to update. That makes it look like slowing growth, but give that another year of phone cycles to sort out that Samsung users at least are keeping their phones longer. I'm afraid they are thinking people have jumped ship instead of just waiting longer, and they'll make a huge mistake and take away the only tolerable phones out there. If they just wait, they've won..

I think consumers have spoken... Stock Android phones don't sell well, in spite of the strong advocacy push by AC and a vocal minority of Android users. Credit Samsung for being bold, and perhaps one of only a few companies that can afford in invest in a mobile experience superior to stock Android.

It has nothing to do with stock Android being worse. People think Samsung is Android and that will be hard to change.

I could probably live with Samsungs UI if they would just eliminate it's bloat. Having a duplicate app that does the same thing that Googles apps do and can't be deleted irritates me the most.

I'm with you on that. I have a note and perfer microsoft apps to samsums stock or Google alternatives and for me they should give you a way to remove them. OK I can do it with a pc but ide like to think I can remove it from the phone without a pc.
Love the note the spen is amazing for what I need and so far without anyone else making a phone like it I don't see my self moving from Samsung when I come to upgrade.

This way of thinking use to make sense to me. Use to have no real way of disabling outside of root. Phones had limited storage space. Bloat apps were a real problem. But anymore I fail to see the issue. You can disable the app to where it does nothing. Uses nothing. Even hidden from app drawer. And modern phones have tons of storage space, those 50 or 100mb apps are Inconsquential. Extra apps on phone seriously cause me no bother anymore

The apps you can't delete are on the system partition. So even if you could delete them, you wouldn't get any usable space back, since any apps you install yourself go on a different partition. So, IMO, the complaint about "bloat" duplicate apps is utter nonsense. Disable them or just don't use them. Deleting them accomplishes nothing.

They aren't duplicate. The Google Apps aren't even Pre-Installed in most instances, so I'm not even sure how you think you make any sense at all. The only Google apps built into the FW on the Note 9 are: Googgle Play Store
Google Search
Google Maps
Gmail
Google Chrome
YouTube I'm ignoring things like ARCore, Google Play Service, and TalkBack because that's kind of obvious, and many of them aren't really user-facing "apps" in the sense that a Calendar or Email app is. There are some apps that appear on the device after you sign into a Google Account, but they are actually pushed by Google from the Play Store to your device: Google Photos
Google Drive
Google Pay
Google Play Music
Google Play Movies & TV
Google Duo Those are not "Stock Apps" on a Samsung Phone. They are Play Store downloads, and the set that is pushed to your phone feels arbitrary and random. They don't push: - Docs
- Sheets
- Slides
- Google Keep
- Google Play Games
- Google Play Books
- Google Podcasts
- Google Home
- Google Fit
- WearOS
- Google Translate
- Google Calendar
- Google Contacts
- Google Tasks
- Gboard (Google Keyboard)
- Google Messages
- Google News
- Google Cloud Print
- Google Clock
- etc. to your phone. Using your logic, the mere existence of a Google app forbids an OEM from developing and distributing a 1st party app with their handsets. I think a lot of people here are ignorant of just exactly what Android is. It is not a way for Google to use OEMs as a Proxy to push all of their software as the default, simply by virtue of it existing. It's a platform that OEMs can take and meld to develop their own personal user experiences; and then compete with each other for users. The only reason why much of what IS from Google is on these phones, is due to Google's monopoly standing in some markets and the fact that the OEMs were extorted to do this by Google using the Play Store as a reason. Google Chrome Mobile is the perfect example of this... It was always known to be a memory hog on Android, since it was released, and people continued using their Samsung, HTC, Motorola, etc. browsers. Google Chrome on Android didn't start supplanting them until Google forced OEMs to preload it on their phones - at which poing users started complaining about "duplicate apps," with the OEM app always branded as "bloatware" despite the fact that Chrome is ACTUALLY the 3rd party app on these devices. These are not Pixel phones. If you want Google stock software everywhere, you know what to buy. What's in Play Store are largely "Pixel Apps." They are not stock apps on a Samsung device. The stock apps on a Samsung device ship in the device's firm ware. They are integrated directly in the the software and services (Finder, Bixby, Samsung Customization Service, etc.) on the device itself to deliver a good user experience. Even still, a lot of Samsung software can be removed or simply completely avoided on their devices. I think you people have it backwards. The Google software is what's redundant on a Samsung device, not the other way around. Samsung has 1st party, relatively service agnostic apps on their phones. This is actually a selling point to a lot of people. Also, Samsung takes the business market seriously. In order to have Knox work properly on the device for business users, among other things, they need to control more of the software. They aren't HTC, selling devices to internet fanboys only. Now, let's go back to those apps that are in the Galaxy Note9 FW, from Google: - Google Play Store: A:) To host versions of apps optimized for Galaxy Apps, as well as cater to people who want Android, but not necessarily Google. It's possible (depending on situation/need) to use a Galaxy handset without a Google Account, thanks to Samsung Galaxy Apps. Secondly, Samsung has features that allow downloadable content on their phones: Stickers, Camera Modes, Fonts, etc. Google Play Store has no decent mechanism for distribution of this type of content; and Samsung needs to be able to integrate directly with their software. This is similar to how Apple has the iMessage Store, etc. on iOS. - Google Search: While Assistant has better "Google Service Integration," Bixby & Finder have far superior "Device" integration. Additionally, the nature of Samsung actually being somewhat of a thing in the Business and "High Security Needed" markets demands that they not have all the software on their phone dependent on a Google Search App for Universal Search (for example). - Google Maps: Not Duplicated. - Gmail: The Gmail App is not where Business users want their Exchange, Office 365, etc. email. Additionally, Samsung's email app has much better policy support and security features than Gmail does. Gmail is good for Gmail. It's awful for everything else. - Google Chrome: Because surfing the web without Content Blockers, Built-In Tracking Protection, Night Mode, Reading Mode, and Save Offline is an oppressive experience. Mobile Chrome was never that amazing, Google just forced every other OEM to it by bundling it in their anti-competitive Play Store contract; while users like you acted like anything that didn't come straight from Google was the work of the devil. - YouTube: Not Duplicated, but isn't worth even using due to the amount of forced advertisements. The Samsung Internet Browser has such a good integrated video play that it's better to just use that, and browse YouTube with the browser where it will remove all the ads - thanks to Content Blockers. This is what a lot of iOS users do... I did this myself. TL;DR: There is little to no duplication of apps on Samsung devices OOTB. Google Apps are not First-Party on Samsung Experience UI, either, so stop acting like they are FFS.

Like I said below, the apps you can't delete are on the system partition. So even if you could delete them, you wouldn't get any usable space back, since any apps you install yourself go on a different partition. So, IMO, the complaint about "bloat" duplicate apps is utter nonsense. Disable them or just don't use them. Deleting them accomplishes nothing.

Stock Android is worse for a lot of people. There is a huge disparity in features between Stock and Samsung Experience 9.0/9.5, and it's not just "Power User" features. I tend to say that Samsung Experience is about 2+ years ahead of Google's flavor of Android in terms of feature development... and it's only that low because Samsung and a few other OEMs have already shown Google the way and trial-and-errored various implementation possibilities for them. The only reasons to care about Google on an Android phone: - Google Maps
- YouTube (Maybe... probably better in Samsung Internet with AdBlock, these days!)
- Google Pay (for Sending & Receiving Cash from Family & Friends - Samsung Pay doesn't have this feature, yet)
- Google Play Store (though I noticed almost everything I use on my phone is available from Galaxy Apps, which is a huge difference from the last time I used a Note [3 in 2013-14] ) Aside from that, the entire Google Ecosystem is easily replaceable with very viable Alternatives. If you have a Microsoft and Amazon Account, and Subscribe to Office 365 and Prime, you really don't need anything from Google except those services I listed above. Hell, you could probably even get away with not even having a Google account at all, depending on your situation and what apps you actually use. A big selling point of the Note 9 to me was just how much of Google you can completely uninstall from the device (or just... avoid installing altogether) without having to root/tinker with it.

How can people possibly think that though? Do they not see all the various logos in phone shops selling Android phones?

What year do you think it is? Maybe 88 year olds... maybe.

I think it looks great. Can't wait for it on my Note 9.

[ And, of course, there's the argument of it being easier to just have stock Android on Samsung phones going forward rather than Samsung continually reinventing the wheel. C'est la vie.] No there is not!

Stooping to your level of pointless comments:
Basically, you are saying that there is not an argument. Good job.

I was keeping my comment short and too the point.

I think the point is people who use Samsung phones are NOT making that argument. Everyone else is.

I don't like stock Android, but I really hate TouchWiz/Samsung Exp. Their UI (and feature bloat) has kept me away from their phones since the GS3. I am cautiously optimistic about this IF it improves on stock Android without Samsung's usual heavy-handed approach. I want to like their phones but there's so many extra layers of crap to get through.

Obviously you have not used a newer Samsung Phone with the Samsung Exp.
I don't know why I just find it annoying when people down talk about Samsung Experience
being the old Laggy bad bloatware TouchWiz. Those days are long gone.
Daily a S8

Yep my note 8 is over a year old and didn't slow a bit

I agree with you fully. I think Samsung UI changed for the better with the ill fated Note 7. Since then the Ui improved more.

Agreed. It's always amusing to me when people say how they hate Touchwiz and reference their old Galaxy phone (GS3 or the like). Samsung Exp has completely changed from the old Touchwiz days and I never had lag on my S8+ and none with the Note 9.

Agreed. Touchwiz on GS3 versus what I got on my S8 and Note 9 are night and day difference. They share a manufacturer, and that's it.

Especially when they admit they havent used it in 6 or 7 YEARS. Lol. I find I feel the same annoyance when people complain it takes so long for updates on samsung phones. Sorry I'm in no rush to get an update to Android which usually just adds features I already have due to Samsung. I always think it's funny that everyone seems so sad that I have to wait 4 months for minor improvements when they just waited 8 for huge features!

And you're basing your opinion on the s3? Ok.....

Stock Android is utter garbage. I can't stand the bright white Google uses on everything. If I wanted a bland featureless UI I would just buy an iPhone.

Omg it's so bright. Unusable at night for anyone even slightly photophobic like me. I have been blessed with OLED screens that can be further dimmed by 3rd party apps. I know that's not usual, but again, for people like me it's a game changer. Then there's the mess of an interface, menu on top left, microphone taken off keyboard and put on right of search bar (usually also way up top) it's a mess on big phones, which is sad because big phones were a thing when material design came around. What a waste of potential that was. Hopefully, as evidenced so many times in the past, Samsung will take something that should be done by Google and get it done right.

I think Samsung should move on away from Android but then again another OS would probably just be left in the darkness due to Android and iOS, just ask Microsoft how that worked with Windows Phone lol But I think Google should bring Chrome OS to the pixel phones and use Android on other OEM phones as a way to allow companies like Samsung to use Android an OS that many consumers are familiar with and allow them to use Android in their own personal ways. Google can control their own OS focus on AI and bring features to their Pixel phone with AI and be that OS that's different from the bunch and then license out Android so that there's no confusions between consumers who use a Samsung phone, LG phone, Sony phone, etc. I think if there's any company that can release a much needed third OS into the mobile world I think that would be Google and perhaps it would push Android and iOS to continue to improve as well.

So we finally shift to taller screens that provide more operational, menu and reading space, only to lose almost half of it from a completely idiotic decision to take up that usable space with a plain title for each menu...

You need to read all those settings at once? You know this wont be the case anywhere that more content is useful, like in a browser...

I could be a little bit off topic, but all this makes really miss Blackberry10 OS, have been, so far, the best UI i've ver used. The perfect gestures!

"that's also a lot of wasted screen real estate that could be serving a real purpose."
- Not if the UI dynamically adapts so that as you scroll items at the top of the list move into the non-interactive upper space. "you'll have some apps that follow One UI standards"
- This is nonsense. Samsung UI has always only ever been adopted by Samsung apps. AFAIK Samsung doesn't publish design guidelines or a UI API anyway, which makes One UI really difficult to implement from screenshots alone. "just have stock Android on Samsung phones"
- Stock Android is so FAR behind Samsung Experience in features, integration, and functionality that switching to it would actually be a downgrade.

QFT. I don't know why Android bloggers have an infatuation with the feature-free stock experience. It sucks moose.

LOL Google is playing a dangerous game... Moose be big... You're correct though it does suck and bloggers are constantly telling me I want it when I can't stand it for so many reasons.

Why have they given up on the line-art icons only introduced last year?

I am using the Note 8 with Nova launcher. The only thing that keeps me from using Samsung's stock launcher is the absence Gestures, which I use a lot on Nova. Otherwise, I think Samsung Experience has improved a lot from the the days of Touchwiz. Is there a reason why Samsung does not allow Gestures like, say, on Nova?

Stock Android is starting to get annoying per the latest Pixels. I know that is a sin, but come on.
Android Central Newsletter
Get instant access to breaking news, the hottest reviews, great deals and helpful tips
Thank you for signing up to Android Central. You will receive a verification email shortly.
There was a problem. Please refresh the page and try again.