Gingerbread update for the T-Mobile MyTouch 4G scheduled to start July 20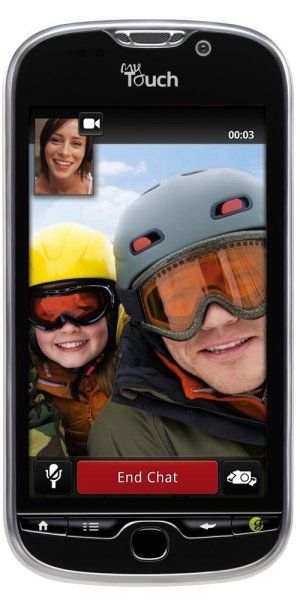 The T-Mobile myTouch 4G is slated to start seeing some of that sweet Gingerbread loving starting tomorrow (July 20). According to T-Mobile, a limited pilot will kick things off, with the broader general roll out to begin in a few weeks. Besides it being Gingerbread, T-Mobile says they're including the latest Swype update, and Exchange 2010 compatibility. In the "resolved issues" column, we have fixes for Bluetooth, saving messages from the inbox, a better domestic roaming signal, a "more responsive" display, and the usual unnamed software and stability improvements.
T-Mobile also make a special note that they will be unable to expedite the software roll-out, so you'll just have to wait your turn. Until someone leaks out the download location, that is -- we'll let you know.
Source: T-Mobile (opens in new tab)
Jerry is an amateur woodworker and struggling shade tree mechanic. There's nothing he can't take apart, but many things he can't reassemble. You'll find him writing and speaking his loud opinion on Android Central and occasionally on Twitter.
YES FINALLY! I've been waiting a long time for this. I failed at rooting my mytouch.

Ok so my phone is rooted but Im in stock ROM. Do I have to unroot my phone so that I can get this OTA update or do I just wait till I get a text with a link or something? I'm new so I really don't know much about this.

You should be fine but it couldnt hurt to unroot

Alright. Thanks for the reply :)

I wouldn't unroot if I were you.... Its better to grab a custom Sense Rom from the forums.

My brother has one and his is not rooted. I'll wait till he gets the update and see if its worth it. I had a custom Rom on mine and I hated it! Have of the stuff that you could do on stock Rom weren't available on the custom Rom. That's why Im still in stock Rom. I just deleted some apps that I didn't want...that's why I MIGHT wait and get the official and see if its better. Oh and the custom one was always FC! LOL

I had CyanogenMod 7.0.3 and 7.0.0

Will this be 2.3.4 with gTalk video?

according to the source link it's 2.3.3

After all this time I admit I'm puzzled why they are coming with 2.3.3 instead of 2.3.4? What version is the Slide coming with?

This is great! My sister just got this phone (she bought it off somebody). Now she's about to get a taste of Gingerbread.

At this point, if you are already rooted, don't even bother with this update. There are a bunch of custom roms out there with 2.3.3 and 2.3.4 for the original MyTouch 4G. Upgrading to Gingerbread means coming up with a whole new rooting process. Who's ready to give up root access??????

Bigger and more important question. What version of Sense is this update packing!?

we lucky few are getting (most likely) the same "sense" package typical to the mytouch series, and the 4g specifically. No 3.0 for us. Personally, I much prefer HTC's stock Sense U.I. to T-Mo's crapware themed-for-the-masses stuff.

This should have happened months ago.

I already have 2.3.4 on my MyTouch 4G. It's called CM 7.1 RC1. I wouldn't go back to Espresso Sense if you paid me. I even gave the Sensation a shot and though it was Espresso-free Senses 3.0, I missed the CM7 speed and elegance and sent it back. I might upgrade if/when CM7 becomes available for the Sensation.

I just squealed. Literally squealed. Now I'll be obsessively checking my phone.

Oh OK...ya finally we got this Amazing one! Thanks for sharing this.....

Wtf when is the g2 finally gonna get gingerbread?

Warning thread hijacking!
My droid 3 arrives today with 2.3.4 suckas!

I'm so excited. I know it isn't a HUGE update, but it IS an update and that means Tmob/HTC hasn't forgotten about us. This is good news, especially for the ones who have not rooted (myself included).

This is great news. Been waiting for sometime. I know there are some ROMs out there that I can use but I prefer stock.

so this should have started rolling out in limited quantities, right? where's the perm link to the dl? ;)

so how will we know how to get it? will it be a text message or OTA message or what??

soooo...nearly close of business on the 20th. Thoughts, anyone? Anyone actually receive this?

I see the story of the g2x getting gingerbread today and I have yet to see anyone post updating a my touch 4g. I guess its the android shuffle over at t mobile. I will keep my eyes open for gingerbread on my phone. They did say it would take time though so i shouldn't be too surprised.

Yes, has anyone actually received the Gingerbread update?

There's the mytouch 4g zip file floating around. That's how I updated my phone. If you get it you dont need root. It's a nice update but nothing significantly amazing. Mainly ui tweaks. Beyond that I'm really most pleased with the update to swype and you can stream with the Netflix app.

do you know where we can find the .zip?

I haven't had a chance to fully test it, but it is 2.3.4 and so far a pretty significant UI update.
Android Central Newsletter
Get the best of Android Central in in your inbox, every day!
Thank you for signing up to Android Central. You will receive a verification email shortly.
There was a problem. Please refresh the page and try again.