Ghost of Tsushima for PS4: The Ultimate Guide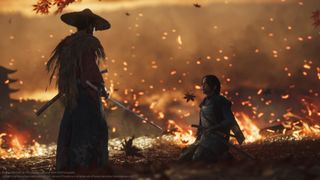 (Image credit: Sony)
Ghost of Tsushima is the first non-Infamous game from Sucker Punch Productions since 2005. While we said it capped off the PS4 era in style in our review, it's not all that unique in an overflowing genre. Still, we poured a ton of time into the game and found it to be a lot of fun. If you're just starting out your adveture, we have a handful of guides that'll make your life even easier.
War-torn land
(opens in new tab)
The way of the Ghost
In Ghost of Tsushima, Jin must decide what honor and principles are worth sacrificing in order to defeat the unstoppable Mongol invaders.
Ghost of Tsushima Every outfit and piece of armor
You can't fight Mongols without looking cool. Ghost of Tsushima is filled with dozens of armor options. Most of them are masks, headbands, and helmets, but there are also ten or so body armor that ca be upgraded throughout the game and offer different perks. If you need to see if you're missing any, we've got you covered.
Ghost of Tsushima All charms and what they do
Charms offer unique stat boosts and perks, and there are a lot of them in Ghost of Tsushima. We've made a list of all the ones we've found so far, including regular and minor charms with their descriptions. Some of them are pretty boring and only grant basic stuff like increased damage against enemies, but others can augment your weapons with posion damage.
Ghost of Tsushima Best techniques and upgrades
You can eventually earn every technique available in Ghost of Tsushima, but some you'll want to unlock earlier than others. We've compiled what we feel are the best tecniques you should grab and which armor upgrades are most useful for you. Whether you want to play the way of the Ghost or as an honorable samurai, these techniques are a must.
Ghost of Tsushima All enemies and their weaknesses
Remember when The Last of Us Part 2 advertised that you could kill dogs? Well I hardly killed in in Naughty Dog's title, but I sure killed a lot in Ghost of Tsushima. There are several types of enemies aside from Mongols, but most fall into one of four categories: Swordsmen, Shieldsmen, Spearsmen, and Brutes. Using the appropraite stances is key to staggering them and taking them down.
Ghost of Tsushima Tips and tricks for beginners
Ghost of Tsushima doesn't really hold your hand, and because of this it doesn't always explain stuff you might want to know beforehand. We found these tips and tricks to be incredibly useful in our playthrough, and hope that you find them useful as well if you're just starting out.
Ghost of Tsushima How to use photo mode
I gotta be honest, I don't think Ghost of Tsushima's photo mode is all that amazing. It's certanly good, and I appreciate some of the features it lets us play around with, but it's also missing some other ones that are sorely missed. If you want to learn how to use it and what you can do in photo mode, we've got you covered.
War-torn land
(opens in new tab)
The way of the Ghost
In Ghost of Tsushima, Jin must decide what honor and principles are worth sacrificing in order to defeat the unstoppable Mongol invaders.
Games Editor - PlayStation, Android, VR
Jennifer Locke has been playing video games nearly her entire life. You can find her posting pictures of her dog and obsessing over PlayStation and Xbox, Star Wars, and other geeky things.
Sorry to be THAT GUY again, but come on A.C. How is this Android related? Is this the new covert Playstation site? Funny how the editors want transparency in companies, but apparently the readers don't warrant any here? Seriously what is with all the PS4 articles? It's OK, just say it .. :-)

At the very least, say up top and clearly that it's a PS4 game that is very unlikely to come to Android for years if at all. I mean, take a look at the page. It's got "Android" in the title. There's a picture of a PS4 right at the end, and a tag underneath that which says PlayStation 4, but you have to scroll through pages to get there. It's the journalistic equivalent of burying the bad news on page 30 of the small print.

Put PS4 in the title of the article please. I got excited about this because it looks cool and BAM ps4 exclusive. I am a pc/xbox gamer myself. PS, switch coverage would be much more relevant since the switch hardware shares dna with the NVidia shield.

Don't care for this we do PS4, they do Xbox. Do them both here so o can just get my phone and gaming news in one place. Ridiculous.

Game looks like a system seller.

what the hell is wrong with that ara wagoner article about one ui? 2 article just to address about notifications?! and closing the comment section? is it really a trash of an article that needs to be split into two different title and making people unable to discuss?! android central really went downhill instead of improving itself

Yes!!! Yes!!!.... More!!! More,,,,,,muahahahahaaaa!!!! The butthurt is strong with this one!!! Lol
Should've bought a Playstation lmao

This is just all paid advertisement. Trust nothing on this site.
Android Central Newsletter
Get the best of Android Central in in your inbox, every day!
Thank you for signing up to Android Central. You will receive a verification email shortly.
There was a problem. Please refresh the page and try again.